This is probably the question asked most often by both our potential and current customers, along with the entire internet. Everyone wants a maintenance-free deck that once it's installed, you do absolutely nothing and it'll stay looking just like the first time you stepped on it.
This popular belief was pioneered by some of the manufacturers of synthetic decking products, promising a maintenance-free, trouble-free surface that would last for years without lifting a finger. These fantastic claims resonated well because people were tired of the same Southern Yellow Pine, Cedar or Douglas Fir that would need yearly stripping, sealing and painting just to try to keep it together for a few years.
However, the properties that make these woods popular for construction don't apply to exterior use. They need to be painted or sealed constantly to protect the wood, otherwise it will deteriorate, splinter, crack, and rot beyond repair. Though cheap initially, the cost of maintenance and the enduring hard work has proven these species unsuitable.
The wonderful thing about our decking is that it maintains its structural integrity as the decades pass. This means there's none of the deterioration that is typical with species like Southern Yellow Pine. Our decking weathers beautifully to grey, but it stays solid. With our hardwood choices of Ipe, Cumaru, Tigerwood, Garapa, and Massaranduba, you can expect to have one of the densest and strongest woods available on the market. All of these woods are at least 2x stronger and much denser than any of the common wood used for decks.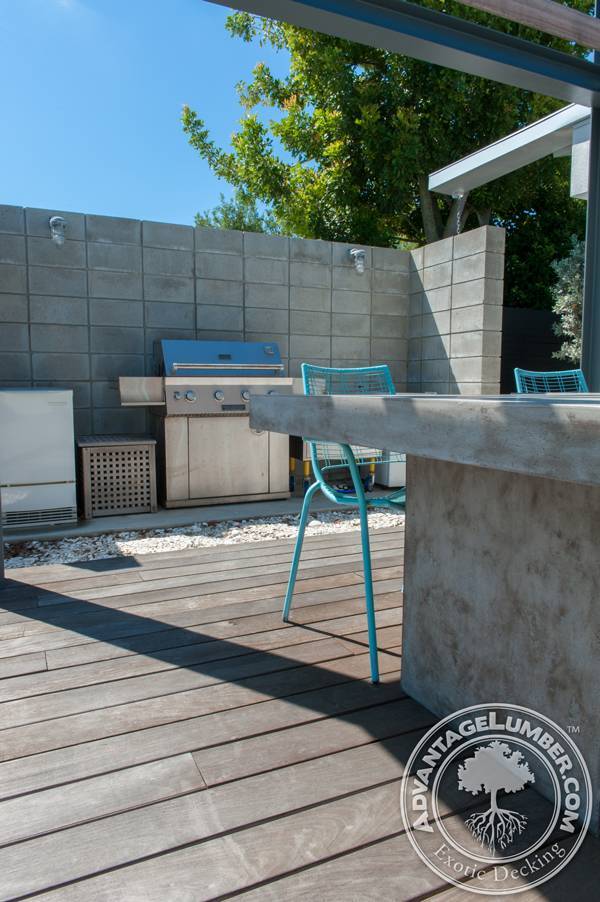 Having a desire for a low-maintenance material is when our Brazilian hardwood decking becomes most enticing. Using any of our species of hardwoods won't promise you a deck that, without any help, will be pristine for many decades. We are realistic and we know that our decking needs some maintenance, no matter how minimal it is. The maintenance you can expect with our hardwoods is to have to rinse off the deck with warm water.
If you leave the deck without cleaning for months, you may need to use a cleaner and brightener solution. Don't worry, this is a powder that dissolves in warm water and gets applied with a mop; if you can mop a floor you can use these solutions. Finally, to keep the color of any of our woods, you will need to re-apply Ipe Oil once every year to two years depending on how much sun your deck sees.
This oil acts as a sunscreen, and brings out the rich tones of the wood's grain. Unlike most other products on the market, this oil doesn't need a million things before it's applied. If your deck is clean, just apply it again!
What we offer is a no compromise decking material that lasts well over 30 years, is 100% natural, low-maintenance, and can always be repaired should there be any scratches or gouges. Even more importantly, compared to any other material, if our hardwood is left to fade, it can always be returned to its original color.