There are many wood choices to build a new deck with and some will last longer than others and offer less maintenance.
When it comes to a deck built with wood most homeowners think of pressure treated pine. It's the most cost effective wood option and is readily available in most local building supply stores.
Pressure Treated Wood Decking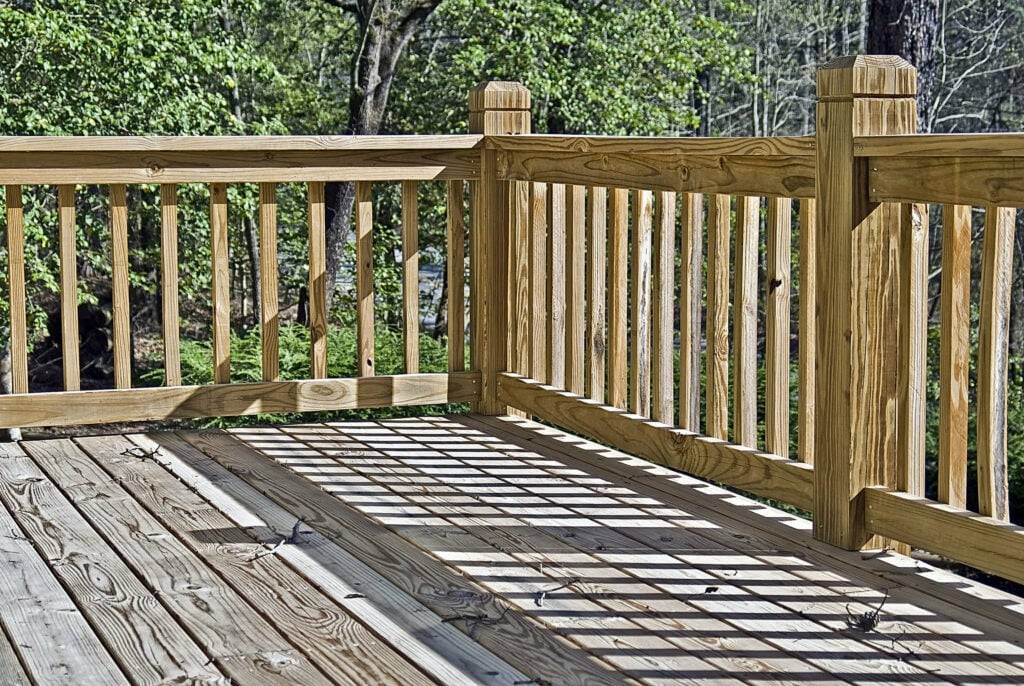 Softwoods like Pressure Treated Pine can be susceptible to rot, decay, mold, mildew and insect attack.
These woods require an application of a water sealer every year or sometimes every other year. This helps keep the water out of the wood grain which can accelerate rot.
A good water sealer should keep the water pooled on the surface and prevent it from penetrating the wood. Once the water stops pooling on the surface you should reapply more water sealer.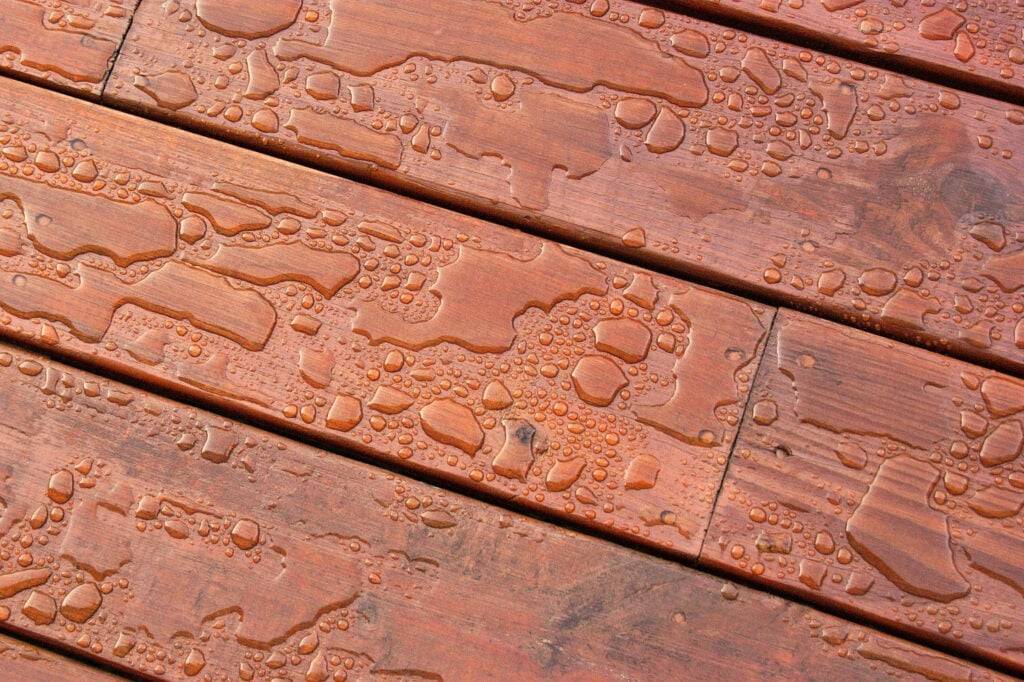 Treated pine can also give you splinters and slivers in your feet. This can be reduced by keeping up on the maintenance.
You can sand and pressure wash a pressure treated wood deck which can help you restore your deck surface.
Below is a picture of a 10 year old pressure treated deck that was sanded and is getting a new stain and water sealer applied.
This is a lot of work but if the homeowner keeps up this maintenance he should be able to get another 10 years or more out of their deck.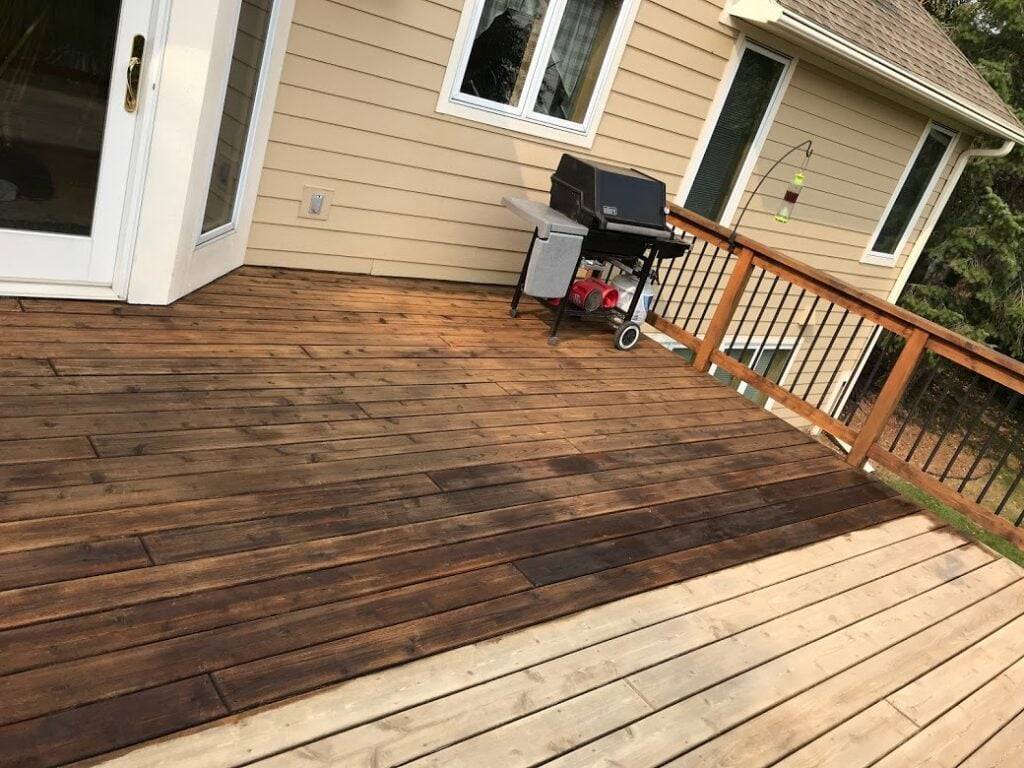 The average life expectancy for a pressure treated wood deck is 15 – 20 years. Many will see something more like 10 – 15 years.
It really depends on how good you keep up with the maintenance each year as well as if your deck is constantly exposed to water and doesn't get a lot of sun exposure to dry the deck out.
If you're a busy homeowner and think you might not be able to keep up with the maintenance then a deck built with pressure treated will most likely have a shorter lifespan.
Cedar Wood Decking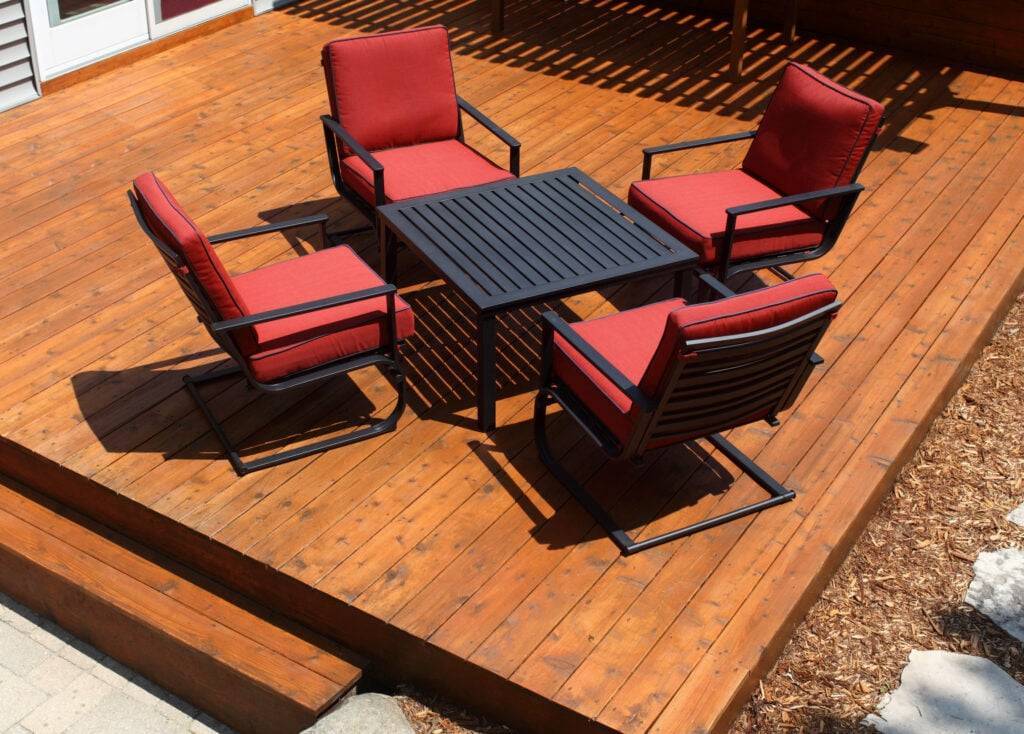 The next most common wood decking option is Cedar. Cedar is another softwood but cedar does offer some natural resistance to rot and decay.
Cedar will eventually rot and decay as time goes on and just like pressure treated it requires a water sealer to prolong the life of the wood.
If maintained yearly you could expect a life expectancy of 20 – 25 years. Again this all depends on the wear and tear the deck sees as well as the annual maintenance.
Redwood Decking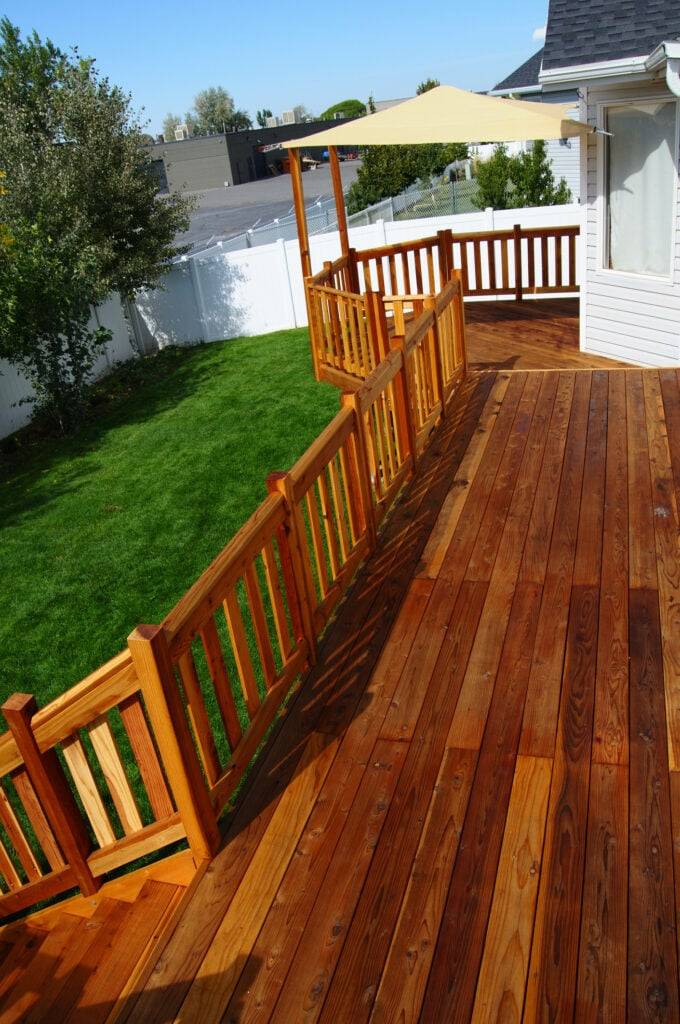 Decks built with Redwood will require the same maintenance as Cedar and Pressure Treated Pine to help extend the lifespan of the wood.
Redwood is a softwood that offers some natural resistance to rot and decay. One very important thing to consider though is old growth Redwood was considered very durable to rot and decay.
Nowadays the majority of what you see for sale is younger secondary growth Redwood which is still considered moderately durable to rot and decay but not as much as the old growth material.
Hardwood Decking
Most people are not aware there are hardwood species proven to last up to 75 years or more with very little maintenance. Some of the species are over 3 times harder than Oak.
The decking species we recommend for most outdoor applications are:
These South American hardwoods are sustainably harvested and have proven to last up to 75 years with very low maintenance.
These species are naturally resistant to rot, decay, mold, mildew, splinter, class A rating against flame spread, resistant to wood boring insects, naturally slip resistant and not hot to walk on bare foot.
All of these qualities make them excellent for decks, fences, siding, benches and many other outdoor projects.
The only maintenance that's required is cleaning the dirt and debris off the surface which is required by all decking manufacturers (especially composites).
Pollen, dirt, leaves, rain and other debris will land on all decks so a light power washing is a good idea when needed.
The only other maintenance that many homeowners choose to do is oiling the wood usually once a year. UV rays from the sun will bleach the color out of the wood and turn it grey.
Some homeowners like they grey look so they don't have to do anything other than an occasional cleaning.
Oiling the wood will keep the beautiful color of the woods and enhance the beautiful grain. Once you see the beauty of these woods most homeowners want to maintain that look.
Do not be confused oiling hardwoods is incredibly easy and it's not a top coat like water sealers for soft woods that will eventually peel off and leave you with a lot of maintenance.
Additionally with softwoods you really need to get a brush and apply water sealer in all the spacing between your deck boards to try and protect the edges of the boards from rot.
This is not the case with these hardwood species since some of these species are proven to last up to 75 years without any sealer or chemical treatments.
The oil is simply rolled on with a paint roller after that you wipe up any that did not soak into the wood. These woods are so dense they will only absorb so much oil. It will eventually fade away (usually spring time the following year). Then you just apply more oil.