If you are looking to build or rebuild a boat dock you want the most durable wood that will last a lifetime with very little maintenance.
A boat dock see's some incredibly harsh conditions since they are so close to the water they are typically getting abuse from waves and are often constantly saturated with water.
Constant moisture is an enemy for all boat dock materials whether they are wood or composite. In fact constant moisture can lead to faster rot and decay, mold and mildew and leave you with excessive maintenance.
Boat Dock Materials Pros and Cons
Pressure Treated Pine
Pressure treated pine is the most common and affordable type of wood commonly used for boat docks.
The pros of using this material is the initial cost is the cheapest compared to other options. This material should last you 20 years or more with annual maintenance.
The cons are the annual maintenance that will be required. A Pressure treated pine boat dock will need to be sealed every year or every other year with a water sealer to keep the water from saturating the wood.
If this is not done it will lead to early rot and decay of your boat dock since pine is a soft wood. Soft woods are more prone to rot and decay, insect attack as well as mold, algae and fungi growth.
The regular maintenance costs will add up over the lifetime of your dock so make sure you plan for the square footage of you boat dock and how much water sealer you would need as well as the other materials needed (pressure washer, brushes and etc…)
Pressure treated pine is also known to splinter overtime which can be bad for a boat dock if you are using your dock with bare feet. Many boat docks also serve as a swim platform with a ladder built on.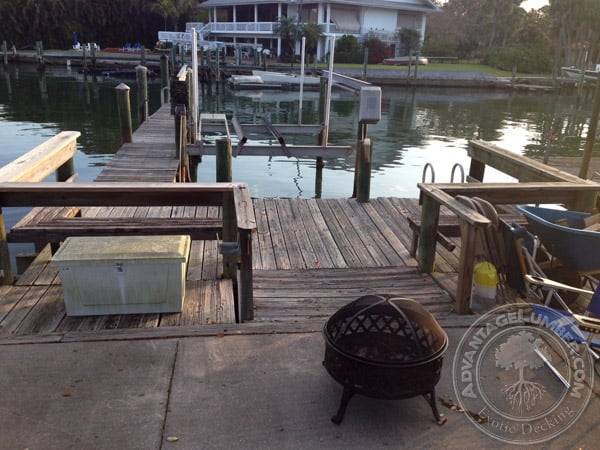 The pressure treated pine boat dock above has weathered severely. Additionally the wood has splinters all over and is rotted in parts that had seen more water.
Cedar Wood
Another softwood option is Cedar which is considered an upgrade compared to treated pine.
Although Cedar is known to have some natural rot resistance but it still requires a water sealer applied every year or every other year to keep the water from rotting the wood.
In the picture above you can see it still splinters and will rot which is why the deck board above is being replaced. The waterproofing sealer will eventually flake off as seen in this photo.
Pros:
25+ year lifespan
Can be stained
Some natural rot resistance
Not hot on bare feet
Cons:
Requires annual maintenance with a waterproofing sealer that will eventually peal off.
Contains knots
Splinters will eventually occur
Will eventually rot
Composite Dock Materials
Composite deck and dock materials have built a notion that it is maintenance free. For years composite decking manufacturers advertised their products as maintenance free.
Eventually there were some class action lawsuits that followed once homeowners found that these products were not maintenance free.
The truth is there is no such thing as maintenance free especially outdoors. Even inside you don't have maintenance free kitchen floors so you should stop thinking maintenance free and realize that everything will require some maintenance.
On top of that some of these man made composites have held up well and some have completely crumbled causing more class action lawsuits for these decking products.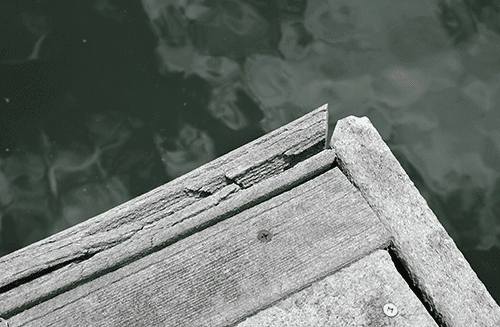 In the picture above the boat dock was built with a composite decking material. It has mold growing on the surface, the surface has been wearing off and is badly pitting which leads to more mold growth.
The outer skirting board is also badly deteriorating and crumbling.
Pros:
Low Maintenance
Made from recycled materials
Rot resistant
Most manufacturers offer 20+ year warranties
Cons:
Can be hot on bare feet
Many homeowners report that it's very slippery when wet
Can not be refinished
Expensive
If this is the option you are choosing we advise you to do some Google searches for reviews on the brand you are interested in. For example " Brand Name decking complaints" and "Brand Name decking problems".
If you do your research on Google you will often find if other homeowners have had a lot of issues with those products.
Exotic Hardwood Boat Dock Materials
There are many South American hardwood products that have proven to last 75+ years with very little maintenance. These species we recommend are Ipe, Cumaru, Tigerwood, Massaranduba and Garapa.
These hardwoods are sustainably harvested and are naturally resistant to rot, mold, mildew and wood boring insect
In addition they do not deteriorate like softwoods so even after many years they are still safe to walk on barefoot. Also the wood is not hot to walk on barefoot like most plastic decking materials. This makes them some of the best choices for boat dock materials.
If you plan to build your new boat dock with one of these hardwood species you can save significantly by using short length boards
Pros:
Low Maintenance
Made from sustainable wood
Rot resistant
Proven to last 75+ Years
Resistant to mold and mildew
Does not get hot on bare feet like plastic materials
Can be refinished
Can be left to gray for the ultimate low maintenance dock
Cons:
More expensive initial investment
Requires annual oiling to maintain color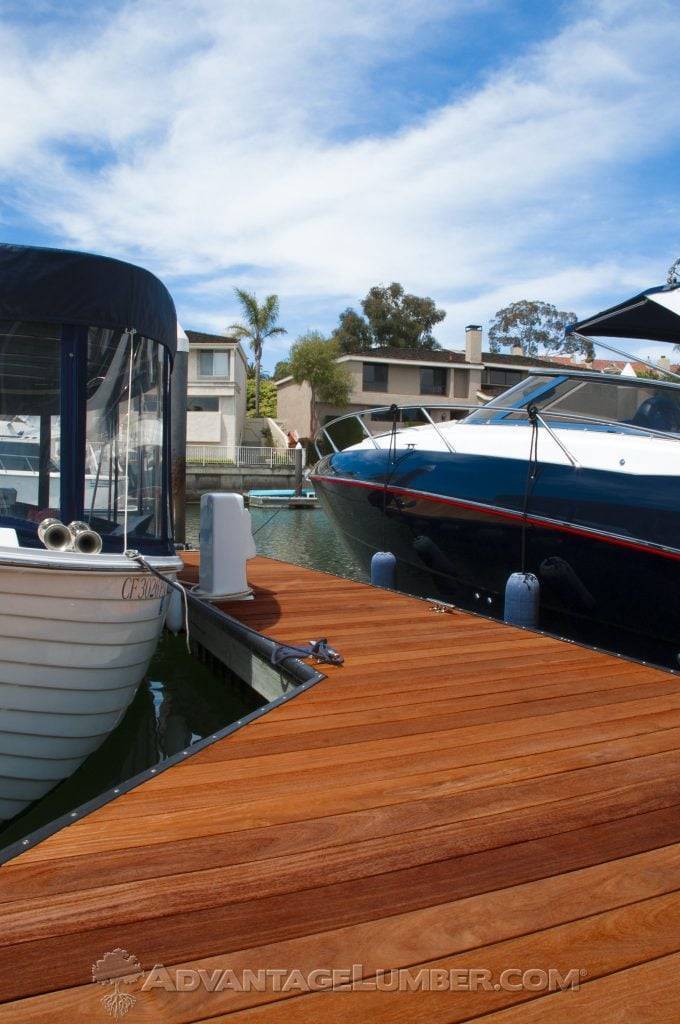 Special Deals on Boat Dock Materials: