Log cabin porches and decks receive some severe wear and tear and can require more maintenance than the actual log cabin itself.
The most important choice you can make for your porch or deck for your log cabin is the decking material itself. There are many options nowadays and there are pros and cons to all the choices.
The first issue with a horizontal surface such as a porch or deck receives a fair amount of foot traffic which will add to the wear and tear.
The second is mother nature and depending on where your log cabin is located you can have snow, rain, hail, freezing rain, and extremely hot summers.
Rain, snow and ice laying on your deck or porch will accumulate more on horizontal surfaces and will take much longer to dry opposed to your log walls which the rain runs down and dries very fast in comparison.
Many log cabins have covered porches and are tucked in the woods so they have many shaded areas that will eventually lead to algae growth (yes even on composite materials).
Decking Material Options for Your Log Cabin
1. Pressure Treated Pine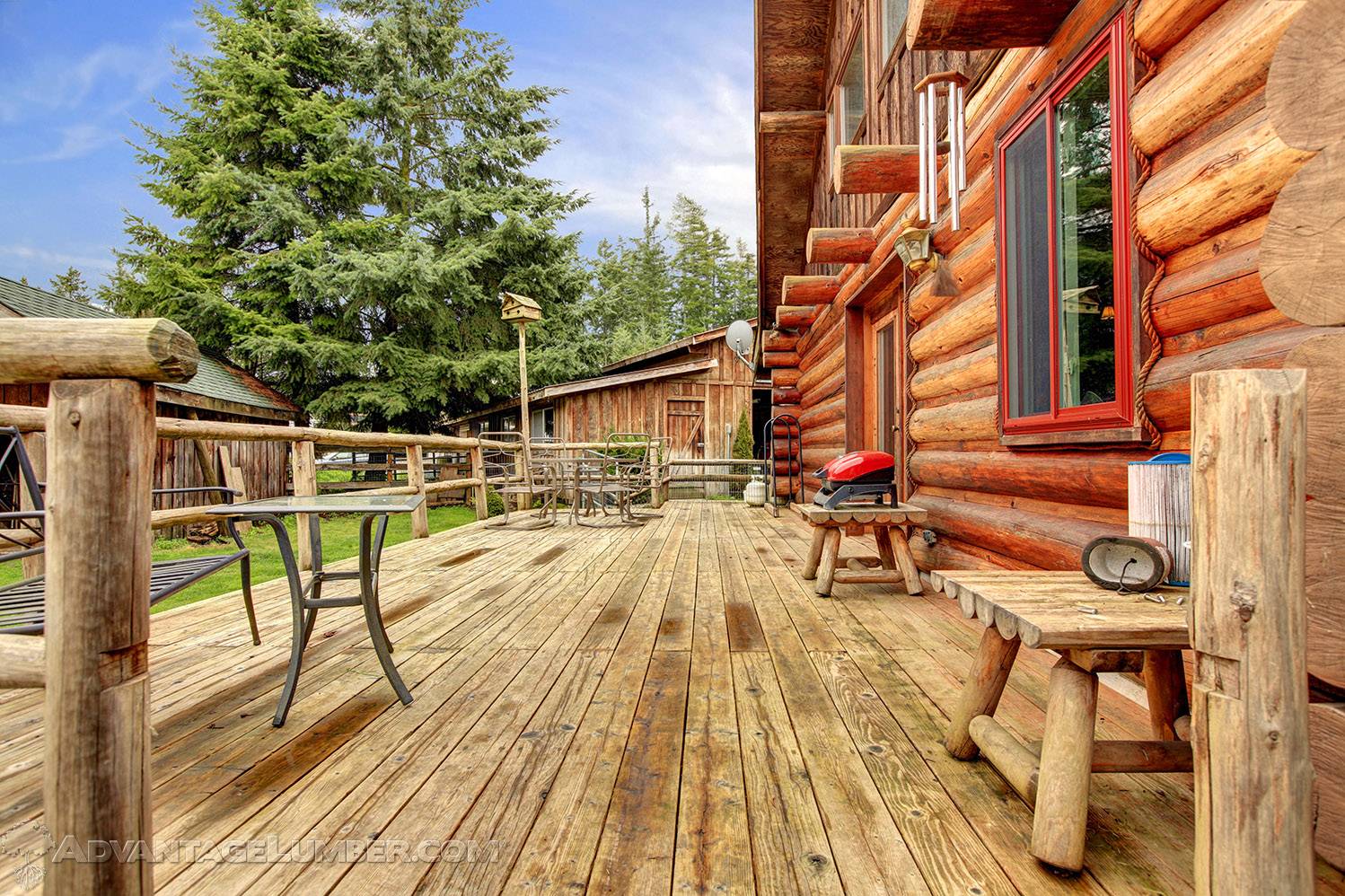 Pressure treated pine decking is one of the most abundant and common decking material options. This is mostly due to the cost, pressure treated pine is the cheapest option available.
Pros:
Most affordable option
Real wood matches the log cabin appeal
Can be stained to match your log cabin
Easy to install
Cons:
Requires annual maintenance with a waterproofing sealer that will eventually peal off.
Softwood will eventually rot
Will eventually splinter
2. Western Red Cedar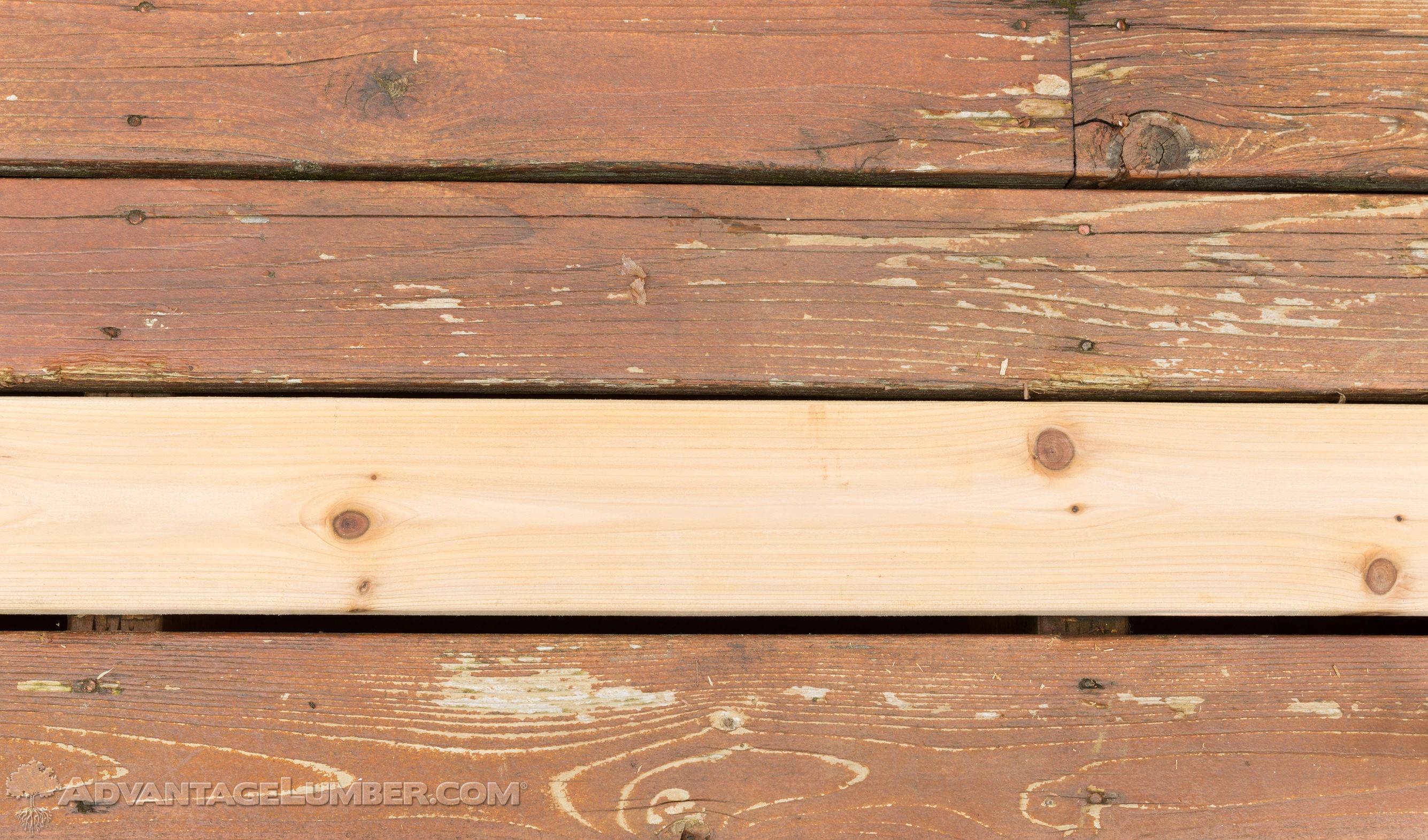 Cedar decking is usually a popular upgrade on a log cabin because cedar is known to have some natural rot resistance. Even though cedar has some resistance to rot it's still a softwood and therefore does require a water sealer.
In the picture above you can see it still splinters and will rot which is why the deck board above is being replaced. The waterproofing sealer will eventually flake off as seen in this photo.
Pros:
Real wood matches the log cabin appeal
Can be stained to match your log cabin
Some natural rot resistance
Cons:
Requires annual maintenance with a waterproofing sealer that will eventually peal off.
Contains knots and will splinter
Will eventually rot
3. Composite Materials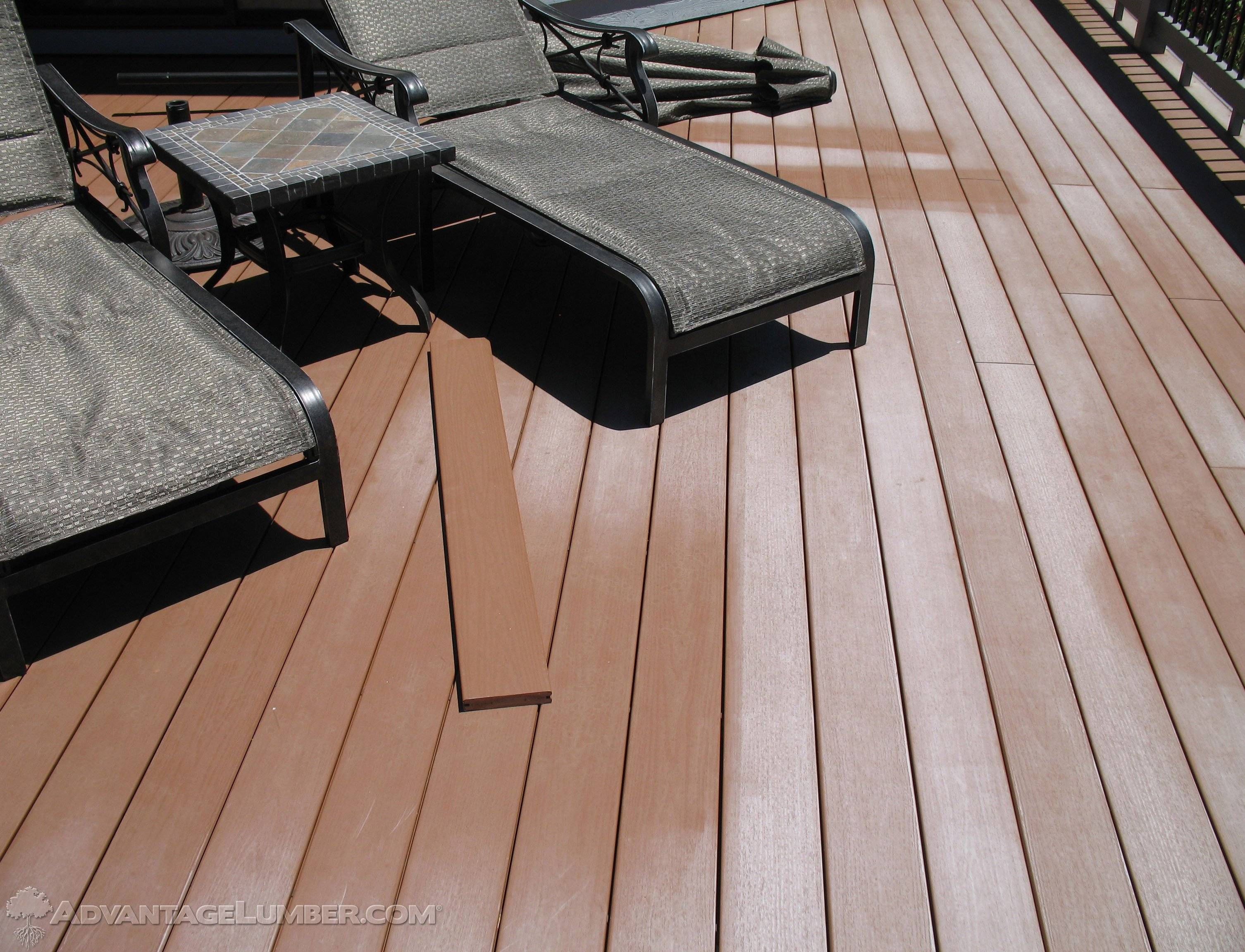 Composite decking materials have become widely known as low or no maintenance decking options that mimic the look of wood. Some home owners have had success while others have had issues with mold, crumbling deck boards and fading to name a few.
Many brands have had recalls, class action lawsuits and several have gone out of business leaving home owners stranded with warranty claims. Composites have come a long way so make sure you do plenty of research and look online for reviews for the brand you are interested in before going this route.
Pros:
Less maintenance than softwoods
Does not require staining or water sealers
Easy install
Cons:
Many people have reported it is very slippery
Very hot to walk on barefoot
The sun will make it fade over time and there's little you can do once that happens,
It's typically the most expensive option
Many log cabin owners think it does not belong or look as good as real wood.
4. Exotic Hardwood Decking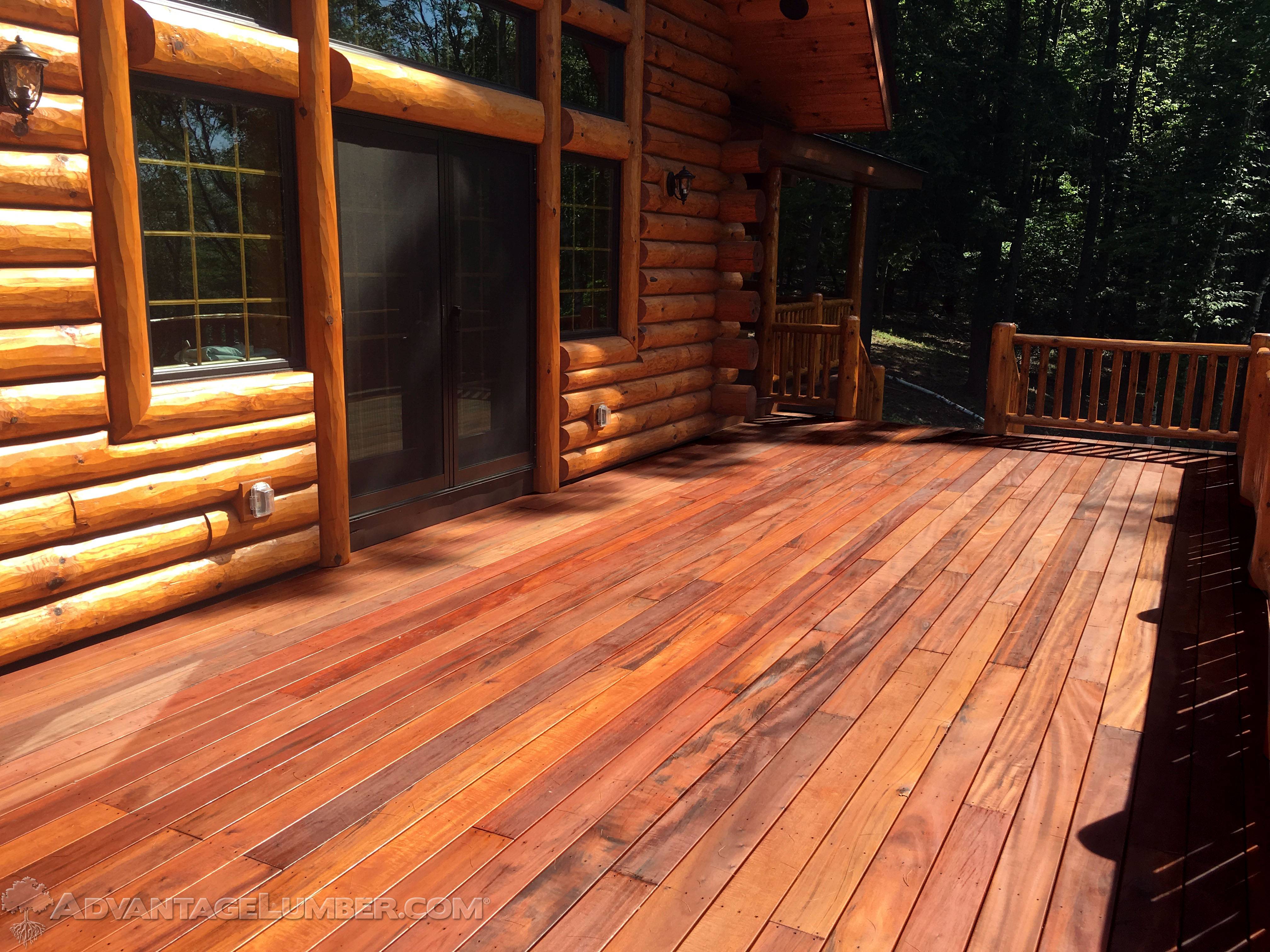 Exotic hardwood decking is some of the hardest wood available and is known to last 75+ years outside with very little maintenance.
It's been used on many commercial applications like the Coney Island board walk, the Treasure Island boardwalk in Las Vegas and many more.
These woods are naturally slip resistant, naturally resistant to wood boring insects, resistant to mold and algae, safe to walk on barefoot and has a Class A rating for flame spread.
In addition they are some very beautiful woods that will really compliment your log cabin and give your deck that WOW factor.
Pros:
Less maintenance than softwoods
Does not require staining or water sealers
Longest proven lifespan
Insect resistant
Rot resistant
Mold and algae resistant
Class A rating for flame spread
Cons:
Does require a UV oil to keep the sun from fading the wood to grey
Comparable or slightly cheaper than composite
Due to the hardness of the wood everything must be pre-drilled