A quality American made above ground pool can last 10 – 20 years if not more depending on the conditions.
Make sure your deck will last just as long without all the common issues associated with some decking materials.
In this article we'll discuss all your decking options for your above ground pool and highlight the pros and cons of each.
The first most affordable and most common decking option is:
Pressure Treated Pine Decking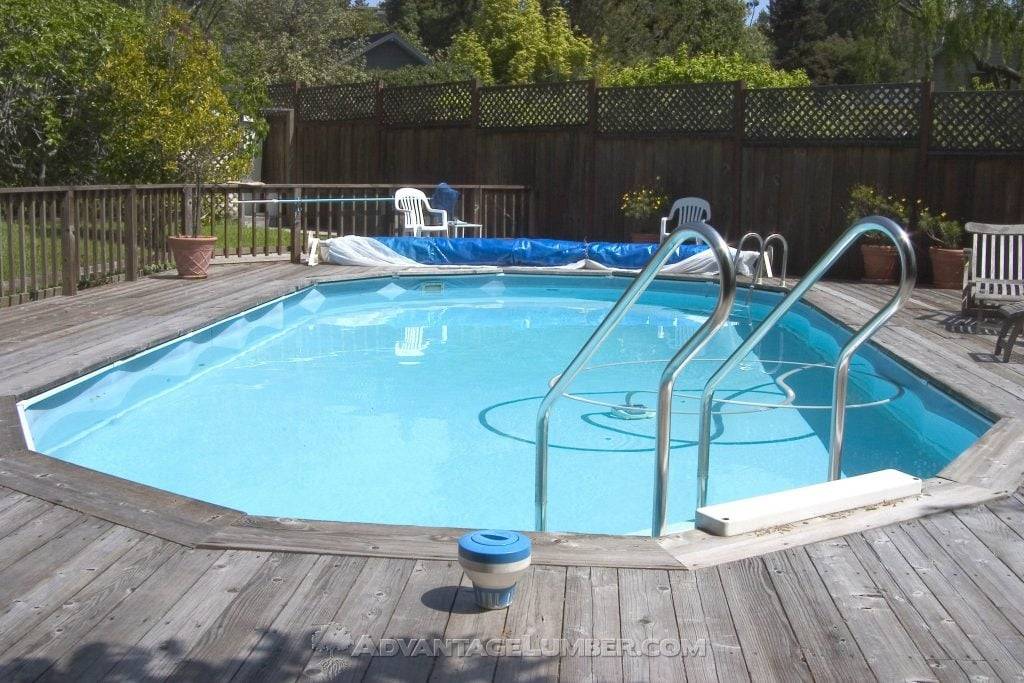 Many above ground pool decks are built using pressure treated pine because it's readily available and its the most affordable option.
This is a real wood option that requires consistent maintenance to ensure the longest lifespan possible.
Pressure treated pine is a softwood that is susceptible to rot, decay, mold, mildew and insect attack. It is treated with chemical preservatives to help prolong and protect the wood.
In addition pressure treated pine also typically experiences repeated cycles of thermal expansion and contraction (especially if you live in the north and get harsh winters).
Softwoods require the yearly application of water sealers that help keep the water out of the wood grain which can accelerate rot.
Treated pine commonly gives off splinters and slivers in your feet.
Most of the time you'll be using your above ground pool deck with bare feet. So be prepared for annoyed guests and crying kids with splinters in their feet.
The average life expectancy for a pressure treated pine pool deck is 15 – 20 years. Many will see something more like 10 – 15 years. It really depends on how good you kept up with the maintenance each year.
Pools decks are constantly getting saturated with pool water especially if you have young kids who like keep getting out and jumping in the pool doing cannonballs.
The next real wood option is:
Cedar Wood Decking
This is another softwood option however cedar does offer some natural resistance to rot and decay but will eventually rot and decay as time goes on.
Above you can see deck boards being replaced and others have splinters as well as checking that can cause splinters and slivers in your feet.
Cedar requires a waterproofing sealer to help ensure a longer lifespan especially around pool decks with the constant exposure to water.
If maintained yearly you could expect a life expectancy of 20 – 25 years. Again this all depends on the wear and tear the deck sees as well as the annual maintenance.
The third option that most home owners think will be the best is:
Plastic Composite and PVC Decking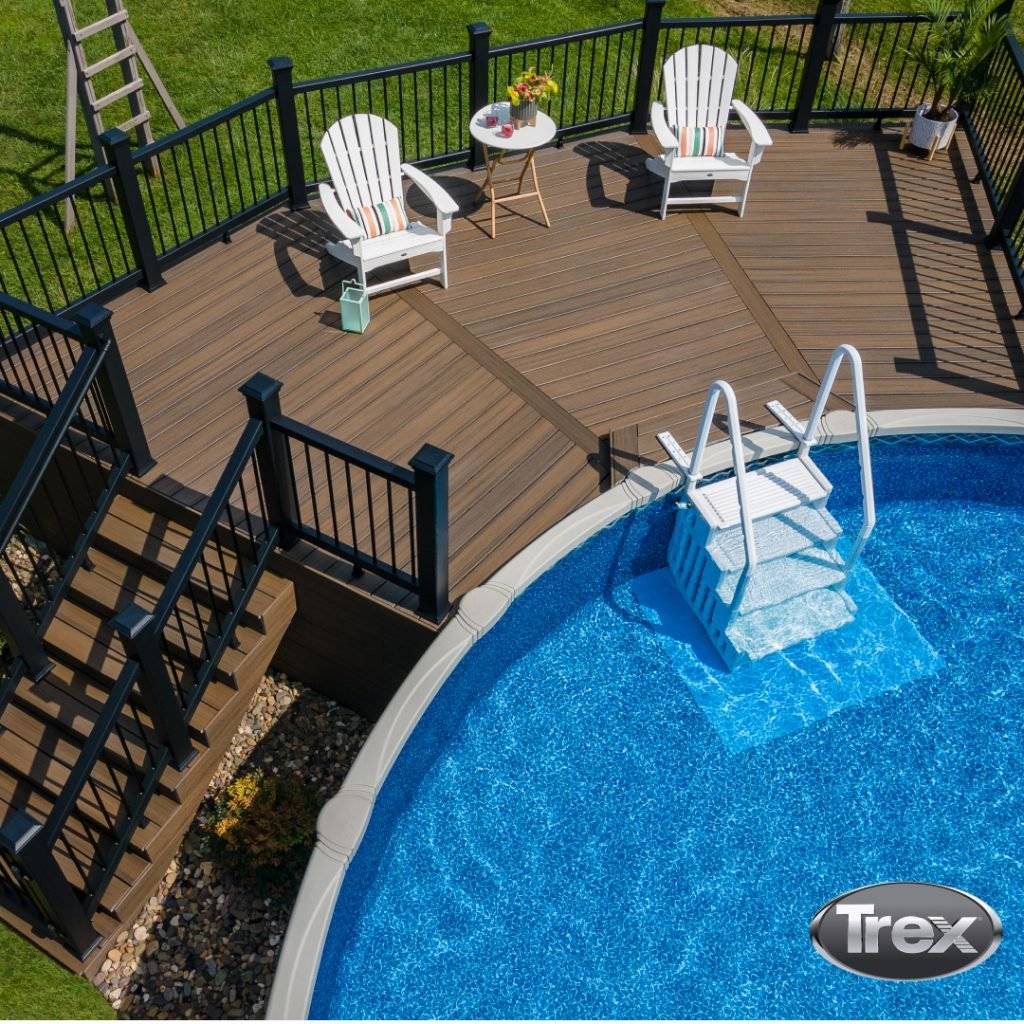 Many homeowners think that composite decking will be "100% maintenance free". In the early years many manufacturers spent millions of dollars advertising the products as "maintenance free".
Many home owners still believe they are maintenance free. Eventually they find out there is no such thing as maintenance free. Years later there were lawsuits and these manufacturers no longer advertise like that.
Make sure you read the manufacturers maintenance instructions and have realistic expectations. Decks made from composite deck boards do require maintenance.
The maintenance that's typically required is cleaning dirt and debris off with a mild soap, bristle brush and water. Leaving dirt, pollen, leaves, etc. can lead to staining, mold growth on any product.
Composite decking is much lower maintenance than softwood decking like pressure treated pine. It's also resistant to water since its mostly made of plastic.
Composite decking such as Trex Transcend Decking or TimberTech Decking can be a great choice for above ground pool decks.
Composite Decking Disadvantages
As with any product there are a few disadvantages when using composite decking. Make sure you take these into consideration before building your pool deck.
Many homeowners complain about composites being extremely hot to walk on bare foot which might not be good around pools.
Pro Tip:
Lighter colors are generally cooler on bare feet so pick light grey's or light tan colors. These colors tend to be much cooler.
Another common complaint is it can be very slippery when wet which would not be good around a pool. Some composite decking is more slippery than others.
Pro Tip:
Composite deck boards that have embossed wood grain on the surface tend to be less slippery. Decking boards that have a smooth plastic surface can get very slippery. Order samples and test them for yourself.
One more complaint we've heard is pool guests spraying themselves or their children with sunscreen while standing on a composite deck.
Some have experienced permanent staining from the sunscreen while others said it can make the deck surface even more slippery.
Take these tips into consideration to help avoid issues if you do use composite decking boards for your above ground pool deck.
Last but not least your other option is:
Hardwood Decking
When we say hardwood we are talking about some of the hardest most durable woods on earth. The decking species we recommend for above ground pool decks are:
These South American hardwoods are sustainably harvested and have proven to last up to 75 years with very low maintenance.
They are naturally resistant to rot, decay, mold, mildew, splinter, up to a class A rating against flame spread, resistant to wood boring insects, naturally slip resistant and not hot to walk on bare foot.
Our Ipe decking has been tested for slip resistance – ASTM-C1028-89 tested. The test exceeded the Americans with Disabilities Act requirements for Static Coefficient of friction in a wet environment.
All of these qualities make them excellent around pools!
Hardwood Decking Maintenance
The only maintenance that's required is cleaning the dirt and debris off the surface which is required by all decking manufacturers (even composites).
Pollen, dirt, leaves, rain and other debris will land on all decks so a light power washing is a good idea when needed.
The only other maintenance that many homeowners choose to do is oiling the wood usually once a year. UV rays from the sun will bleach the color out of the wood and turn it grey.
Some homeowners like they grey look so they don't have to do anything other than an occasional cleaning.
Oiling the wood will keep the beautiful color of the woods and enhance the beautiful grain. Once you see the beauty of these woods most homeowners want to maintain that look.
Do not be confused, oiling hardwoods is incredibly easy.
It's not a top coat like water sealers for soft woods that peel off and leave you with a lot of maintenance.
The oil you simply roll on with a paint roller after that you wipe up any that did not soak into the wood. These woods are so dense they will only absorb so much oil. It will eventually fade away (usually spring time the following year). Then you just apply more oil.