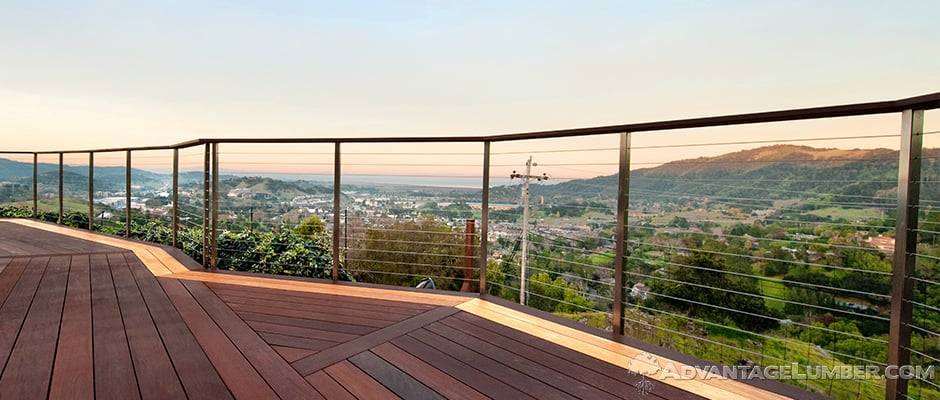 If you are searching for the cost of Ipe decking you have come to the right place. For nearly 30 years we have been transparent about publishing all prices and all costs associated with ordering Ipe decking directly on our website.
You can find the most up to date pricing here: Ipe decking prices
Looking for the Cheapest Price on Ipe Decking – Read This First!
Ipe decking is one of the most well known decking materials. It's one of the only proven decking materials to last up to 75 years in some of the harshest commercial applications such as The Coney Island Boardwalk.
As a result of its durability and beauty, Ipe wood prices have steadily increased over many years due to the increase in demand as well as many other factors such as fuel costs, increased government regulations to ensure sustainable logging as well as increased importing costs to get the Ipe wood into the USA.
As the leading importer of Ipe decking we are the only American company that owns our own lumber mills in Brazil.
We opened our own mills in Brazil for many reasons including being able to ensure the highest quality Ipe decking is being shipped to our customers.
We are also able to ensure all logging is being done legally and sustainably as our staff in Brazil are working everyday to ensure all aspects are legal and sustainable.
Being the largest importer also allows us to offer the best pricing on quality Ipe decking. We have seen others offer Ipe for a cheaper price to entice a customer on buying "cheaper Ipe". Be warned that not all Ipe decking is equal.
Some will offer cheaper prices on the decking while everything else is more money. We are also one of the only Ipe decking sellers that consistently offers free shipping on many items.
We also do not have any minimum purchase quantities on Ipe wood. Some sellers impose expensive minimums so they can focus on making more profit and not be bothered with a smaller order.
We are glad to package and ship $100 worth of Ipe so you can build planter boxes or an Adirondack chair.
Yes it costs us more money to package these smaller orders but we are happy to do it so we can prove and show our commitment to customer care and satisfaction no matter how much you spend.
We have even seen some sellers that are drop shipping Ipe selling other cheaper species as Ipe and charging a premium for it. They have no control over what they are selling since they are a middle man with a website and don't own any inventory.
These sellers simply have other brokers ship you what they have left over and could not sell to their own customers.
The people that fall for that found they got what they pay for… "Cheaper Ipe Decking" or sometimes not Ipe at all but some other cheaper specie.
We welcome all of our customers to stop into one of our 4 US factories to view what you are going to purchase ahead of time. We also welcome wholesale buyers looking to purchase large quantities to tour one of our Brazil mills.
Make sure you are going to buy from someone that is very transparent and willing to show you their operation and what you are purchasing.
Ipe Decking Grading Standards
For nearly 30 years our customers have come to rely on the quality of Ipe decking that we have consistently delivered.
We pioneered the grading standards of Ipe and are the only ones to offer (SMR®) Select Mill Run® Ipe decking.
SMR® Grading is Ipe decking that we sort because it does not meet our standards for our premium Ipe but it is not B grade either. So we created SMR® which is a grade between the premium and B Grade.
We offer this grade as a cost savings for those customers that don't mind a little more character but want to save some money on their Ipe decking purchase.
Below is a picture of our SMR® Ipe deck tiles. They are very beautiful and just as durable as our premium Ipe wood decking.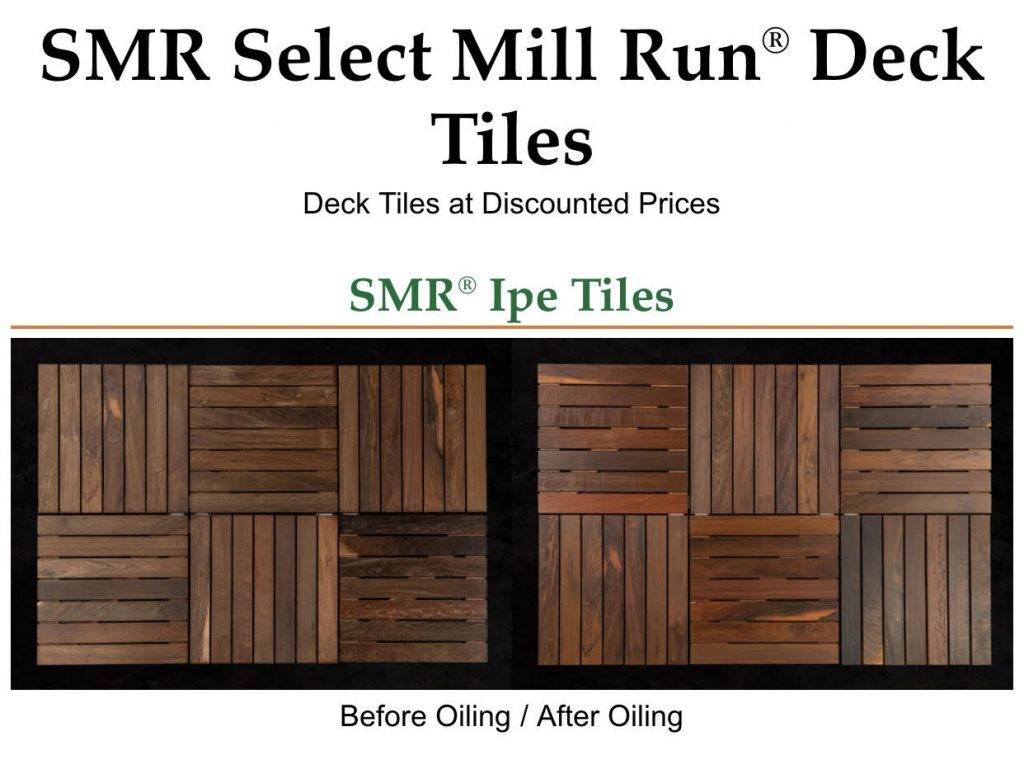 If the cost of Ipe decking has really got you sweating we took it one step further. We also offer B Grade Ipe decking which offers you a significant cost savings on your Ipe.
Our B grade Ipe exceeds most of our customers expectations since our grading standards are the highest in the industry.
Watch this short video below to see what a customer built with our B grade Ipe and see what he has to say.
Ipe Wood Discounts
Having 4 factories in the US and 2 in Brazil gives us a large quantity of Ipe wood that we offer at huge discounts.
We have a lot of short length materials and odd lots of Ipe wood that are perfect for many projects but do not meet our most common requested sizes.
We sell these Ipe wood boards and many other species for prices up to 50% Off. Check out our Ipe decking discount prices