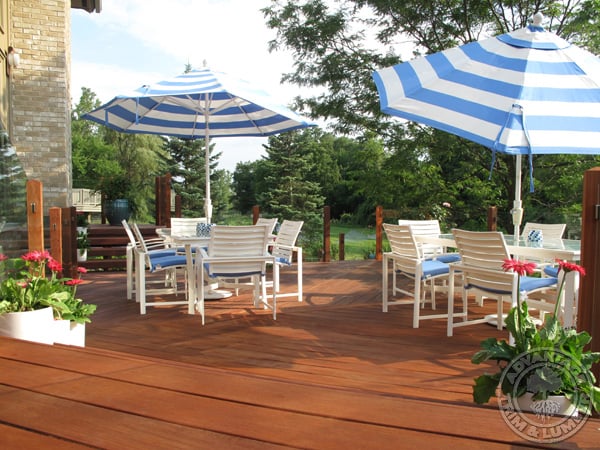 There are a ton of decking materials in the market today. At Advantage we specialize in hardwood decking only because our customers demand the best. This is why, of the many wood decking options out there, Advantage has thoroughly tested and selected four of the finest, most reliable options that work well in any climate.
Tigerwood, Cumaru, Ipe, and Garapa are the Porsche, Mercedes, BMW, and Audi of the decking world. Each has their own distinct look at set of qualities, but one thing binds them together. The combination of reliable durability and resilience that serves to give you an outdoor retreat with  high performance.
For instance, check out this wood deck pictured above. This Cumaru deck was constructed in Michigan. This homeowner actually replaced their redwood deck with Cumaru because they wanted a decking material that would withstand the brutally harsh cold, snow, and bad weather that Michigan is famous for. And, when Spring does come, she also wanted to have an outdoor retreat that she wouldn't have to spend money maintaining. When you see the Cumaru deck pictures that she sent us, you'll have to admit that she made the right choice.
While you can describe the quality of hardwoods like Cumaru, Tigerwood, and Garapa as luxurious and reliable, there is one major difference between them and other higher-priced decking options, price. These four decking options are a great value and are more affordable both in the short and in the long run. Being so naturally resilient to insects, mold, and decay allows each wood to last for decades.
With the fall building season just about to start, now is the time to consider these four wonderful exotic hardwood decking options for your home.