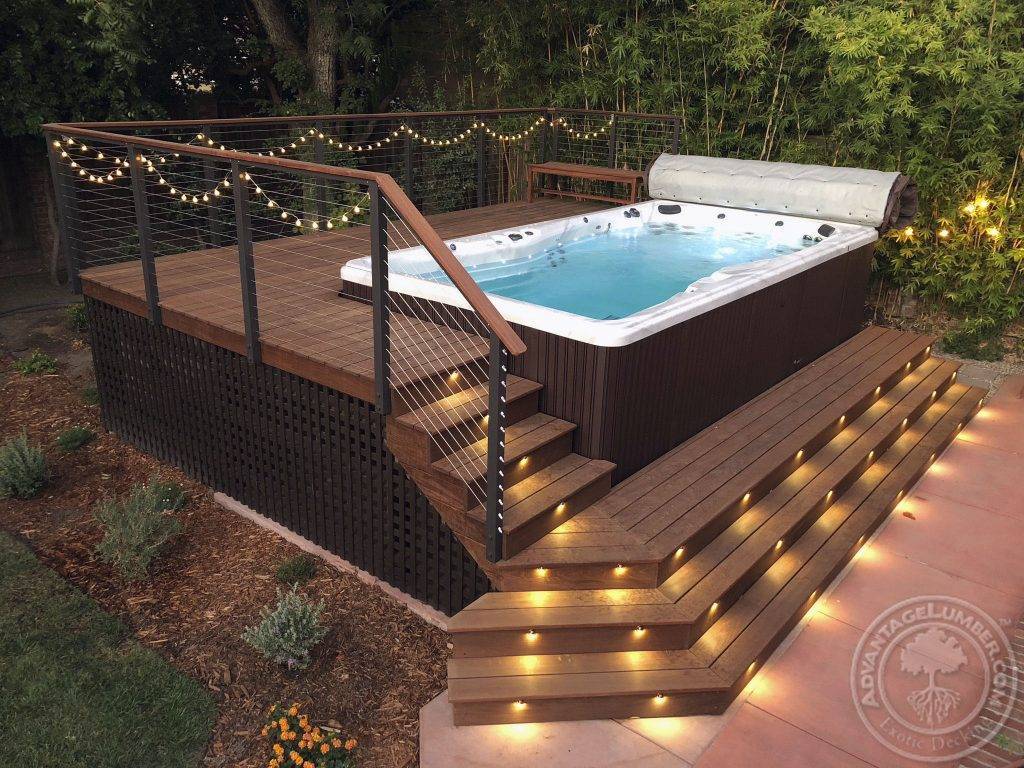 A swim spa can be a great addition to your home. However before you purchase a swim spa you need to consider a deck built around it.
A custom deck built for your swim spa will make accessing and using your new swim spa easy and enjoyable it can also reduce the risk of a slip and fall injury.
This is a Master Spa 15 Deep Swim Spa that a California homeowner purchased. They were looking for the best decking material to build a deck for their new spa.
Whats the Best Deck for a Swim Spa?
We strongly suggested Ipe wood for the deck surrounding their new spa. Here's a few reasons why Ipe wood works so well for swim spas:
Our Ipe wood has natural slip resistance and has been ASTM-C1028-89 tested so our Ipe Decking exceeds the Americans with Disabilities Act requirements for Static Coefficient of friction in a wet environment
Ipe is naturally resistant to mold, mildew and wood boring insects
Approximately seven times harder than Cedar, ASTM-D143-94 tested; our Ipe decking stands up to the harshest conditions imaginable.
Barefoot friendly compared to softwoods that deteriorate fast
These are a few reasons why our customer chose Ipe for their new swim spa deck and railings.
Swim Spa Deck Ideas You Might Like:
The homeowner designed the swim spa deck to allow simplified unrolling of the spa cover. This is achieved while standing on the 3-step side. You can easily fold and unfold the cover on the spa while walking the entire length of the spa.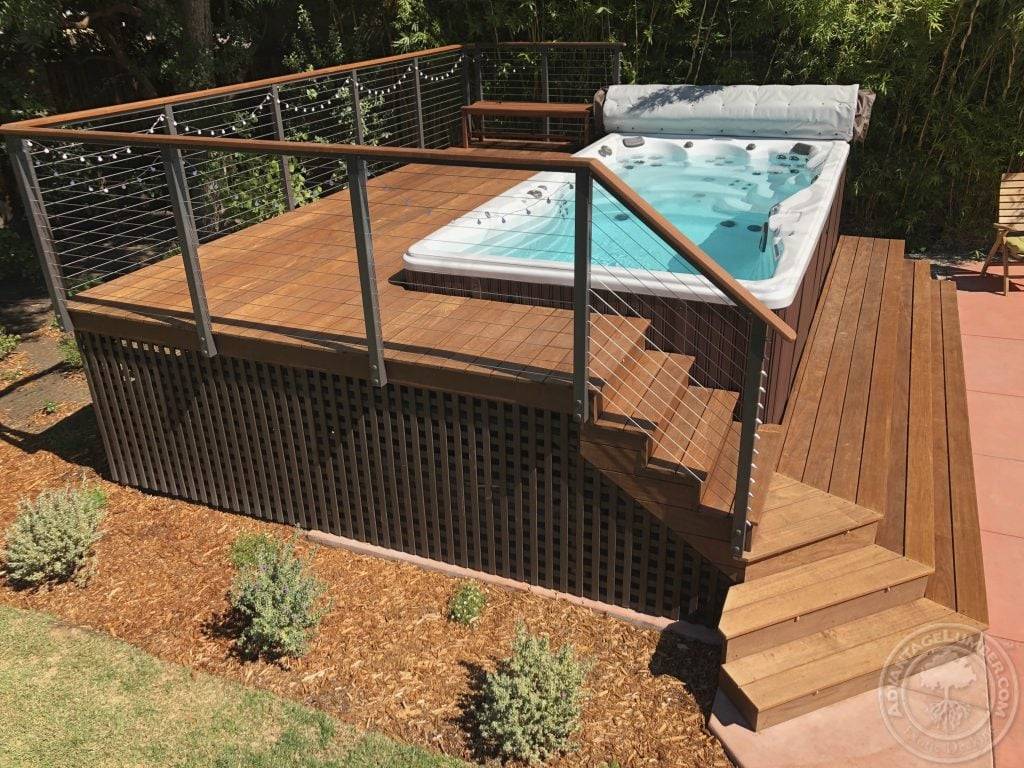 Take note of how wide the top platform is, this is an important detail. When you are taking your cover on and off you are usually focused on the cover so a narrow step would leave you more likely to trip.
The wide platform reduces the risk of tripping over a narrow step while taking your cover on and off. One other detail you'll notice is the height of the top platform.
Your walking platform should allow you to fold up your cover without being hunched over and this deck was designed with that in mind as well.
The upper deck allows for easy spa access and features a wide bench for removing your sandals as well as a nice place to set your towel and smart phone.
The railing is stainless steel cable to maximize the views of the garden. The posts are powder coated which will offer years of maintenance free railing. The top handrail is Ipe wood to match the decking and provide a nice slip resistant grip.
LED lights were built into the steps to illuminate the steps as well as add some elegance. The deck substructure is constructed of clear redwood and was designed to allow removal of the spa side panels for future maintenance of the spa if needed.