This is an interesting project from another one of our happy customers. They are so thrilled with the way the Ipe wood compliments their bathroom. Take note of the long Ipe wood boards that trim out the tile edges instead of using standard bull nose like most people do. If they had used bull nose tile to finish off their shower it certainly would not have such a beautiful contrast that the Ipe wood gives. Look closely and you'll see they extended the tile past the glass door which seals off the shower elements from the wood, this should help their finish they applied remain intact for years to come.
The shower floor is simply a standard shower basin to match the jetted tub. They built a custom Ipe wood shower floor platform that sits inside of the shower basin which really gives it a designer look. Ipe is a great choice for this application since the wood has proven to last outside in extremely harsh climates for 75+ years. Ipe wood will not give off any slivers in your feet and is naturally slip resistant as well as rot resistant making this wood shower a project that can last a very long time.
This design also allows for the wood shower floor to be easily removed for cleaning or in case if something is dropped like jewelry or razor heads to love to pop off when you drop them. One other feature that many people like with an Ipe wood shower floor is you can build the wood surface so that its completely flat since the shower basin underneath is slopped for proper water drainage.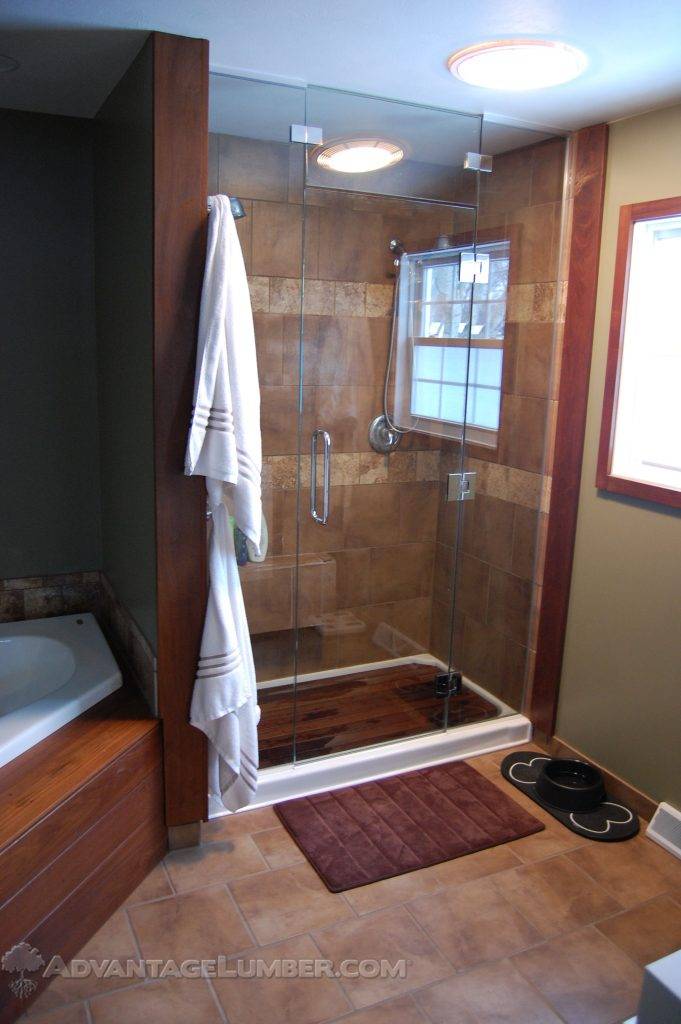 They also wrapped their jetted bathtub with Ipe wood as well as a few wood accents like the trim around their window and vanity mirror. They have received so many compliments from friends and family and they are very pleased with how the Ipe wood accents their jetted tub. The durability of the wood has exceeded their expectations considering it is such a wet environment.