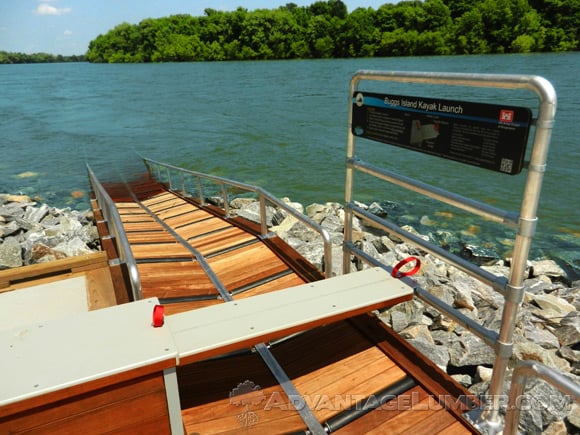 The Buggs Island Universally Accessible Launch in Roanoke, Virginia is a kayak launch specifically made for disabled veterans.
The purpose of this project was to give disabled veterans and residents a chance for some recreational therapy as well as a good time outdoors. They chose Advantage Ipe™ because of its natural slip resistance. They also chose our wood because we had the capability to custom mill each board into an anti-slip profile for even greater slip resistance. This makes the ramp ideal for both safety and water activities.
Our Ipe ensures superior traction when someone is pushing a kayak down the launch.  Besides being a safe option for fun projects, Advantage Ipe™ is a beautiful addition with superior benefits. Owners of Advantage Ipe never have to deal with mold, termites or rot. These qualities ensure that visitors can enjoy this launch for years to come.
Read more and see more pictures of the Ipe used for this special project.
If you are looking to create specialized ramps or walkways that are compliant with the Americans with Disabilities Act (ASTM-C1028-89 tested), then call or visit AdvantageLumber.com today to get your free ipe wood quote.