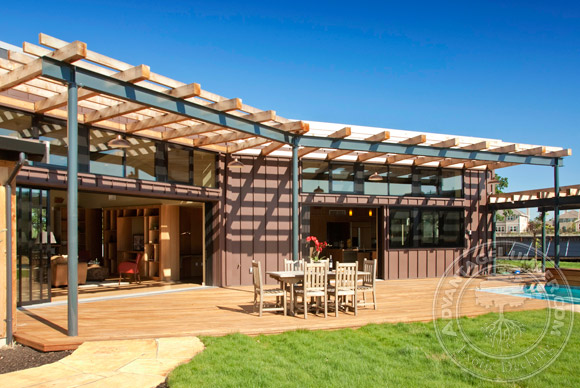 Mother Nature can take a toll on wooden decks. But, with proper cleaning and maintenance, your deck will last for many years. Here are some step-by-step instructions:
Remove all items such as furniture, plants and carpets from your deck. Protect nearby shrubs and plantings from debris and spray by covering them with plastic sheeting.
Remove dirt, pine needles, and all other debris — both on the surface and in between the deck boards.
Clean the deck using DeckWise Cleaner/Brightener that can be purchased ONLINE.  (Prior to using any deck cleaner, spot test it to make sure it will not stain your deck) It's best to do this on a cloudy day when the decking is cool.  The cleaner can be applied with a roller, sprayer or stiff bristle brush.  For best results, keep the deck wet while applying cleaner. Allow the cleaner to work (about 20 mins – longer if deck is very dirty). Scrub deck thoroughly with a stiff bristled brush or spray with a power washer (CAUTION! CLICK HERE to see video on how to properly use a power washer). Rinse deck thoroughly with clean water.
Allow the deck to dry for 48 hours.
Smooth out all rough areas by sanding them with 120 grit sand paper on a round or orbital sander. Pad sanders leave bad scratch marks behind. Remove sawdust with your shop vac or by sweeping it away.
Ipe Oil dries best on hardwood decks. Some sealers don't dry properly because of the high density of hardwoods.

It is best to apply the sealer to the decking with a roller, covering up to four boards at a time. Brushes and small rollers should be used for railings, planters, and benches. Apply thin coats. After five minutes, wipe any excess sealer with a clean rag.

CAUTION: Ipe oil and other sealers have a low flash point and used rags can combust. Please dispose of your used rags properly.