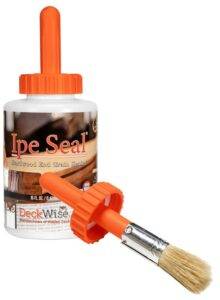 Just imagine your order of ipe decking arrives just in time. You look over each board and can see right away that each board is definitely premium grade. Satisfied, you start cutting and installing your deck right away.
Things go smoothly and you're about 75% of the way done when you start to see what looks like cracks in your decking. The worst part? It's not just one or two boards (That would be manageable). To your horror you see that 90% of your boards are "end checking."
Unfortunately, this happens to more than one person who fails to properly take care of their decking before they install it.
Thankfully, there's a very easy way to prevent this disaster from happening.
Simply apply a wax-based hardwood end sealer to each board. Why? Like the tale above, end checking can occur if you don't apply an end grain sealant and will make a once immaculate looking deck look aged and unattractive very fast.
You benefit most by using a product such as an End Grain Sealant because:
It's a one-time application
It can be applied easily
Prevents end checking (aka end splits)
Buy Ipe end grain sealer online to protect your ipe decking or contact AdvantageLumber.com today to place your order over the phone.
Special Note: This wax emulsion sealer must be applied to the ends of each board only. Avoid getting it on the surface of your decking.