If you're planning to build a deck for your home, you're likely wondering, "how long do wood decks last?" Deck lifespan is an essential factor to consider as it can greatly impact your future maintenance costs and the overall longevity of your investment.
In this blog post, we'll explore the durability of various wood species, including pressure-treated pine, cedar, redwood, Ipe, Cumaru, Tigerwood, Garapa, Massaranduba, Teak, and Red Balau.
Pressure-Treated Pine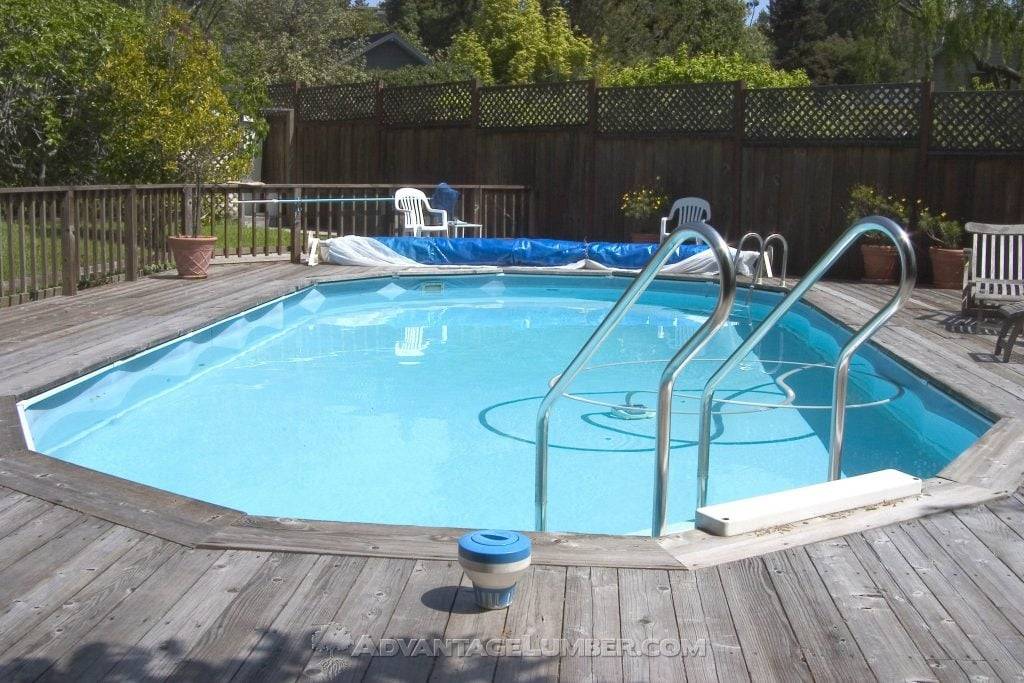 Pressure-treated pine is a popular choice for decks due to its affordability and availability. The pressure-treating process makes this wood resistant to rot and insects, extending its lifespan to around 15-20 years with regular maintenance.
However, because pine is a softer wood, it's more susceptible to scratches and dents. Also failure to maintain this wood with a water sealer every year will lead to faster rot and decay which will shorten the lifespan.
Pressure Treated Pine Janka Hardness: 690
Cedar
A step above pine, cedar is a beautiful and durable wood option. Due to its natural oils and tannins, cedar is resistant to decay and insects. With proper care and maintenance, a cedar deck can last 15-25 years.
Cedar is another softwood that requires annual application of a waterproofing sealer to extend the life of the deck.
Western Red Cedar Janka Hardness : 350
Redwood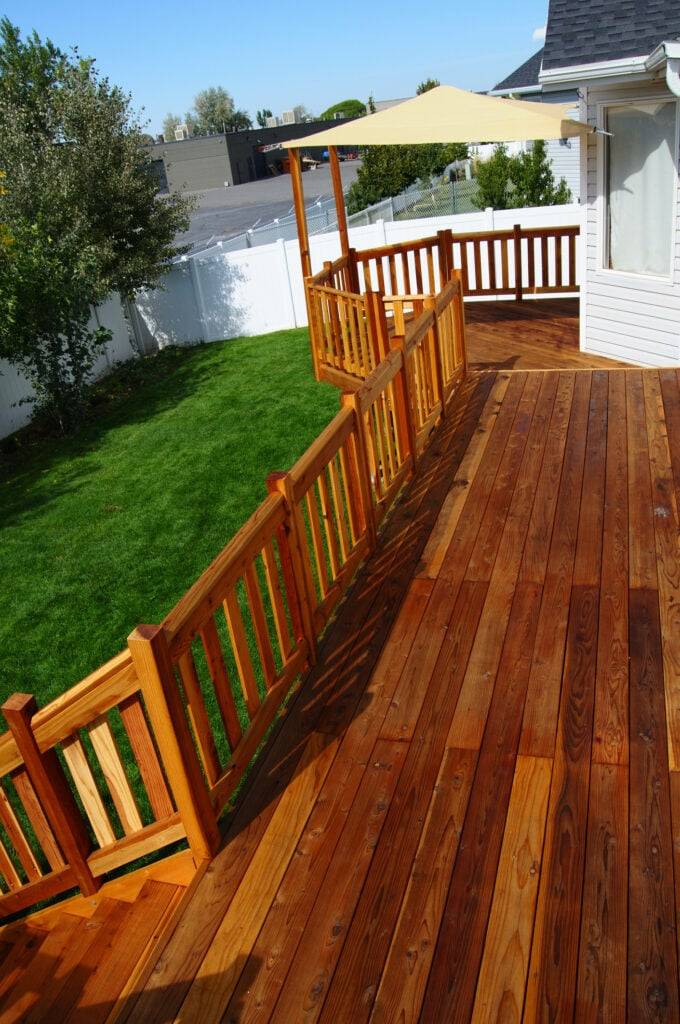 Similar to cedar, redwood is rich in natural oils and tannins which provide resistance against decay and insects. Redwood decks can last up to 30 years when properly maintained. However, redwood is more expensive and less readily available than cedar or pine.
Redwood Janka Hardness: 420
Ipe Wood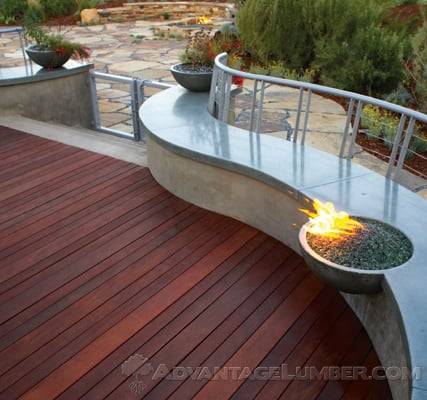 Ipe, also known as Brazilian Walnut, is an extremely hard and dense wood species. Thanks to its density and natural oils, Ipe is incredibly durable, naturally resistant to rot, decay, and insects, and can last upwards of 75 years with very little maintenance.
Ipe is considered one of the most durable exterior wood species its so dense it will sink in water and wood boring insects can not chew into it. If you do very little maintenance to an Ipe deck it will eventually turn grey but will still maintain its durability. It does not require a waterproofing sealer to prevent it from rotting.
Ipe has been used on many commercial applications such as the Coney Island boardwalk, Brooklyn Bridge and many more. Ipe has proven to lat up to 75 years in some of these commercial applications with little to no maintenance.
Ipe wood also does not splinter like softwoods will. If you choose to let your deck go grey like in the picture below it will maintain its smooth surface.
Ipe Janka Hardness: 3,680
Cumaru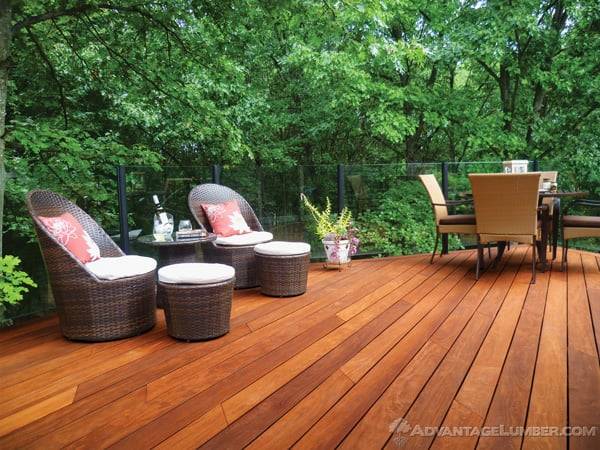 Cumaru, also known as Brazilian Teak, shares many qualities with Ipe. This durable hardwood can withstand the elements and resist rot, decay, and insects, providing a lifespan up to 50 years. Cumaru has all the similar properties and characteristics of Ipe at a more affordable price.
Cumaru Janka Hardness: 3,540
Tigerwood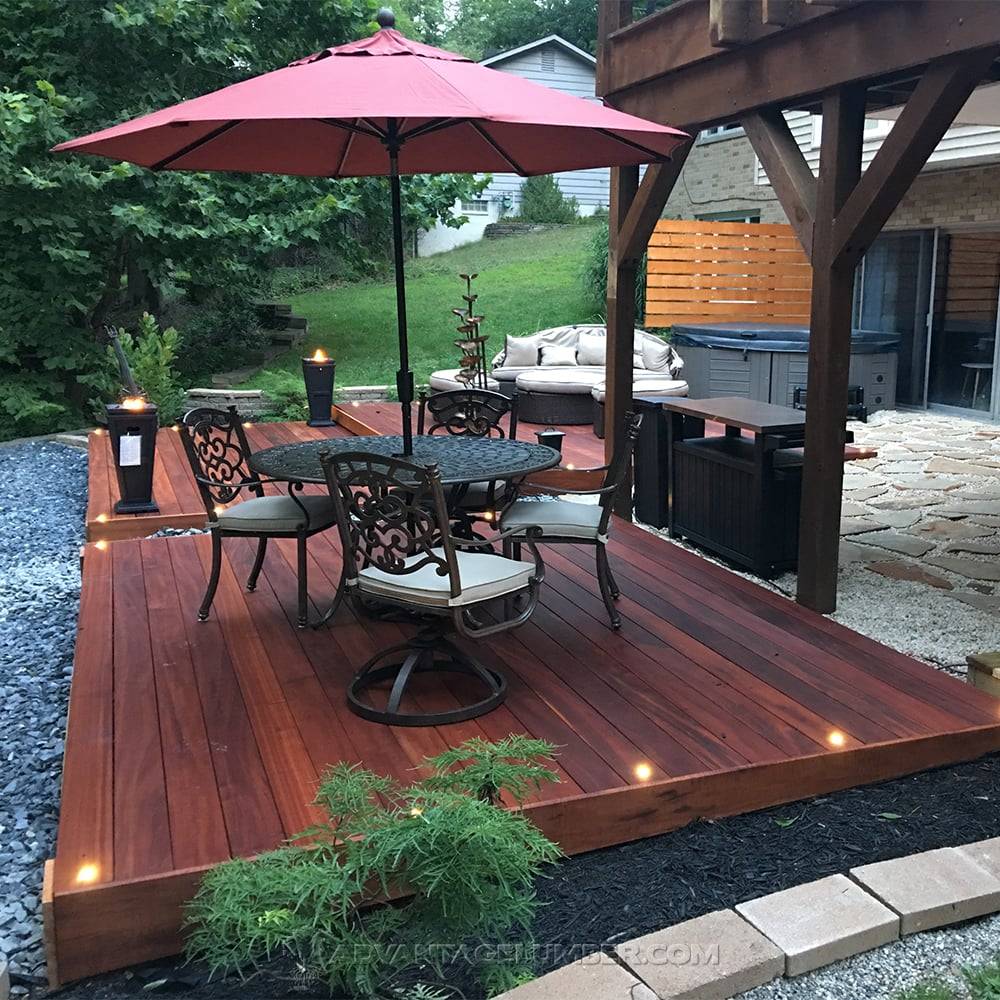 Tigerwood is another Brazilian hardwood renowned for its striking appearance and durability. Like Ipe and Cumaru, Tigerwood is highly resistant to rot and insects. Expect a Tigerwood deck to last 30+ years with good care.
Tigerwood Janka Hardness: 2,170
Garapa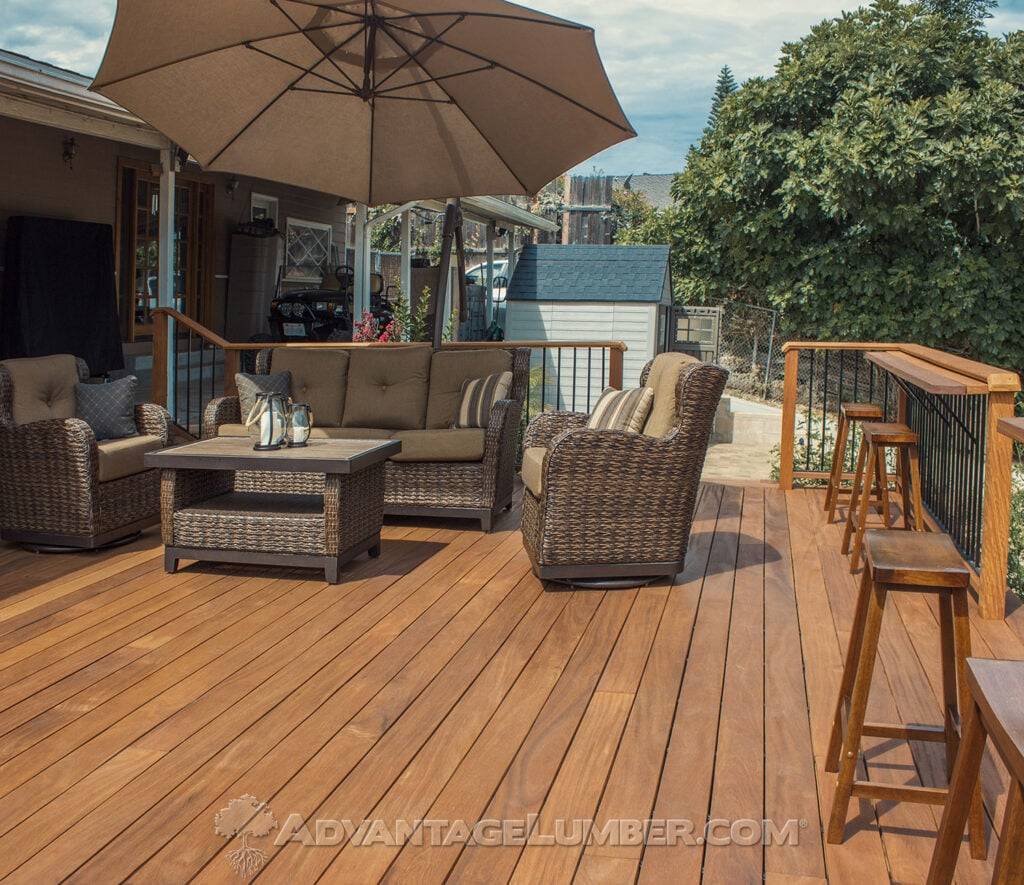 Also known as Brazilian Ash, Garapa is a durable hardwood species. While it's not quite as dense as Ipe or Cumaru, it still offers great resistance to decay and insects, providing a lifespan of 30+ years. Garapa has a very high natural silica content which makes it hard on cutting tools but also tough and durable to resist mother nature which can be tough on decks.
Garapa Janka Hardness: 1,650
Massaranduba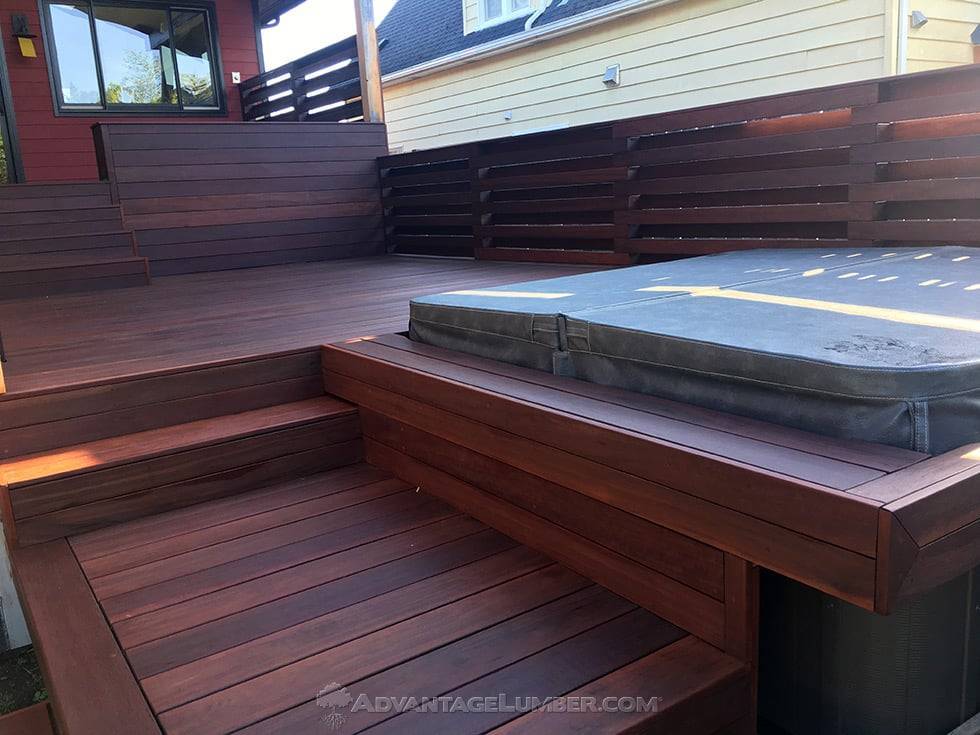 Massaranduba, also known as Brazilian Redwood, is one of the most durable hardwoods available. Like other Brazilian hardwoods, Massaranduba is resistant to insects, rot, and decay, and can last over 30 years with very little maintenance.
Massaranduba Janka Hardness: 3,190
Teak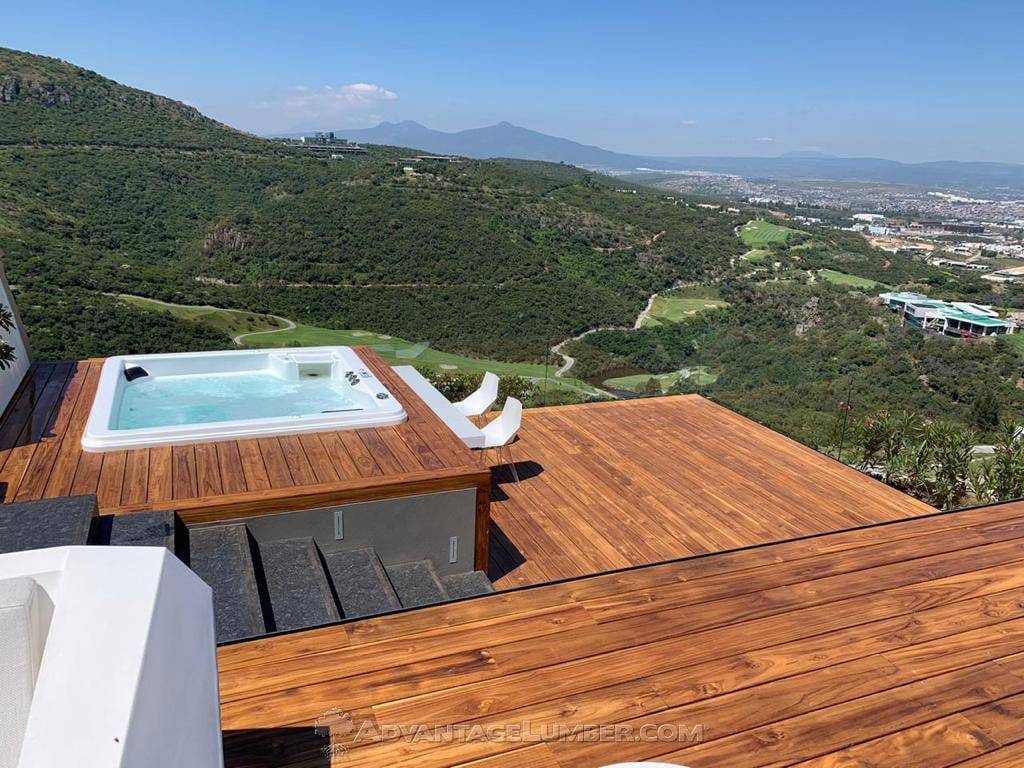 Teak is often used in boat building because of its extreme water resistance. Naturally rich in oils, teak is highly resistant to rot, decay, and insects. A well-maintained teak deck can last 25-30 years.
Teak Janka Hardness: 1,000
Mahogany (Red Balau)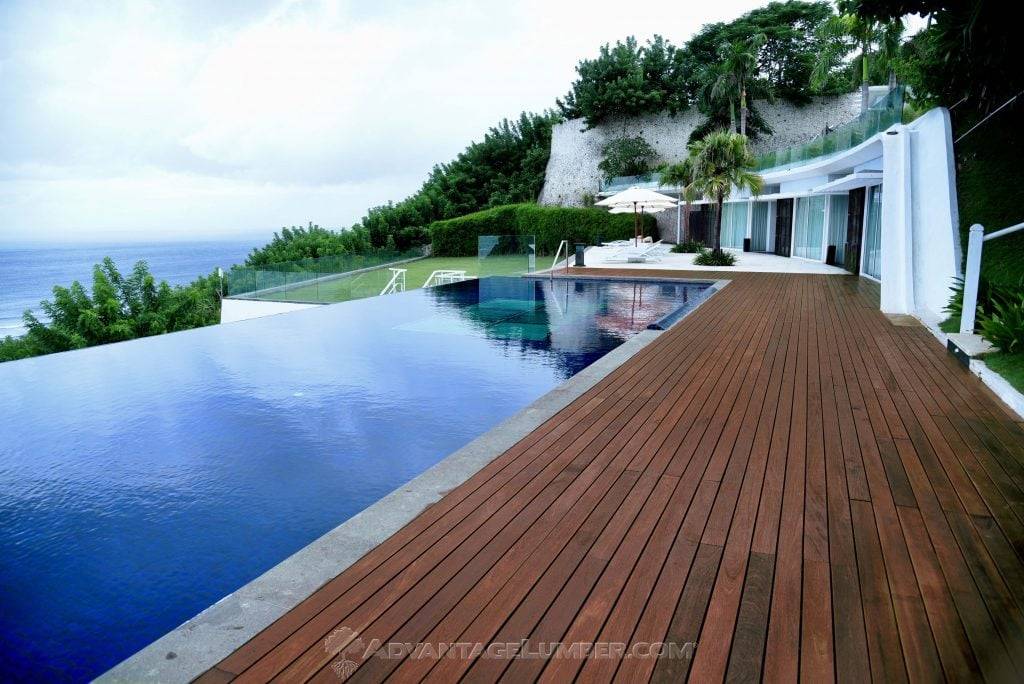 Mahogany (Red Balau) is a durable and affordable alternative to the other hardwoods mentioned. It's naturally resistant to rot, decay, and insects, and a well-maintained Red Balau deck can last up to 30 years.
In conclusion, the lifespan of your wooden deck largely depends on the type of wood used and how well it's maintained. While pressure-treated pine and cedar offer affordability, exotic hardwoods like Ipe, Cumaru, and Massaranduba provide unrivaled durability.
Mahogany (Red Balau) Janka Hardness: 1,600
So, when choosing the right wood for your deck, consider not only the initial cost but also the lifespan and maintenance requirements. This way, you can make an informed decision that will enhance your outdoor living space for many years to come.
You can shop and price all of our hardwood decking directly on our online store: Buy Hardwood Decking