When deciding to build the deck of your dreams, it's important to make sure you invest in material that will last for years and not be a hassle. The first step in making sure you will live happily ever after with your deck is making sure you know all the material that is available for you to choose from. Once you see all that is out there, you will discover what thousands of other homeowners already know; Advantage Hardwoods are the most ideal choice for your unique project.
2013 DECKING GUIDE
Ipe Decking (Brazilian Walnut)
Ipe lasts longer than any other product available and, for many, is also the most beautiful. This option is sure to provide you with many years of enjoyment and memories. The way the grain variegation and unique color patterns of dark brown and walnut carry through each board is truly breathtaking and makes any project with Ipe a spectacular one!
Appearance: An extremely dense, tight grained wood. Boards display a deep rich brown with some pieces displaying red and amber hues.
Hardness: 3680lbs – 3x Harder than Teak
Bending Strength: 25,400 psi
Benefits: Low maintenance. Highest rating for insect (termite) & decay resistance. Proven lifespan of 75+ years.
Cumaru Decking (Brazilian Teak)
Cumaru is similar to Ipe when comparing strength, durability and longevity. The major difference is the color and cost. Cumaru color varies from a golden to reddish brown and is also a species that is top of the line when it comes to beauty and strength.
Appearance: Color variation includes honey to reddish brown with dark grain accents throughout the wood.
Hardness: 3540 lbs – 8x Harder than Redwood
Bending Strength: 24,800 psi
Benefits: Low maintenance. Extremely durable. Naturally resistant to decay. Offers 50+ year lifespan.
Tigerwood Decking (Brazilian Koa)
Advantage Tigerwood looks as exotic as it sounds. With unique light to golden brown hues and striking marks of black and dark brown, this hardwood species is truly one that roars! Its beauty isn't the only thing that is intense; so is the strength! Plus, just like all of Advantage hardwoods, it will not attract mold and fungus like composite and is also naturally slip-resistant.
Appearance: Light golden brown to brown with irregular black and brown streaks.
Hardness: 1850 lbs. – 2x Harder than Cedar
Bending Strength: 19,285 psi
Benefits: Low maintenance and naturally durable. Offers 30+ year lifespan.
Massarabduba Decking (Brazilian Redwood)
Massaranduba is one of the toughest in the world. It tests extremely well in our bending strength tests and is proven twice as strong as California Redwood. This species of hardwood also offers the most spectacular rich, red coloring that customers ask for again and again!
Appearance: Velvet red to dark reddish brown with straight grain and a fine texture. One side of the surface is anti-slip and the opposite surface is smooth for a more traditional look.
Hardness: 3190lbs – 7.5x Harder than Redwood
Bending Strength: 27,280 psi
Benefits: Excellent durability and low maintenance. Exceptional resistance to rot, decay, and insects. 30+ year lifespan.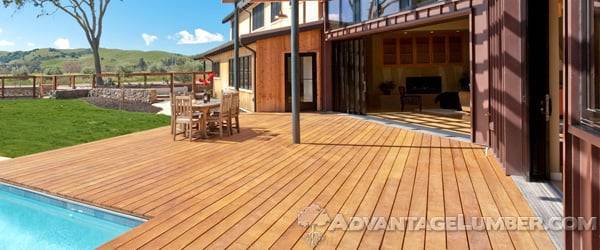 Garapa Decking (Brazilian Ash)
Garapa is chosen by many because of its robust performance and beautiful unique color pallet. With colors of golden honey and the undeniable fact that it outperforms many other wood options, it is a hardwood that is hard to not love!
Appearance: A fine-grained hardwood that has light yellow to warm golden hues.
Hardness: 1210 lbs – 3x Harder than Redwood
Bending Strength: 12,900 psi
Benefits: Durable and naturally resistant to rot, decay, and splinters without any chemical treatments. Offers 30+ year lifespan.
Synthetic Decking (Wood-Plastic Composites, Capstock Decking)
Composite decking is usually a mixture of grounded sawdust/plastic and is supposed to appear like real wood decking. Notable problems include mold, fading, softness and rotting. The new capstock decking offered has a composite core with a PVC and/or proprietary polymer shell. The new variations are often as expensive, if not more expensive then hardwood decking. With capstock material, some reported issues include swelling and cracking on the ends due to moisture. There have been a ton of lawsuits, as well as class action suits for composite decking (a google search will reveal plenty of information). As for all the claims of being eco-friendly, it's important to realize the production of plastic decking produces gases that are released into our atmosphere. The decking itself releases a lot more carbon into the atmosphere.
Appearance: Various colors and grain patterns produced
Hardness: Varies based on material and manufacturer's specifications
Bending Strength: Varies based on material and manufacturer's specifications
Benefits: Only if you are willing to put up with the look of plastic outdoors.
Traditional Wood Decking (Pressure Treated Pine)
Pressure Treated Pine is an option that has been around for quite sometime. This chemically enhanced product is readily available, fairly inexpensive and easy to work with. The problem with this material is you get what you pay for. Pressure treated pine often cups, warps, splits, cracks and does not last! However, pressure treated material is best used for deck framing.
Appearance: Very pronounced grain. Dusty yellow-green color due to chemical treatment of the wood.
Hardness: 690 lbs
Bending Strength: 14,500 psi
Features: Chemically treated with preservatives. Chemically treated to prevent termite infestation.
CONCLUSION
If safety, beauty and strength are important to you, then it is important to use hardwood decking for your next project! You will be amazed with the finished look and be able to enjoy it for years to come! Visit AdvantageLumber.com to get a free decking quote or call 1-877-232-3915.