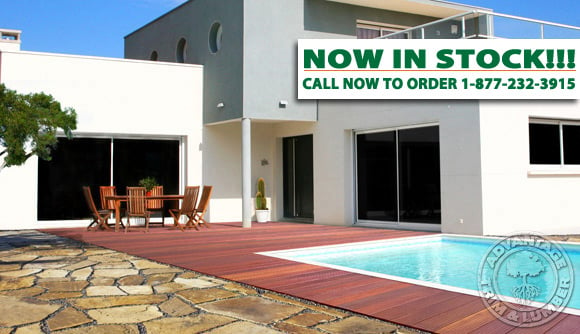 You might have noticed that we've recently added Massaranduba decking to our exotic hardwood lineup.
I hear what you're saying, "Massar-what? Why should I bother building a deck with this wood?"
If you were considering Redwood, Cedar, a red colored composite for your outdoor deck, then the answer is a resounding "Yes." Sure, Massaranduba might be hard to pronounce but it's also a very tough wood, period. (By the way, it's pronounced Ma-Sa-Ran-Doo-bah). Just take a look at the specs and you'll see why this decking line is also famously known as Bulletwood and Brazilian Redwood.
But, wait…isn't Redwood one of the hardest woods? What makes Massaranduba any better?
A common misconception about domestic redwood is that it's a hard wood. Nothing could be further from the truth. While the petrified redwood trees are famous for being as hard as rocks, a real redwood tree grown for lumber and decking purposes is one of the softest woods available. For instance, when conducting an apples-to-apples comparison between Redwood and Massaranduba, the differences are striking:
Redwood is 7.5 times softer than Massaranduba (Redwood Janka Hardness = 420 vs. Massaranduba Janka Hardness = 3,190)
Redwood is over 2 times weaker than Massaranduba (Redwood Bending Strength = 10,000psi vs. Massaranduba Bending Strength of 27,280psi)
Here is some further explanation into the differences between Massaranduba and Redwood.

Massaranduba Decking
Brazilian Redwood Decking
California Redwood Decking
"Traditional" Redwood Decking
Appearance
Red to dark reddish brown. Straight grained and smooth. The color can be preserved using annual applications of a UV inhibiting deck oil.
Varies considerably depending on grade. Color ranges from brownish-pink to reddish brown. This is a softwood that will requiring staining if you want it to have a color.
Durability
Massaranduba is a hard, heavy wood. Very resistant to decay and termites. Average lifespan over 20 years
Higher cost grades are more durable than most. Quick to weather and split. Treatment is required.
Strength (Load Capacity)
Over 2x stronger than California Redwood (29,200 psi)
10,000 psi
Hardness
Over 7x harder than California Redwood (3,190 Janka Hardness)
420 Janka Hardness
Maintenance
Very low maintenance with an average lifespan of over 20 years.
Periodic staining and board replacement my be required depending on age, climate and use.
You've made it this far? GREAT!
Now, we can get to the dirty details….price.
Does Massaranduba cost more per lineal foot than Redwood? Yes. There's no way around it. You get what you pay for. Massaranduba is a richly colored, dense, strong, and reliable hardwood with a lifespan over 20 years. Statistically and aesthetically, it is a better wood on all front. It's highly popular in Europe because its also very low-maintenance.
So, now that you know all about Massaranduba…what do you think? Is this a viable choice to replace your older deck? If you have any questions, or want to order some of our Massaranduba decking, give us a call at 1-877-232-3915. We'd love to help you.