Nestled in the beautiful neighborhood of Manhattan Beach, CA is a contemporary home with a newly remodeled backyard. The old backyard was a split between stained, cracked concrete and patches of dirt. Clearly not a pleasant area for spending quality time with family and friends.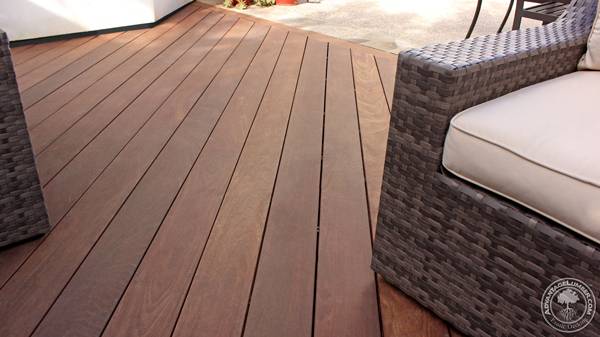 The new backyard features a beautiful outdoor kitchen complete with a sink, refrigerator, and gas BBQ grill. There's also a bar counter for enjoying meals and drinks, as well as a metal dining table and a full outdoor living room. When choosing the materials for this project, the homeowners were careful to select ones that would provide a safe space for their child while also looking gorgeous.
In the kitchen area, the floor is concrete to contrast with the Ipe kitchen and bar counter. This section has a steel dining table for guests to enjoy the nice Southern California weather. On the side where the outdoor living room is, the entire floor is Ipe decking. The homeowner built the deck to be flush with the concrete pad for a striking transition. Ipe provided an elegant dark color that stands out against the color of the house and the new concrete. Ipe's structural stability and strength mean that the homeowners are able to entertain as many guests as they wish and let their child walk around without worrying about splinters.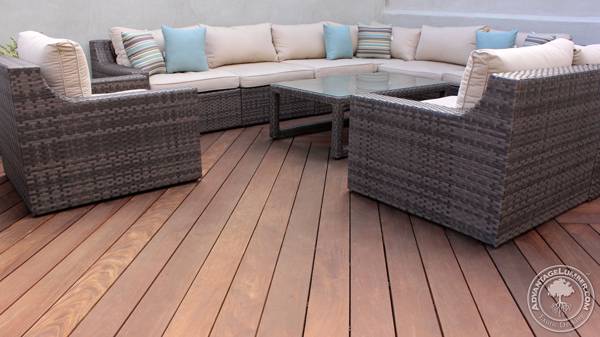 This once drab and dull backyard was turned into an amazing space that has improved the quality of the house and the homeowners' lifestyle. The deck and BBQ are sure to see many parties and gatherings in the coming decades.