Are you looking to breathe new life into your concrete porch by installing beautiful decking? Perhaps you're interested in a more natural appearance or simply desiring a softer surface underfoot.
Whatever your reason, this guide will walk you through the process of installing two types of popular decking over your concrete porch: Hardwood deck tiles and composite deck boards.
Why Hardwood deck tiles and composite deck boards?
First you don't want to use standard wood deck boards over a concrete porch because they need good ventilation on the underside of the boards.
Some woods like pressure treated pine or cedar could rot too fast because concrete contains and expels moisture. This would cause the underside of the deck boards to rot. They would also likely experience undesired movement like cupping, twisting and buckling making the porch potentially unsafe.
Hardwood deck tiles are a popular choice for outdoor surfaces due to their incredible durability, natural resistance to decay, and stunning aesthetic appeal.
The types of hardwoods that we recommend and manufacturer deck tiles in are: Ipe, Cumaru, Garapa, Tigerwood, Brazilian Redwood and Teak. These are incredibly durable species that have proven to last up to 50 years with very little maintenance.
They are naturally resistant to rot and wood boring insects and wont give splinters like softwoods. The superior construction with solid wood bracing underneath and all stainless steel screws make them one of the few wood decking products that can be placed directly over concrete.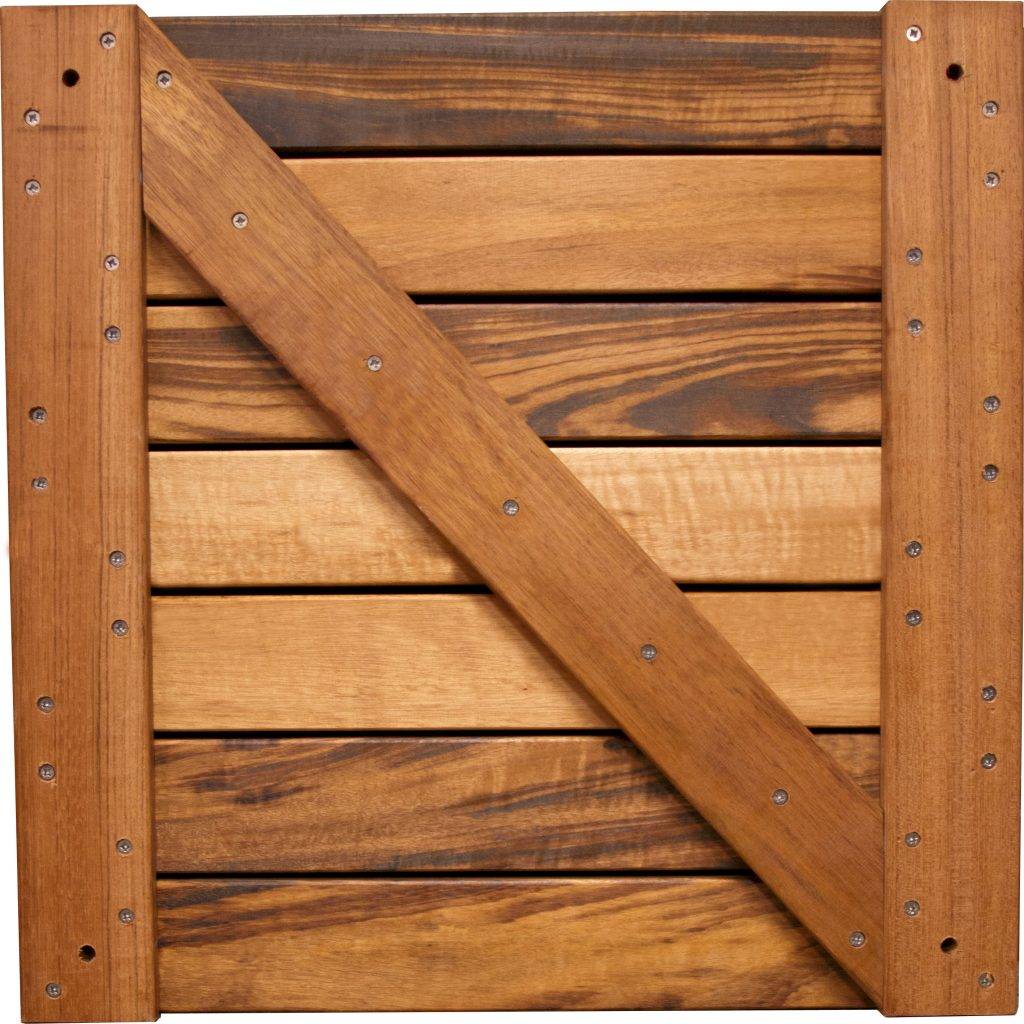 Composite or PVC Decking Over Concrete Porch
Composite or PVC deck boards would be the other decking products we would recommend to go over a concrete porch. Since they are made from plastic they are resistant to the moisture from the concrete which makes them a good option.
Both Composite and PVC deck boards are known for their longevity, low maintenance, and wide range of color and texture options. They can closely mimic the appearance of natural wood without the upkeep.
Let's dive in and learn how to install these deck materials over your concrete porch.
Hardwood Deck Tiles Installation
Hardwood deck tiles are a relatively straightforward DIY project that you can accomplish over a weekend or two, depending on the size of your porch. Here are the steps:
Materials Needed:
Hardwood deck tiles
DeckWise Deck Tile Connectors
Tape measure
Chalk line
Rubber mallet
Table saw (for any tile adjustments)
End Seal and Oil
Step-by-Step Installation:
Clean and Prepare the Area: Start by thoroughly cleaning your concrete porch. Remove any debris, and ensure the surface is flat and even. Let the area dry completely.
Measure and Plan: Measure your porch and plan your layout. Hardwood deck tiles usually come in 20′ x 20′, 24′ x 24′ and 24′ x 48′, so plan how you will lay out your tiles to ensure an aesthetically pleasing pattern.
Begin Installation: Start from the outer edge of the porch. Place the first tile and make sure it's correctly aligned with your layout. The tiles are drilled in all four corners allowing for easy installation with the DeckWise Tile Connector. Starting at the outer edge helps if you have a partial tile to put the smaller cut tile against the house as shown in the picture below.
Secure the Tiles: Use a rubber mallet to gently tap the tiles, ensuring they are secure and level. Continue this process, working your way to the house.
Customize Tiles: Depending on the shape and size of your porch, you may need to cut some tiles. Use a table saw to trim tiles to fit in your layout. Make sure you mark your cut lines and double check if you will be cutting through any screws on the backside of the tile. Make sure you remove any screws if they are in your cut line. You may need to reinstall backing boards so tile slats are not loose depending on where you cut.
End Seal End Grain Cuts: If you do make cuts you will need to reapply end seal the the end grain of the freshly cut boards. Hardwoods tend to end check if you do not seal the ends of the boards. This will help prevent that from happening. We recommend Ipe End Seal.
Oil the Tiles (Optional): Once installed, consider applying Ipe Oil to your hardwood tiles. Although these hardwoods are naturally durable, oiling helps enhance the color and grain and helps maintain their beautiful color.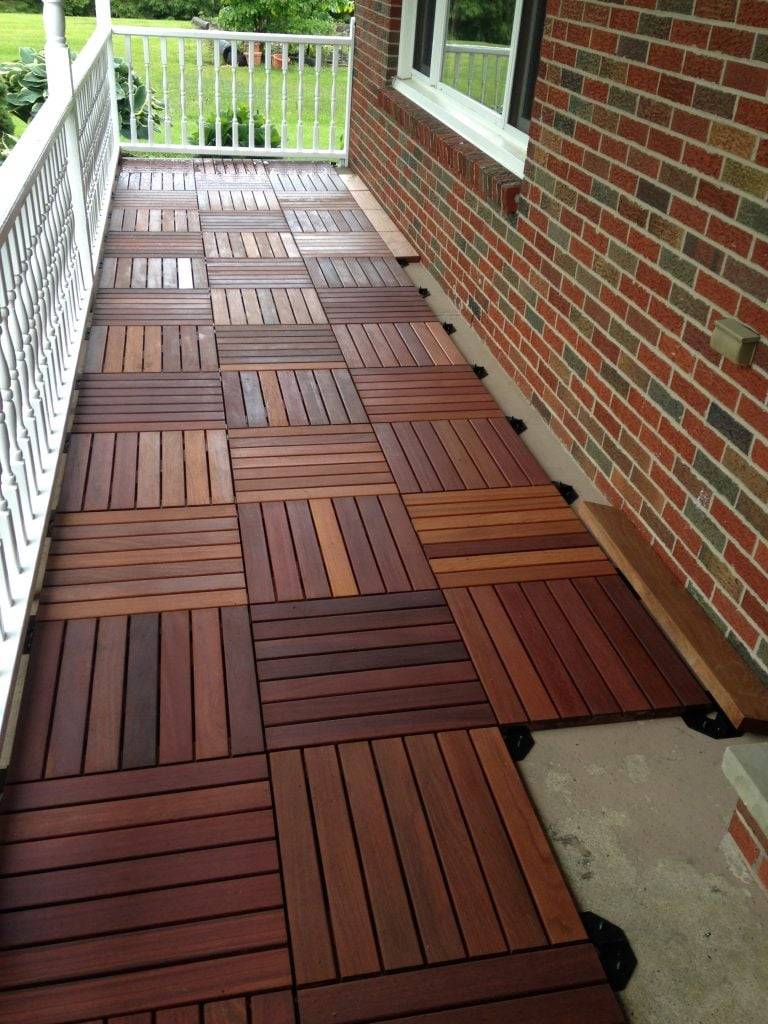 Composite Deck Boards Installation
Installing composite or PVC deck boards over a concrete porch requires a bit more skill and tools but can offer excellent, long-lasting results.
Materials Needed:
Composite deck boards
Pressure treated sleepers (2x4s or 1x4s)
Drill
Masonry anchors
Standard woodworking tools (circular saw, etc.)
Deck screws
Step-by-Step Installation:
Clean and Prepare the Area: Just like with the hardwood tiles, begin by cleaning your porch thoroughly.
Install Sleepers: Sleepers will provide the necessary space between the concrete and the deck boards. Lay out the sleepers (pressure-treated wood is recommended) perpendicular to the direction of the composite boards. Space them about 16 inches apart. (See Illustration Below)
Secure the Sleepers: Using a drill, secure each sleeper to the concrete with masonry anchors. Make sure all sleepers are level.
Measure and Cut Composite Boards: Measure and cut your composite boards to fit on the sleepers. Always double-check your measurements before making a cut.
Install the Boards: Start at one end of the porch and place the first board onto the sleepers. Make sure the board is straight and secure it using deck screws.
Repeat: Continue this process with each board, ensuring all boards are flush and secure.

If you want a traditional tongue and groove porch deck look then you should consider TimberTech PVC Porch Decking.
PVC deck boards are considered superior compared to standard composite decking because PVC does not contain any wood fiber. Composite is a mixture of wood sawdust and melted plastic. PVC is impervious to moisture which is why TimberTech can offer a tongue and groove porch decking.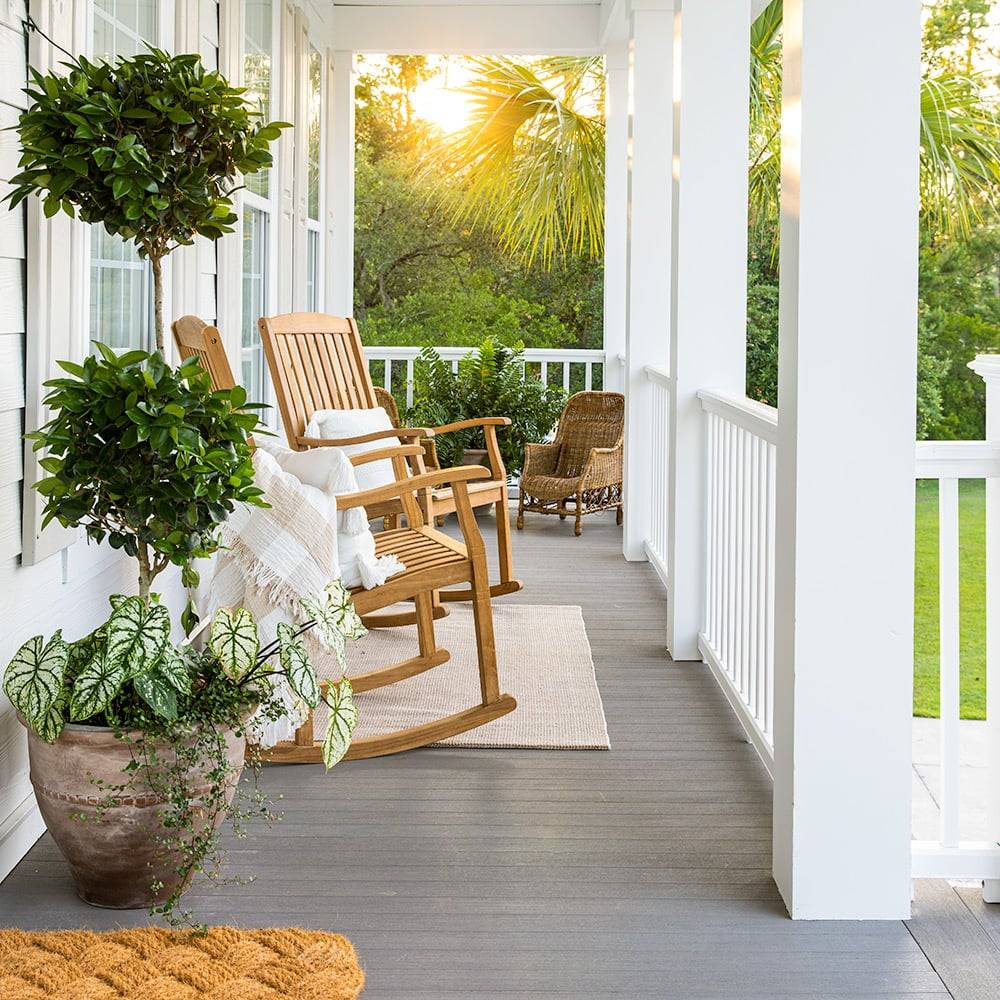 By following these instructions, you can transform your concrete porch into a beautiful, inviting outdoor space using either Ipe deck tiles or composite deck boards. Each offers its own unique set of benefits, so choose the one that best fits your aesthetic preferences and functional needs.