If you have an old concrete porch that looks dingy and unappealing you are probably considering building a new deck over the top of your old concrete porch.
There's a few considerations you need to think about before attempting to take on this project.
First make sure your concrete porch is structurally sound
Some old porches have hairline cracks that contribute to the old dingy look of concrete but they are still structurally sound.
If you live in a climate that has freezing temperatures it's a good idea to seal any cracks with a good concrete caulk to prevent water from seeping into the cracks.
Water trapped in the cracks can freeze and create structural damage.
Inspect your concrete porch to ensure it is sloped away from your house and water drains properly. Also inspect to make sure it's structurally sound.
You can build a deck over the top of your concrete porch but there's a few things you should know first.
Do not attach decking materials directly to the surface of your concrete porch.
Attaching deck boards directly to your concrete porch would lead to excessive mold, mildew and early deterioration of the deck boards.
It would also create two different moisture levels in the deck boards. The bottom of the boards would be wet while the tops of the boards would be exposed to wind and sun so the top of the deck boards would be dry.
When you have varying conditions like this your deck boards would cup and would not stay flat. This would cause the surface to hold water and make your new deck undesirable to walk on in a short matter of time.
PVC and Composite Decking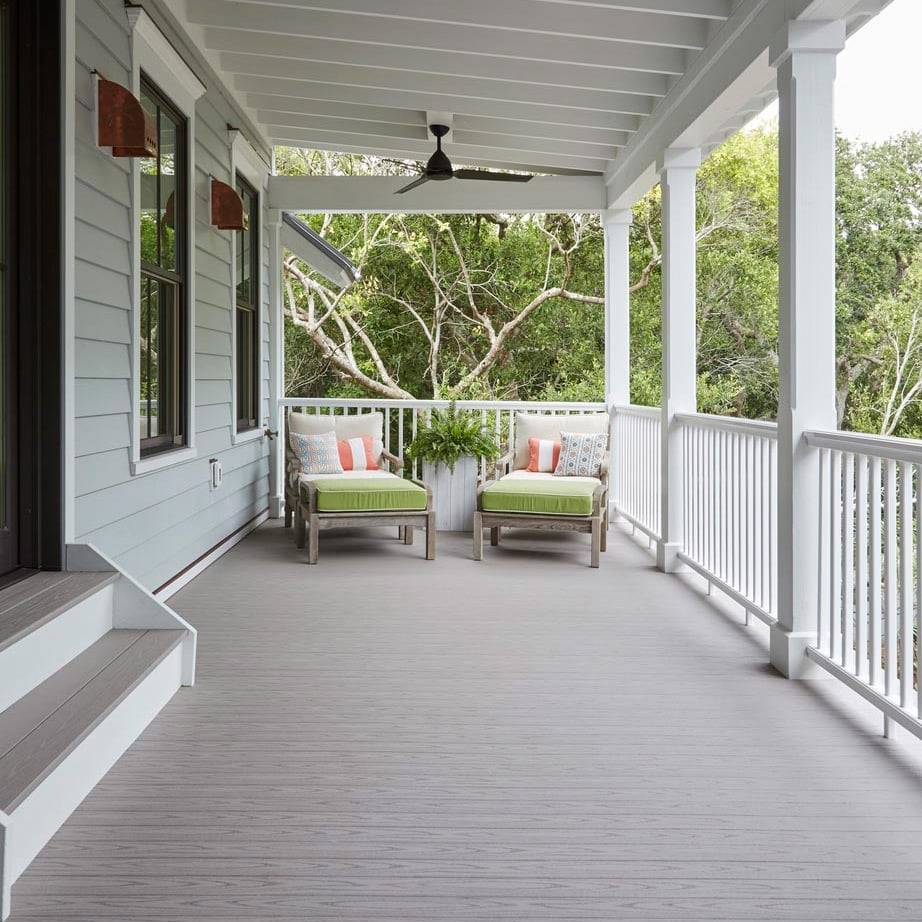 In terms of synthetic decking products PVC would be the top choice since it's impervious to moisture. It works good for low ventilation installs such as going over the top of a concrete porch.
You should still install sleepers to allow for some ventilation and drainage underneath the deck boards.
Our preferred Choice for PVC decking is:
TimberTech® PVC Decking by AZEK®
TimberTech®'s Alloy Armour Technology® protects the deck boards from weather, UV damage, and scratches. Each board is 100% polymer, from core to cap, so there are no wood particles for moisture to latch on to, preventing one of the leading causes of damage in composite decking.
Composite decking is also another material you can use but be aware that composites have wood pulp and plastic fused together. This makes composites more vulnerable to moisture related issues.
TimberTech decking offers a composite decking board that is capped with PVC on all 4 sides. This is the preferred choice of the composite decking products compared most composite decking product that are not capped underneath.
Best Decking Material for Concrete Porches
Our hardwood decking has a lifespan up to 75+ years when installed properly. The woods we recommend are Ipe, Cumaru, Tigerwood, Garapa and Massaranduba.
We recommend a minimum of 18 inches of air space underneath our standard decking to allow the material to breath properly on all sides of the deck boards.
Some homeowners will install 2×4 pressure treated sleepers 16 inches on center to the top of their concrete porch with concrete screws.
This only gives you one and a half inches of air space between the concrete porch and the underside of the deck boards.
For most materials this is not adequate airspace and could lead to cupping issues or early deterioration of your new deck boards.
If you decide to try this method you should try to find narrower deck boards like 4 inch wide decking opposed to the standard 6 inch wide deck boards.
Narrower boards are less likely to cup, you should also consider thicker deck boards since thicker materials are usually more stable as well.
A few other considerations that could help if you choose this method.
You should consider coating your concrete in a sealer or concrete since concrete wicks moisture it can add more moisture to the underside of your deck boards.
This can lead to faster rot and decay as well as cupping. It's a good idea to apply joist tape to your 2×4 pressure treated sleepers since they will be fastened directly to your concrete.
There is an easier method however to put a new wood deck directly over the top of your old concrete porch.
Hardwood Deck Tiles Can Be Installed Directly Over Concrete
Advantage hardwood deck tiles are made from South American hardwoods proven to last up to 75 years or more. They are one of the few products you can install directly over old concrete patios and porches.
Installing the deck tiles is simple with DeckWise deck tile connectors you simply just click them together.
Most homeowners can cover their old concrete porch in one afternoon. Installation is easy when using Advantage deck tiles and DeckWise deck tile connectors.
They come in a variety of beautiful hardwood species that are up to 3 times harder than teak. In addition they are naturally slip resistant and naturally resistant to rot, decay and wood boring insects.
Before and After Concrete Porch Makeover
This homeowner had an old concrete front porch that had a large crack down the center.
While the front porch was still structurally strong it was not visually appealing. The homeowner purchased our 20 x 20 Cumaru deck tiles to resurface his old concrete front porch.
The results look incredible and the install only took him a few hours on a Saturday afternoon. Deck tiles are the easiest DIY way to build a deck over an old concrete porch.