If you are looking to build a new outdoor wooden bench or resurface and old outdoor bench read on as we'll cover the best woods you can use for your bench.
Outdoor benches are most commonly made with pressure treated pine or cedar. The problem with these species is they are soft woods that generally require annual maintenance and application of a water sealer.
Softwoods like pressure treated pine and cedar have a open and somewhat porous grain structure which can tend to absorb water almost like a sponge.
While these woods do have some resistance to rot and decay and can last many years if properly maintained.
Many people find the maintenance to be too much work, so their outdoor bench gets neglected as shown in the picture below.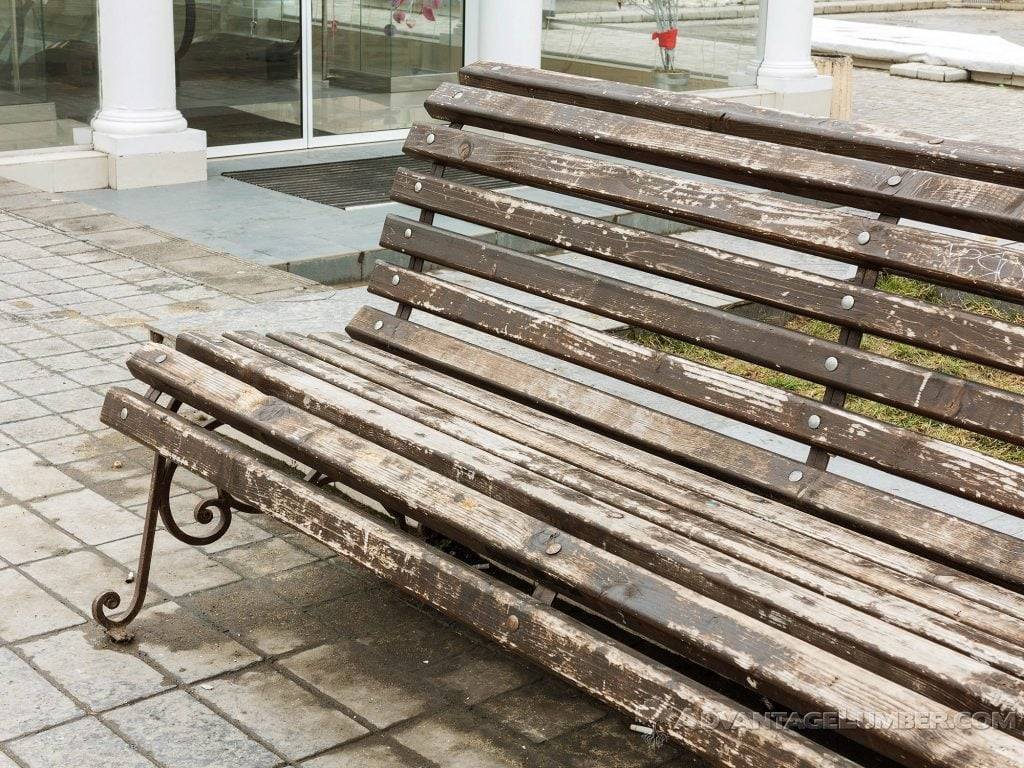 Stripping the old stain off an old bench like this one can be a lot of work getting in between all the bench slats. These benches often get neglected and have paint or stain peeling off the majority of the bench.
Once this occurs the wood is left unprotected and when it rains the wood usually stays saturated for an extended time period making them often undesirable to sit on.
In addition these softwoods can give off splinters and eventually get attacked by wood boring insects which can also make them not pleasant to sit on.
Is Composite Plastic Lumber Good for Outdoor Benches?
In our years of experience selling exterior lumber for decks and other exterior projects we've seen too many complaints from homeowners to make us comfortable selling any plastic lumber for now.
Every week we get complaints from homeowners who installed a composite plastic deck a few years ago that need to replace their entire deck because it's failing and the manufacturer won't honor their warranty.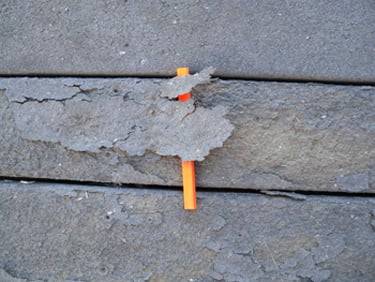 If you want to read more about all the issues homeowners have faced with these products just Google search "composite decking problems", "composite decking complaints" or "brand name decking reviews".
You'll be able to read about plenty of issues homeowners have struggled with so as a result of all this feedback we generally stay away and don't recommend these products.
The 5 Best Woods for Outdoor Benches
Ipe (pronounced EE-pay) is an all natural hardwood that is more than three times harder than teak. It has shown to last up to 75 years or more on many commercial applications such as the Coney Island boardwalk and the Brooklyn bridge.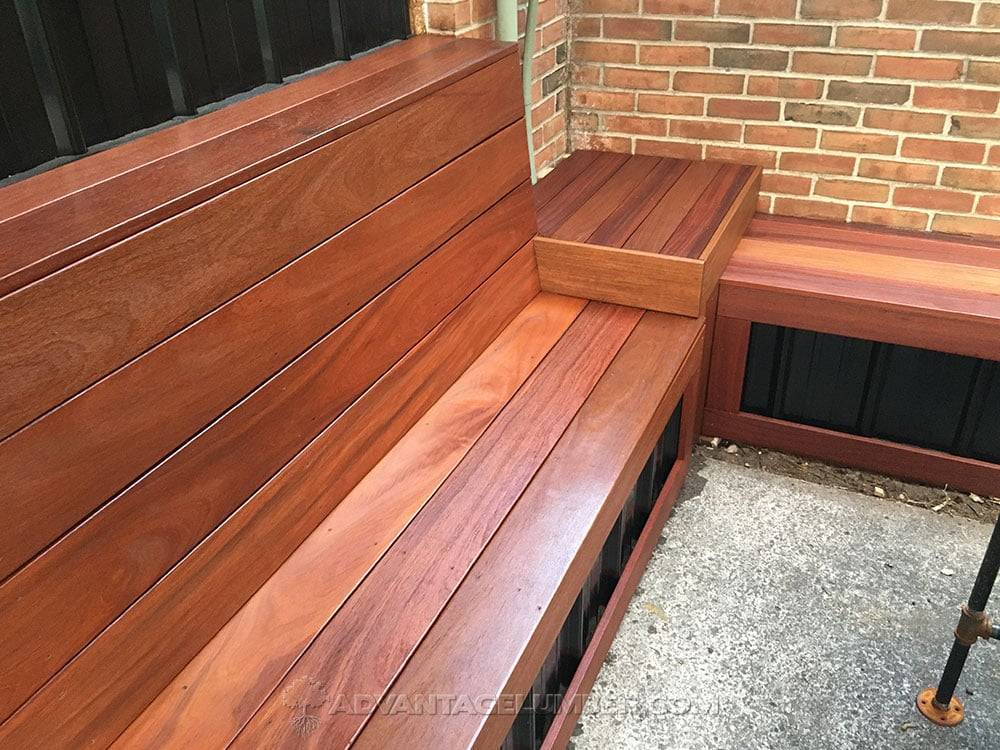 This hardwood is one of the strongest woods in the world and naturally resists wood boring insects. Ipe wood does not splinter and will not get incredibly hot like plastic lumber.
In addition it's also naturally slip resistant, has a Class A rating for flame spread, is scratch resistant and naturally mold and fungi resistant. It's also so dense that it does not absorb water.
All of these excellent natural properties make Ipe wood our number one recommendation for not only decks but many outdoor projects such as outdoor wood benches.
You can view our current Ipe prices here: Ipe Wood Prices
Cumaru Wood
Similar to Ipe Cumaru wood is nearly identical in terms of properties and durability. The main difference is the color color ranges from a golden tan to a reddish brown.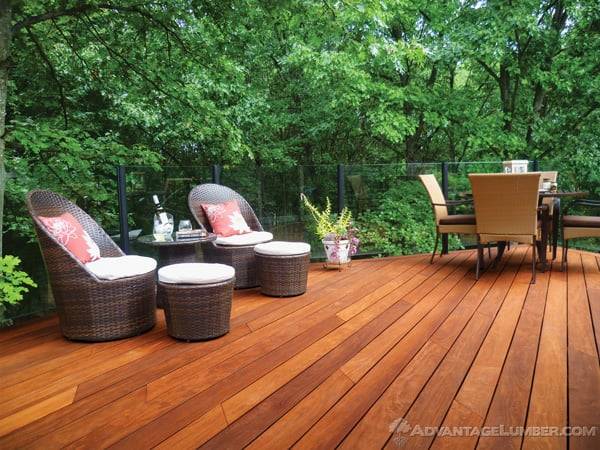 You can still expect all the same excellent properties as Ipe.
This excellent wood is also low maintenance, resistant to wood boring insects and naturally resistant to rot and decay without chemicals.
One other benefit to using Cumaru is the price can be upwards of 40 percent cheaper compared to the price of Ipe wood. You can view the current Cumaru wood prices here: Cumaru Wood Prices
Tigerwood Exterior Lumber
This beautiful wood also comes from South America and is incredibly durable and beautiful. You can expect a 30+ year lifespan with Tigerwood.
Similar to the other woods we listed above Tigerwood is also resistant to wood boring insects, mold and mildew and does not splinter. This is another excellent low maintenance exterior wood material that works great for benches, decks, fences, siding and more.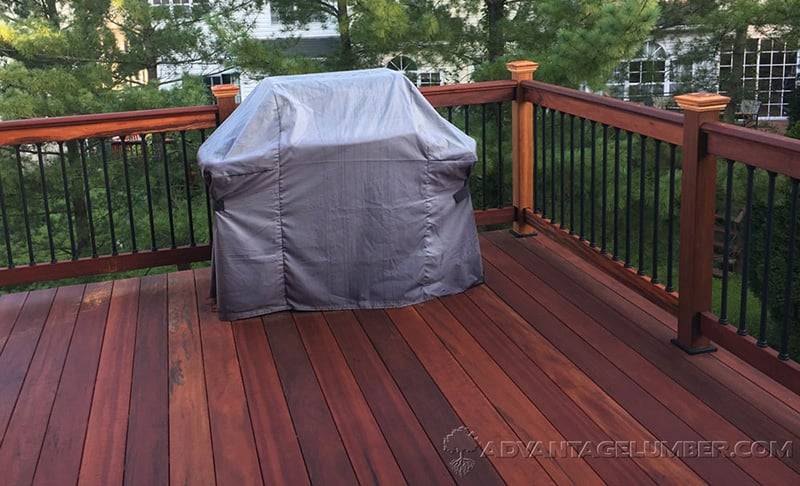 Garapa Wood
Also known as Brazilian Ash this incredible exterior hardwood is one of the finest quality hardwoods that features a fine-grain that is light yellow to a warm golden hue.
Garapa is naturally resistant to rot, decay and insect attack and offers a 30+ year lifespan. Garapa's proven exterior durability make it an excellent choice for outdoor benches, decks and more.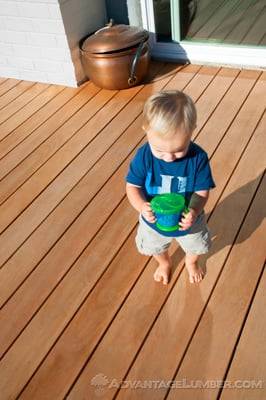 You can find more info and pricing here: Garapa wood prices
Massaranduba Wood
Also known as Brazilian Redwood Massaranduba is much more durable than California Redwood, has a longer lifespan and requires much less maintenance.
In fact Massaranduba is over 7x harder than California Redwood. With a janka hardness of 3,190 compared to California Redwood which has a janka hardness of 420.
California Redwood is a softwood and requires annual maintenance of applying a water sealer to keep water out of the grain of the wood to prolong its life and prevent rot and decay.
Just like the first four species of exterior hardwoods that we recommended, Massaranduba naturally resists rot, decay and wood boring insects.
In addition Massaranduba is also a very low maintenance exterior hardwood and offers a 30+ year lifespan. This makes it great for many projects such as exterior wood benches, decks, siding and more.
Checkout these beautiful outdoor wood benches that were built with our beautiful South American hardwoods.