The University Town Center, or UTC to the locals, has been a talked about addition to the Sarasota area for two years. This mall generated so much buzz around its development that many shops opened secondary stores here, or closed other shops to move to this location.
One of the retailers, Saks Fifth Avenue, had locations in Tampa and Sarasota, but decided to close both retail shops and to open an exclusive shop in UTC.
Saks is extravagant; anything that's in, around, or associated with them has to measure up to their standards. This is why, when local contractor Kellogg & Kimsey was chosen to build the new designer's location, they chose nothing but high end materials for their client's store.
Kellogg & Kimsey is a general contracting firm founded in 1986 by Phil Kellogg and Charles Kimsey. They are native to Florida and have served the area and all over the country since. Some of their clients include high end retailers and many hotel chains. They pride themselves in delivering the results that their clients envisioned and maintaining a level of unparalleled integrity.
From their website:
Kellogg & Kimsey, Inc. is an award winning and recommended contractor for many of the major hotel brands. Projects completed for prominent industry leaders such as IHG, Marriott, Starwood, Hilton, Hyatt, and Ritz Carlton. As with our retail work, we provide our hospitality/resort clients' great flexibility since we have the ability to travel the U.S. with multiple projects.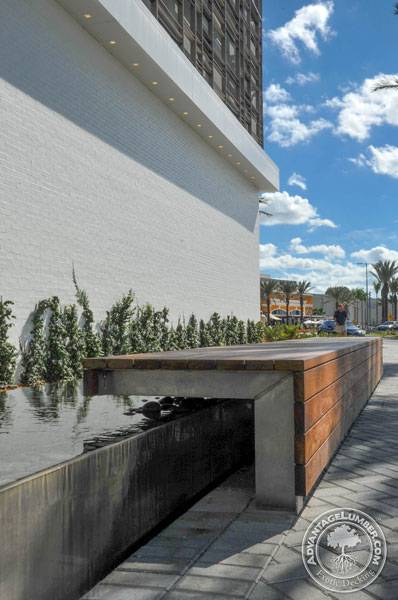 These ipe benches that Kellogg & Kimsey constructed excel in the harsh Florida environment. They are strong and resistant to rot, mold and decay, and won't splinter like other common woods. Ipe is a wonderful dark colored wood that is elegant but strong and won't be intolerable to sit, or touch even under the Florida sun.
The only maintenance that's needed on these benches is an annual cleaning, and a coat of Ipe Oil®. If they choose not to keep the colors, the wood will mature to a beautiful silver patina. This fading of color does not interfere with the structural integrity of the boards. The Coney Island and Atlantic City boardwalks are testament to Ipe's 75 year life span.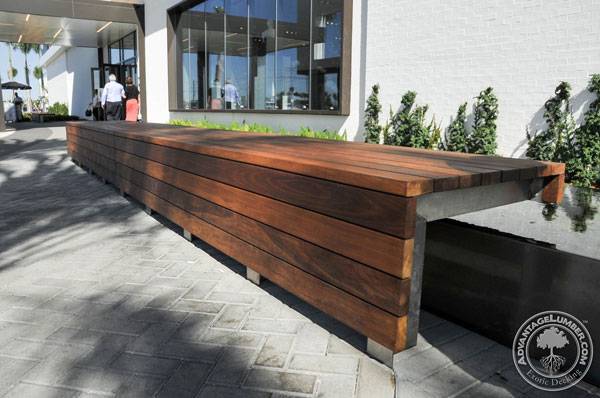 This hardwood brings elegance to this new mall that wouldn't have been achieved if any other material was used. So if you're ever in the Sarasota area, stop by this new mall for a coffee or a bite to eat and have a seat on these lovely benches while soaking in the Florida sun.