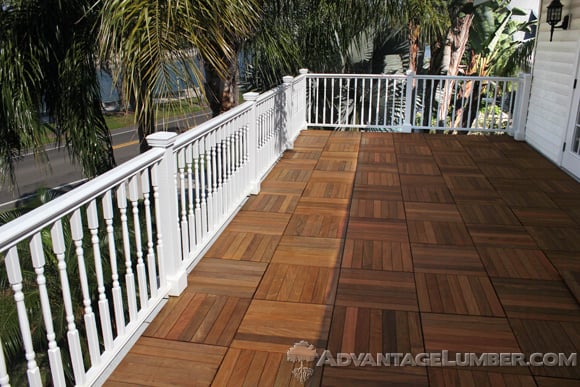 Build a beautiful new deck in hours, not days.
With Advantage Deck Tiles, you can take an old concrete patio, balcony or roof and convert it into a beautiful outdoor living space in just a few hours! Our natural wood deck tiles are inexpensive and easy-to-install.
They can be installed over any floor with a relatively flat surface. They don't require any nails, glues, hammers, special tools or skills – they just snap together. You can arrange Advantage Deck Tiles in a wide variety of patterns to create a design that suits your personal taste. They are reusable so you can easily lift them up take them with you to your next home or apartment.
Install Advantage Deck Tiles anywhere you want a warm, inviting deck:
Balconies
Roof tops
Porches
Around pools, spas and hot tubs
In sunrooms, pergolas and gazebos
Over old concrete pads
Walkways
Advantage Deck Tiles are made from beautiful, exotic Brazilian hardwoods and are exceptionally hard, durable and naturally resistance to pests, weather and decay. Our deck tiles are extremely low maintenance and naturally fire-resistant and slip-resistant giving you years of safe, hassle-free use!