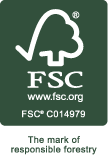 One of the nice things about being the leading importer of exotic hardwoods is that we are able to adequately provide wood that is FSC certified to the marketplace.
Our high standing with the most reputable mills in Brazil means that we provide the best FSC wood at very competitive prices.
With our Chain of Custody FSC Certification, Advantage Lumber is in a unique position to monitor and track the process. From start to finish, when you order FSC Cumaru, Garapa, Tigerwood, or any other exotic hardwood, you can rest assured that you'll receive the best quality FSC material.
If you're looking to accumulate MRc7 and MRc5 LEED points, we'll also provide our FSC certificate for faster processing through the USGBC.
Contact us today to get a custom quote on certified FSC lumber: 1-877-232-3915