When it comes to decking and railing solutions, Trex has long been a household name. Known for its commitment to quality, sustainability, and design, Trex has consistently pushed the boundaries of what's possible in outdoor living spaces.
One of their standout products in the railing category is the Trex Signature Railing. In this blog post, we'll delve into what makes this railing system so special and why homeowners and builders alike are raving about it.
1. Aesthetically Pleasing Design
Trex Signature Railing is designed with a minimalist aesthetic in mind. Its sleek lines and modern look make it a perfect fit for both contemporary and traditional homes. The railing is available in a range of neutral colors, ensuring it complements any deck or home exterior. The unobtrusive design means that your views remain unblocked, making it especially popular for homes with scenic overlooks.
2. Durability That Lasts
One of the hallmarks of Trex products is their durability, and the Signature Railing is no exception. Made from high-quality aluminum, it's resistant to corrosion and can withstand the elements, be it rain, snow, or sun. This means homeowners won't have to worry about frequent maintenance or replacements, saving time and money in the long run.
3. Easy Installation
For builders and DIY enthusiasts, the Trex Signature Railing system is a dream come true. The installation process has been streamlined to be as straightforward as possible. With easy-to-follow guides and videos available, even those new to deck building can confidently install this railing system.
4. Customizable Options
Trex understands that every home and homeowner is unique. That's why they offer a range of customizable options for the Signature Railing. From different infill options like round or square balusters to varying post heights, there's a configuration that's perfect for every deck and vision.
5. Commitment to Sustainability
In today's world, sustainability is more important than ever. Trex, as a brand, is committed to eco-friendly practices. The Signature Railing, like many of their products, is made with sustainability in mind. The aluminum used is recyclable, and Trex's manufacturing processes are designed to be as environmentally friendly as possible.
6. Safety First
While aesthetics and durability are essential, safety remains paramount. The Trex Signature Railing is designed to meet all national and local building codes. Its sturdy construction ensures that decks and balconies are safe spaces for families to enjoy.
Trex Signature® Railing Components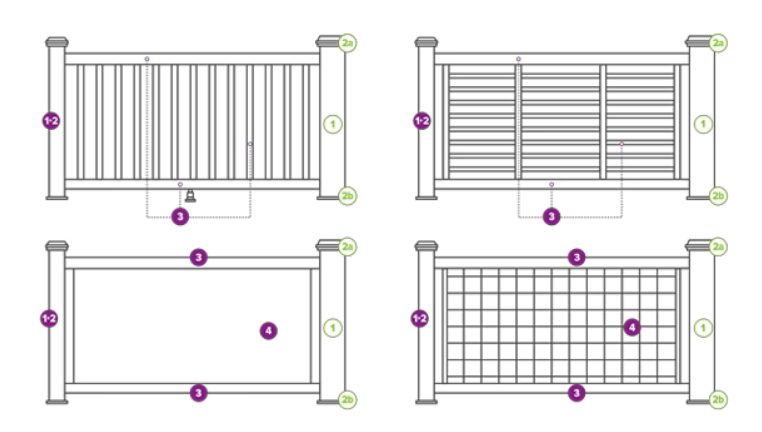 Trex Signature® is a 3-Step process. Choose Trex Signature® aluminum posts (which include a cap and skirt) for Steps 1 & 2 and pair with a rail and baluster kit or a rail and rod kit (Step 3). Or choose Trex composite post sleeves, caps and skirts for Steps 1, 2a & 2b, and then continue on to Step 3.
1. Post Sleeve
2a. Post Sleeve Cap
2b. Post Sleeve Skirt
3. Signature Rail & Infill Options
All options can be topped with cocktail railing for a form-meets-function ledge with the exception of Glass Rail Kit. The Trex cocktail railing are simple brackets that mount to a standard deck board to make a flat cocktail deck railing.
Trex Signature Rail Infill Options
Aluminum Railing
Signature Aluminum railing is available in two heights and three lengths. The traditional vertical posts can be customized using aluminum or composite posts.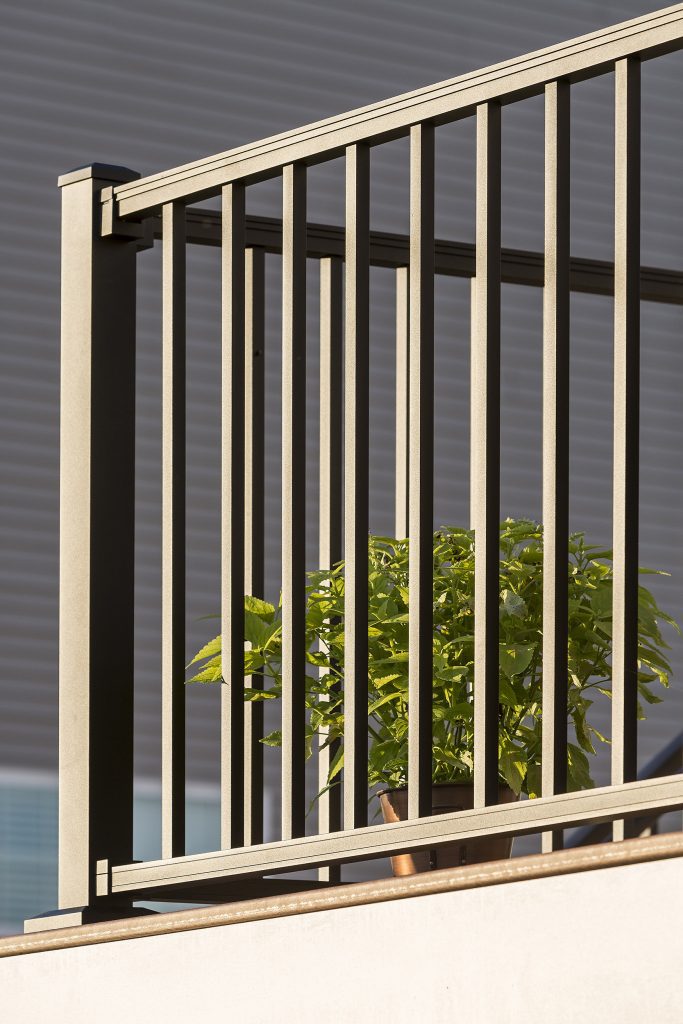 Mesh Railing
Trex wire mesh, crosshatch stainless steel infill adds a striking industrial touch to any outdoor design.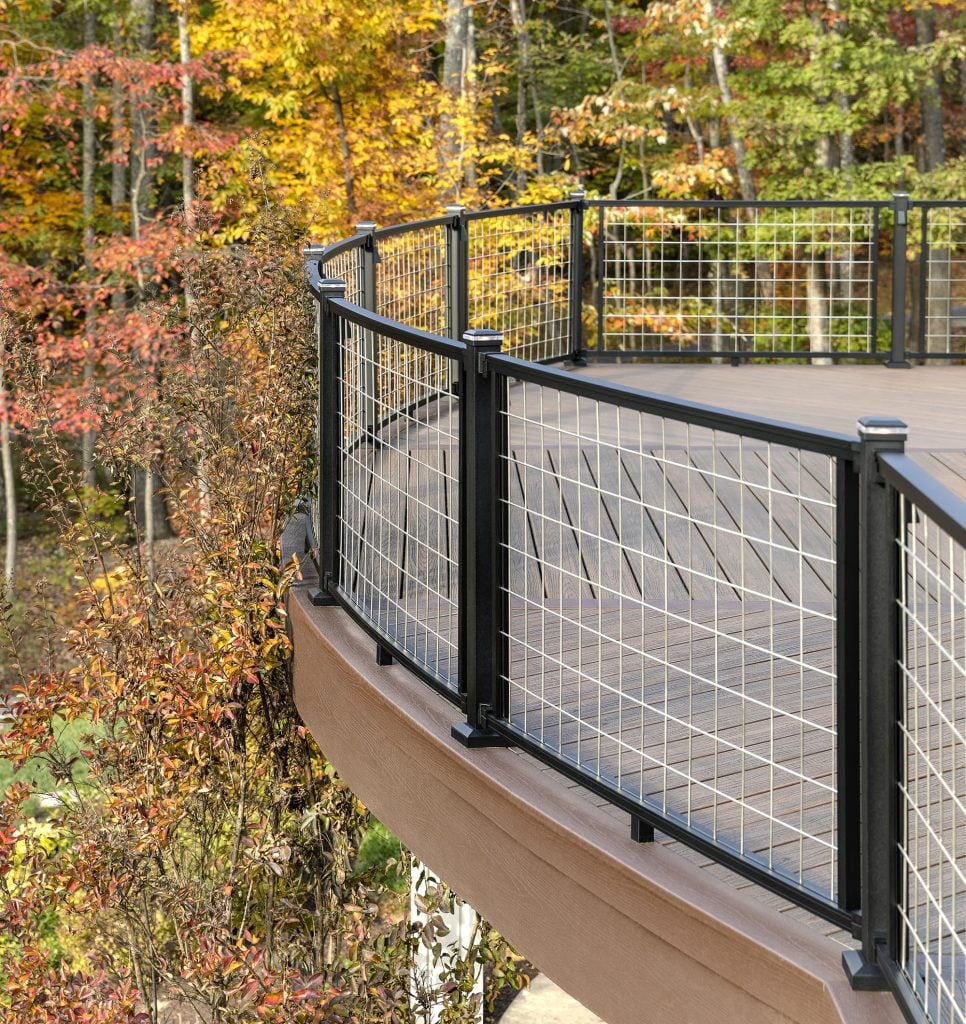 Glass Railing
Tempered glass infill panels make unnecessary design elements vanish, so sweeping views can be the star.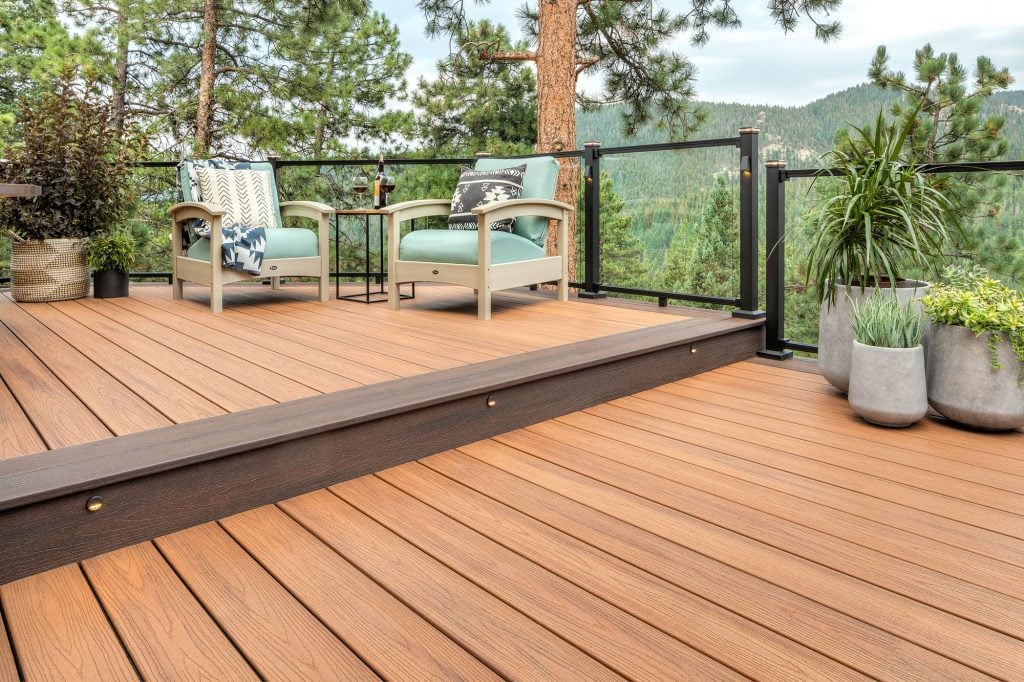 Rod Rail
Horizontal rod railing achieves the design trifecta: Sleek, sturdy and undeniably modern.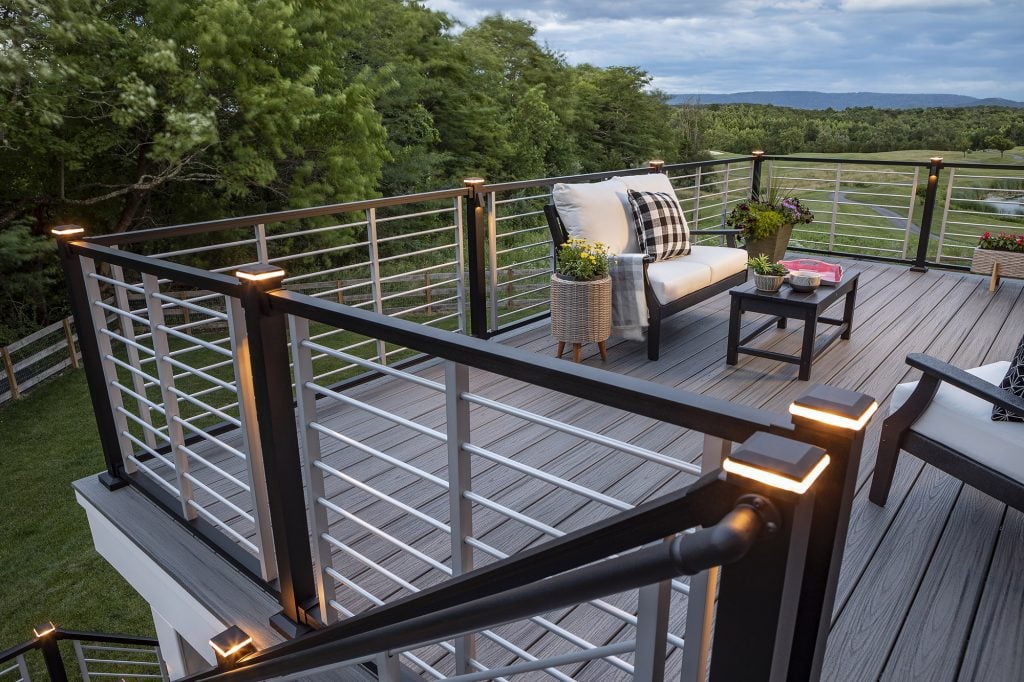 Conclusion
The Trex Signature Railing is more than just a railing system; it's a testament to what's possible when design, durability, and sustainability are prioritized. Whether you're a homeowner looking to upgrade your outdoor space or a builder seeking the best products for your clients, the Trex Signature Railing is a choice that promises satisfaction for years to come.