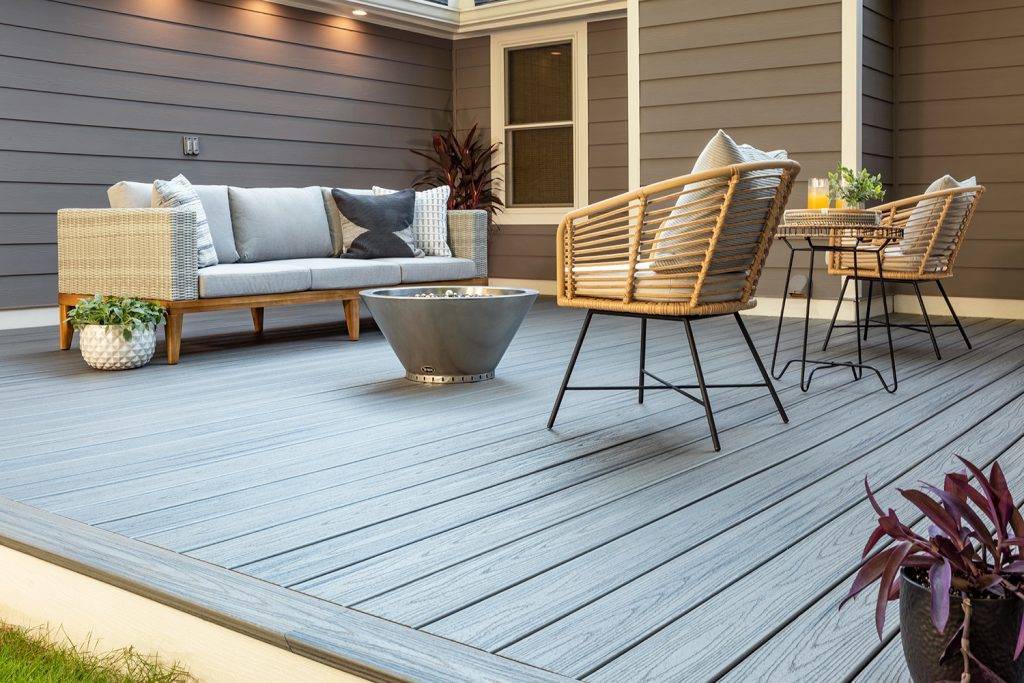 As a homeowner, investing in a beautiful, durable, and low-maintenance outdoor living space is a top priority. When it comes to decking materials, composite decking has become increasingly popular due to its many advantages.
In this blog post, we will dive deep into the world of composite decking for full sun exposure, focusing on two of the industry's top brands: TimberTech decking and Trex decking. We will compare their products, features, and benefits to help you make an informed decision for your sun-soaked outdoor oasis.
The Benefits of Composite Decking in Full Sun
Before we jump into the TimberTech and Trex showdown, let's discuss the advantages of composite decking in full sun exposure. Traditional softwood decks can fade, warp, and crack under harsh sunlight.
However, composite decking is designed to resist these issues, providing a long-lasting, beautiful solution for your outdoor living space. Key benefits of composite decking in full sun include:
Fade resistance
Warp and crack resistance
Low maintenance requirements
Long-lasting beauty and durability
The one disadvantage of composite decking products in full sun is they are known to be very hot on bare feet and for your pets paws.
If you are never on your deck bare foot this shouldn't be a concern. However homeowners with kids and pets as well as deck installs around pools, bare foot use is inevitable.
Those concerned about how hot composite decking can get in full sun should avoid the darker color as they will certainly be more hot than the lighter colors.
TimberTech Decking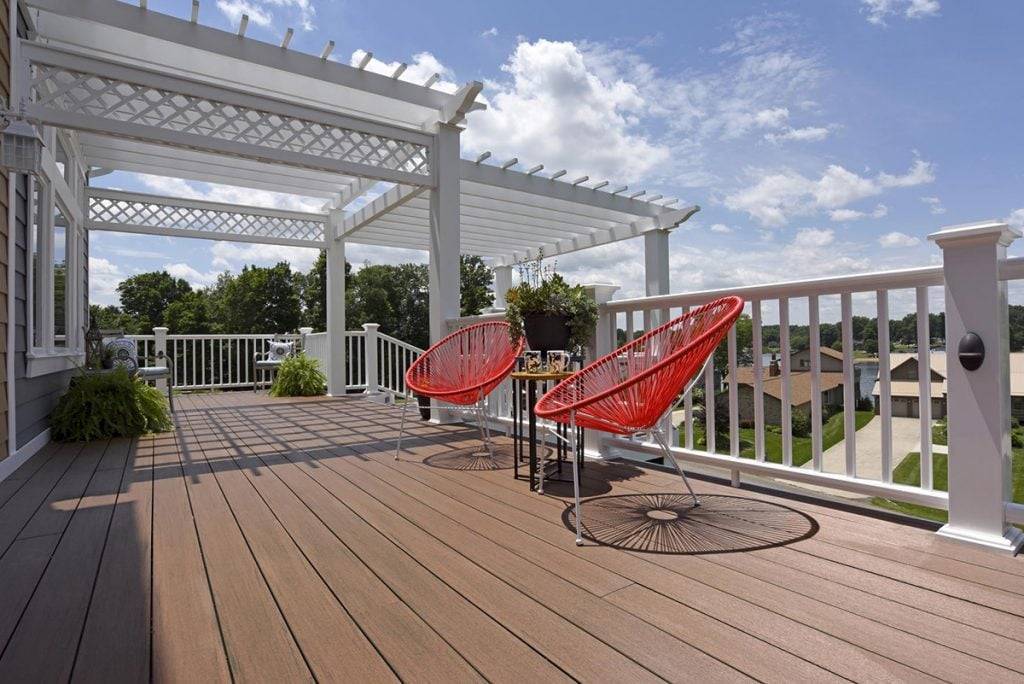 A Leader in Composite and PVC Decking Solutions
TimberTech has been a major player in the composite decking industry for years, known for its commitment to innovation, quality, and sustainability. Their composite decking products are designed to withstand the test of time, even under full sun exposure. Key features of TimberTech decking include:
Proprietary Alloy Armour Technology: TimberTech PVC (AZEK) decking is engineered to stay up to 30° cooler than competitive composite products.*
Multi-width decking options: TimberTech offers a variety of widths, allowing for unique and customizable deck designs.
Wide Color Selection: TimberTech offers a wide array of lighter color options to help with full sun applications.
25, 30 and 50 Year Fade & Stain Warranty: TimberTech stands behind their products with an impressive warranties, giving you peace of mind.
Trex Decking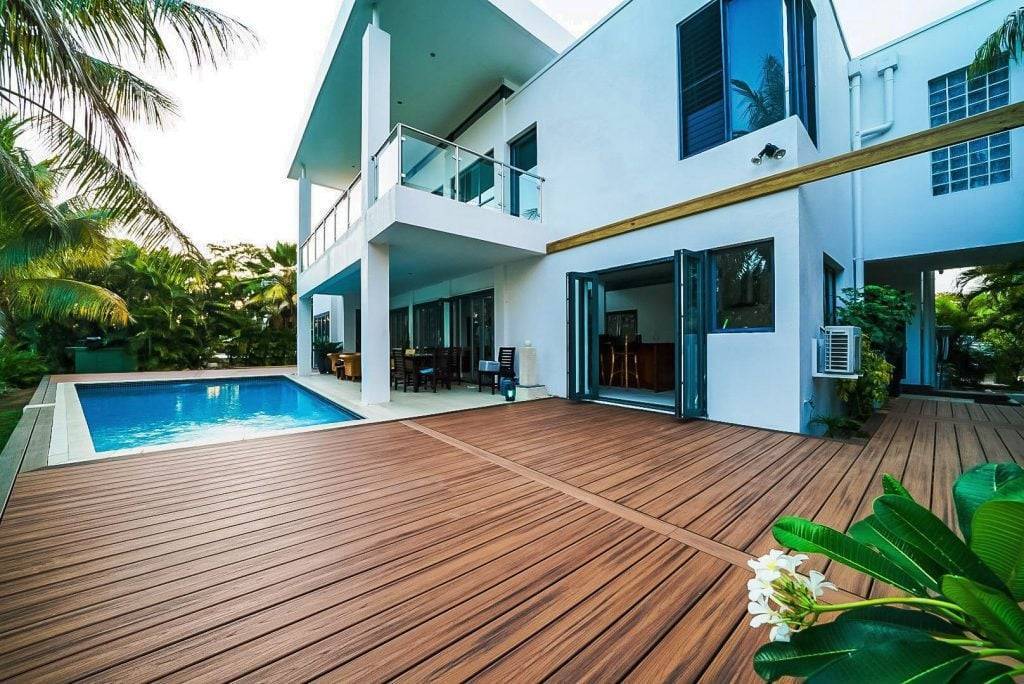 The Pioneer of Composite Decking
Trex has been a household name in composite decking since the early 1990s, consistently delivering high-quality, eco-friendly products. Their composite decking options are designed for maximum durability and minimal maintenance, making them an excellent choice for full sun exposure.
Key features of Trex decking include:
High-performance shell technology: Trex's protective shell offers superior resistance to fading, staining, and scratching.
Up to 95% recycled materials: Trex products are made from reclaimed wood and recycled plastic, making them an eco-friendly choice.
Trex Transcend Lineage: The award-winning next generation of design and performance, featuring heat-mitigating technology for Trex's coolest decking yet.**
25-Year Limited Residential Fade & Stain Warranty: Trex offers a solid warranty for their decking products, ensuring your investment is protected.
TimberTech vs. Trex: Which is the Best Composite Decking for Full Sun?
Both TimberTech and Trex offer high-quality composite decking solutions designed to resist the harsh effects of full sun exposure. When it comes to choosing the best option for your outdoor living space, consider the following factors:
Aesthetics: Both brands offer a range of colors and finishes, so choose the one that best complements your home's style.
Budget: TimberTech and Trex decking options are available at different price points, so consider your budget when making your decision.
Warranty: Both companies offer strong warranties up to 50-Year Limited Residential Warranties.
Conclusion:
When it comes to the best composite decking for full sun, both TimberTech and Trex offer exceptional products that resist fading, warping, cracking and heat resistance. By considering factors such as aesthetics, budget, and warranty, you can confidently choose the perfect composite decking solution for your deck.
*Although TimberTech Advanced PVC (AZEK) decking products are cooler to the touch than many other deck board products, all decking products will get hot in the sun. Additionally, the darker the decking color, the hotter it will feel. For hotter climates, consider choosing a lighter color.
**Although Trex Transcend Lineage is designed to be cooler than most other composite decking products of a similar color, on a hot sunny day, it will get hot. On hot days, care should be taken to avoid extended contact between exposed skin and the deck surface, especially with young children and those with special needs.