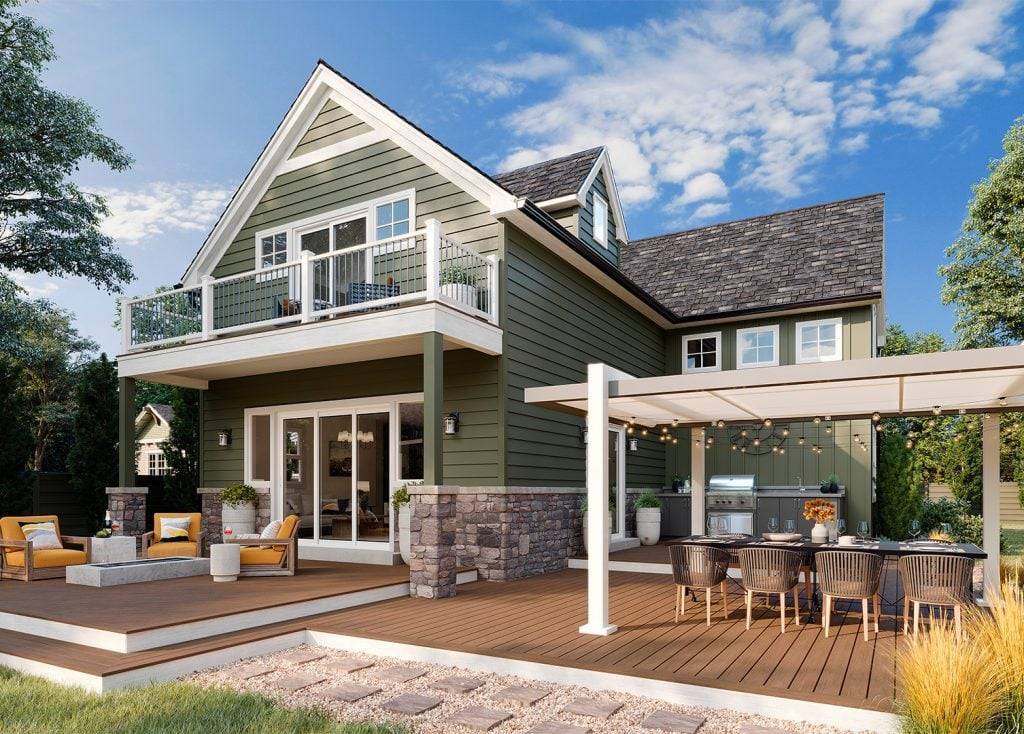 Trex Transcend is a high-performance composite decking line produced by Trex Company, a leading manufacturer of wood-alternative decking, railing, and other outdoor living products.
The Transcend® Lineage™ line is one of Trex's premium offerings, designed with heat-mitigating technology* as well as long-lasting durability, low maintenance, and a beautiful wood-like appearance.
Key features of Trex Transcend Lineage decking include:
Heat-mitigating technology* : Reflects the sun and your sense of style. Transcend Lineage is engineered to keep your deck cooler, even on the hottest days.
High-performance materials: The Transcend Lineage decking is made from a composite material consisting of recycled wood and plastics, which results in an eco-friendly product that is both durable and resistant to the elements.
Protective shell: The decking boards are encased in a high-performance, three-sided shell that helps protect the boards from fading, staining, scratching, and mold. This ensures the boards maintain their appearance and functionality for a long time.
Wood-like appearance: The Transcend Lineage decking has a realistic wood grain pattern, which mimics the look and feel of real wood. It is available in a variety of colors, giving homeowners the option to choose a decking color that complements their home's exterior.
Stunning Color Options: Transcend Lineage comes in four luxurious, on-trend colors: Biscayne, Rainier, Carmel and Jasper. These tranquil tones create a clean canvas for your outdoor space.
Low maintenance: Unlike traditional wood decking, Trex Transcend Lineage decking does not require painting, staining, or sealing. It is also resistant to rot, warping, and splintering, meaning less time and effort spent on upkeep.
Easy installation: The decking features a hidden fastening system, which allows for a smooth, clean surface without visible screws or nails.
50-year Limited Fade & Stain Warranty: Trex Transcend Lineage decking is backed by a 50-year Limited Fade & Stain Warranty, giving homeowners peace of mind that their investment will be protected for many years to come.
Overall, Trex Transcend Lineage decking is a premium, low-maintenance, and environmentally friendly decking option that offers the beauty and feel of real wood without the associated drawbacks.
To order Trex Transcend® Lineage™ decking you can order directly from our online store: Buy Trex Transcend® Lineage™ Decking
We stock Trex decking in our four US warehouses and ship direct to your home or job site. Our sales representatives are also available at: 1-877-232-3915 to answer any questions you may have or give you a custom price quote on Trex decking.
*Although Trex Transcend Lineage is designed to be cooler than most other composite decking products of a similar color, on a hot sunny day, it will get hot. On hot days, care should be taken to avoid extended contact between exposed skin and the deck surface, especially with young children and those with special needs.