All exterior building materials require cleaning. Cleaning Trex decking is relatively easy and straightforward. Generally, soap and water is all that is required to clean Trex Transcend, Enhance, and Select products.
Here's some additional tips and instructions on cleaning Trex decking:
Dirt and Debris
The affected area should be sprayed off with a hose to remove surface debris. Use warm soapy water and a soft bristle brush to remove dirt and debris from the embossing pattern.
Be careful not to use abrasive cleaners, harsh chemicals, wire brushes and anything that could possible damage your Trex decking. When in doubt check the manufacturers instructions and test a small spot that's not highly visible.
How to Clean Trex Decking with a Pressure Washer
A pressure washer with no greater than 3100 psi* that has a wide angle fan tip and soap dispenser may be used to remove dirt or mud. Spray deck with soap, then follow by gently scrubbing each deck board with a soft bristle brush.
Spray/rinse each individual deck board using a fan tip no closer than 8-in (203 mm) from the decking surface.
RINSE THOROUGHLY. If dirty water from cleaning is left to dry, a film will remain on the decking
surface.
Difference of Pressure Washer Tips by Color and Angle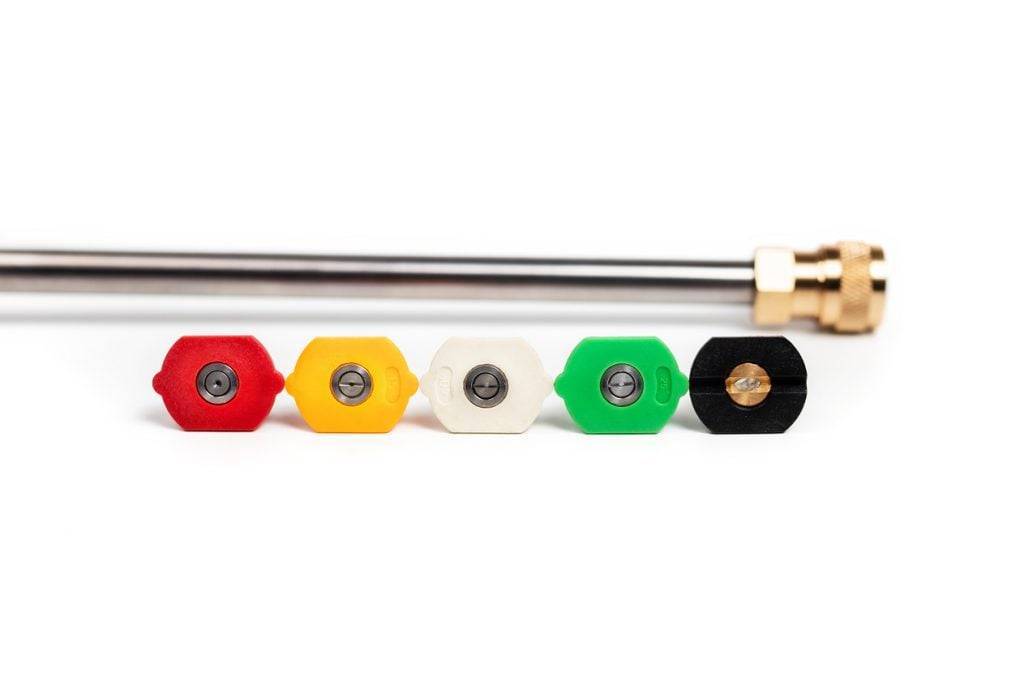 Pressure washer tips are designed to regulate the flow of water from the pressure washer and create different spray patterns. The most common types of pressure washer tips are:
0-Degree Tip (Red): This is the most powerful pressure washer tip, and it creates a concentrated stream of water that is useful for removing tough stains and dirt from hard surfaces like concrete, brick, and metal. However, it can also damage softer surfaces like wood or paint, so it's essential to use it with caution.
15-Degree Tip (Yellow): This tip creates a narrower and more powerful stream than the 25-degree tip, making it ideal for removing stubborn stains from surfaces like concrete, brick, and metal. It can also be used for stripping paint and cleaning large areas like driveways and patios.
25-Degree Tip (Green): This is the most commonly used pressure washer tip, and it creates a wider spray pattern that is less powerful than the 15-degree tip. It's ideal for cleaning delicate surfaces like painted or stained wood, vinyl siding, and windows.
40-Degree Tip (White): This tip creates the widest spray pattern and the lowest pressure, making it perfect for rinsing and washing delicate surfaces like cars, boats, and outdoor furniture. It can also be used for light-duty cleaning tasks like washing windows or cleaning gutters.
Soap Tip (Black): This tip is used for applying cleaning solutions or detergents to the surface you are cleaning. It creates a low-pressure stream that allows the cleaning solution to penetrate the surface and loosen dirt and grime.
It's important to choose the right pressure washer tip for the job to avoid damaging the surface you are cleaning. Always read the manufacturer's instructions and follow safety precautions when using a pressure washer.
Never use 0-Degree Tip (Red) or 15-Degree Tip (Yellow) on Trex decking, instead start with a 40-Degree Tip (White) and if necessary you can try a 25-Degree Tip (Green) use this tip very carefully and spot test it first making sure to maintain a safe distance away from your Trex decking.
Stains from Concrete, Cement, Mortar, or Stucco Dust
When working with cement, concrete, mortar, or stucco, protect your Trex decking as
much as possible in order to not get dust particles on the decking surface.
These particles, once they get hot or wet, can cause a reaction on the decking surface
and are very difficult to remove.
If particles get on the decking surface, Trex recommends using Sakrete™ Concrete Dissolver BE SURE TO FOLLOW MANUFACTURER'S INSTRUCTIONS.
Hard Water Staining
Hard water is water with a high amount of mineral deposits like lime, silica and calcium.
When the water dries, deposits are left behind, leaving unsightly spots on surfaces. This is not a defect of Trex products but an issue with the water itself.
Generally, these deposits can be cleaned with white vinegar on decking surfaces or with the use of Magic Eraser® on railing surfaces. Rinsing is required so care should be taken to not use hard water for this purpose.
If hard water must be used, dry with a cloth or use a blower to dry surfaces. In some cases a deck brightener product may also be used to help clean hard water stains.
Chalk Line Stains on Trex
Most colored chalks are permanent and may discolor the surface. Use only Irwin Strait-Line® Dust-Off Marking Chalk (purple), available at Irwin.com.
Tannins Due to Debris
Remove all debris from the deck using a hose or broom. Once the deck surface is dry, apply a deck "brightener"** to the deck as directed by the manufacturer. Deck Brighteners contain oxalic acid, which will also remove tannins.
Ice and Snow
A plastic shovel may be used to remove snow from the deck. Always inspect your shovel first as plastic snow shovels can become damaged overtime and develop sharp jagged edges that could damage or scratch your Trex decking.
Use calcium chloride or rock salt to melt the snow and ice from the deck surface. We advise our customers once the ice melts it's a good idea to broom off any remaining ice melt products used so it's not sitting on your deck for prolonged periods.
Oil, Grease, and Food
All food spills should be removed as soon as possible. The surface must be cleaned within seven days to maintain the stain warranty. To remove, spray off with a hose and use warm, soapy water and a soft bristle brush to remove spills from the embossing pattern.
Mold and Mildew
If debris such as pollen and dirt are allowed to remain on the deck surface, mold can
feed on the biofilm. Using a hose and warm, soapy water with a soft bristle brush is
recommended to remove the food source and mold.