If you are looking to build a new deck on your house, there are 5 different decking material options you need to consider.
These top five decking options are all natural hardwoods from South America that are more durable than Teak and much more affordable as well.
Our number one recommended decking material is:
Ipe Wood Decking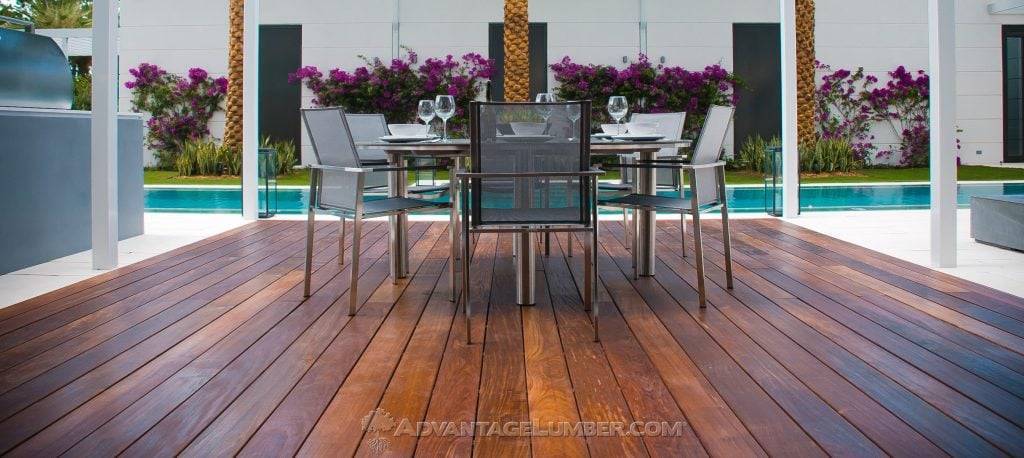 Ipe (pronounced EE-pay) is an all natural hardwood that is more than three times harder than teak. It has shown to last up to 75 years or more on many commercial applications such as the Coney Island boardwalk and the Brooklyn bridge.
This hardwood is one of the strongest woods in the world and naturally resists wood boring insects. It also does not splinter and will not get incredibly hot on your feet like plastic decking.
In addition it's also naturally slip resistant, has a Class A rating for flame spread, is scratch resistant and naturally mold and fungi resistant. As you can see from the picture above Ipe wood is incredibly beautiful as well.
Ipe wood is our number one recommended decking material. It's competitively priced against most composite decking materials if not cheaper. Ipe Wood Prices
Watch this short video to learn more about our Ipe wood decking:
Our second recommended decking material is:
Cumaru Wood Decking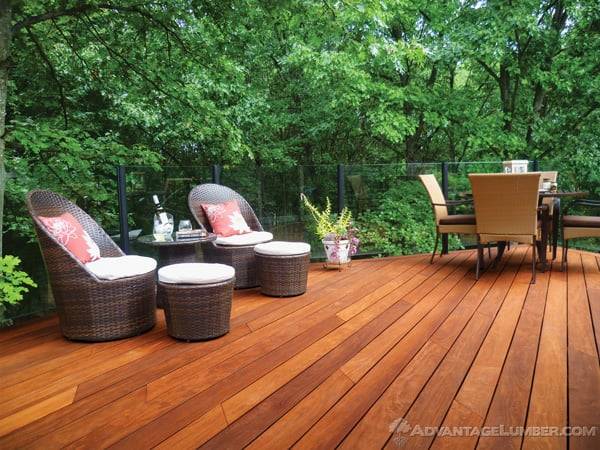 Similar to Ipe Cumaru decking is nearly identical in terms of properties and durability. The main difference is the color color ranges from a golden tan to a reddish brown.
You can still expect all the same excellent properties as Ipe.
This excellent decking is also low maintenance, resistant to wood boring insects and naturally resistant to rot and decay without chemicals.
One other benefit to using Cumaru is the price can be upwards of 40 percent cheaper compared to the price of Ipe wood. You can view the current Cumaru wood prices here: Cumaru Decking Prices
Watch this short video to learn about our Cumaru wood decking:
Our third recommended decking material is:
Tigerwood decking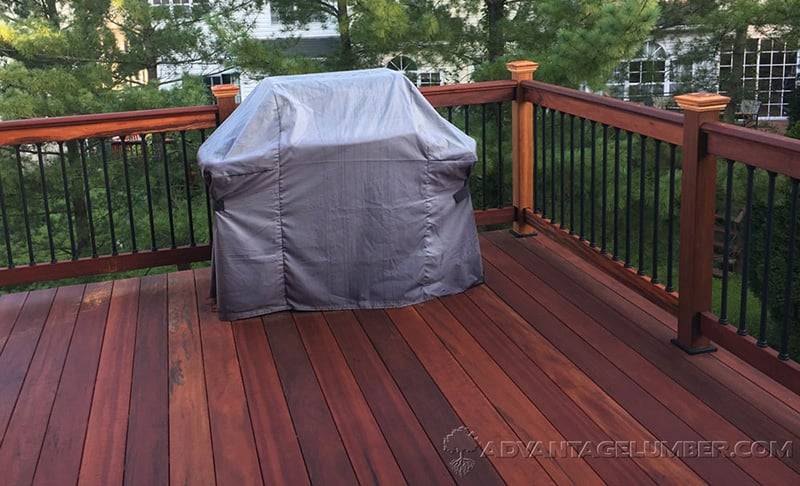 This beautiful wood also comes from South America and is incredibly durable and beautiful. You can expect a 30+ year lifespan with Tigerwood.
Similar to the other woods we listed above Tigerwood is also resistant to wood boring insects, mold and mildew and does not splinter. This is another excellent low maintenance deck material.
Watch this video to learn more about our Tigerwood decking:
The fourth decking material we recommend is:
Garapa Decking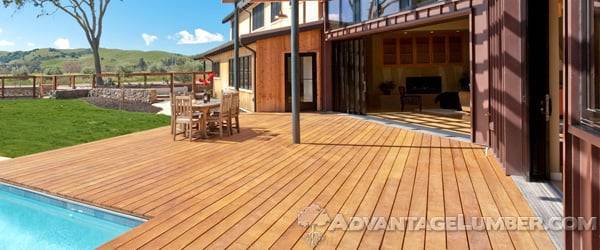 Also known as Brazilian Ash this incredible hardwood decking material is one of the finest quality hardwoods available that features a fine-grain that is light yellow to a warm golden hue.
Garapa is naturally resistant to rot, decay and insect attack and offers a 30+ year lifespan.
Watch this video on Garapa decking:
You can find more info and pricing here: Garapa decking prices
Last but not least our fifth decking we recommend to our customers is:
Massaranduba decking
Also known as Brazilian Redwood Massaranduba is much more durable than California Redwood, has a longer lifespan and requires much less maintenance.
In fact Massaranduba is over 7x harder than California Redwood. With a janka hardness of 3,190 compared to California Redwood which has a janka hardness of 420.
California Redwood is a softwood and requires annual maintenance of applying a water sealer to keep water out of the grain of the wood to prolong its life and prevent rot and decay.
Just like the first four species of hardwood decking that we recommended, Massaranduba naturally resists rot, decay and wood boring insects.
In addition Massaranduba is also a very low maintenance deck material and offers a 30+ year lifespan.
Watch this short video on Massaranduba decking:
Current Massaranduba decking prices