Architectural projects around the world have embraced modern design in recent years. This style favors minimalism and rejects ornamentation, resulting in a look that is both pleasing to the eye and easy to implement—an important consideration in regions experiencing skilled labor shortages.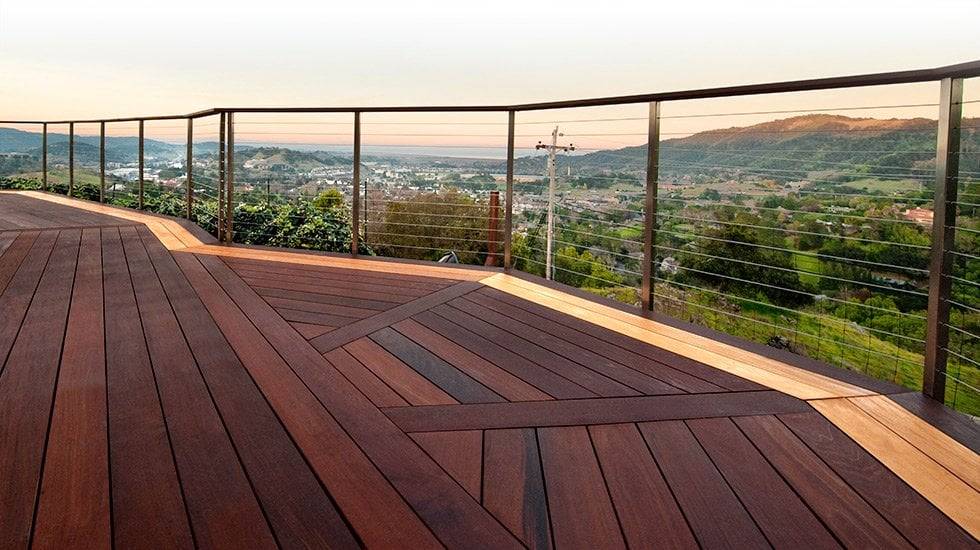 Ipe Decking with Garapa Border and Stainless Steel Cable Railing
Designers of this style have been keen to incorporate wood elements into their projects. Modern design, with its clean lines and crisp angles, can come across as cold; the natural patterns and warm colors found in wood create a pleasing contrast. Wood has been used in modern designs for privacy screens, accent walls, decking, and more. Take, for example, the fence and privacy screen at this hotel in southern Florida: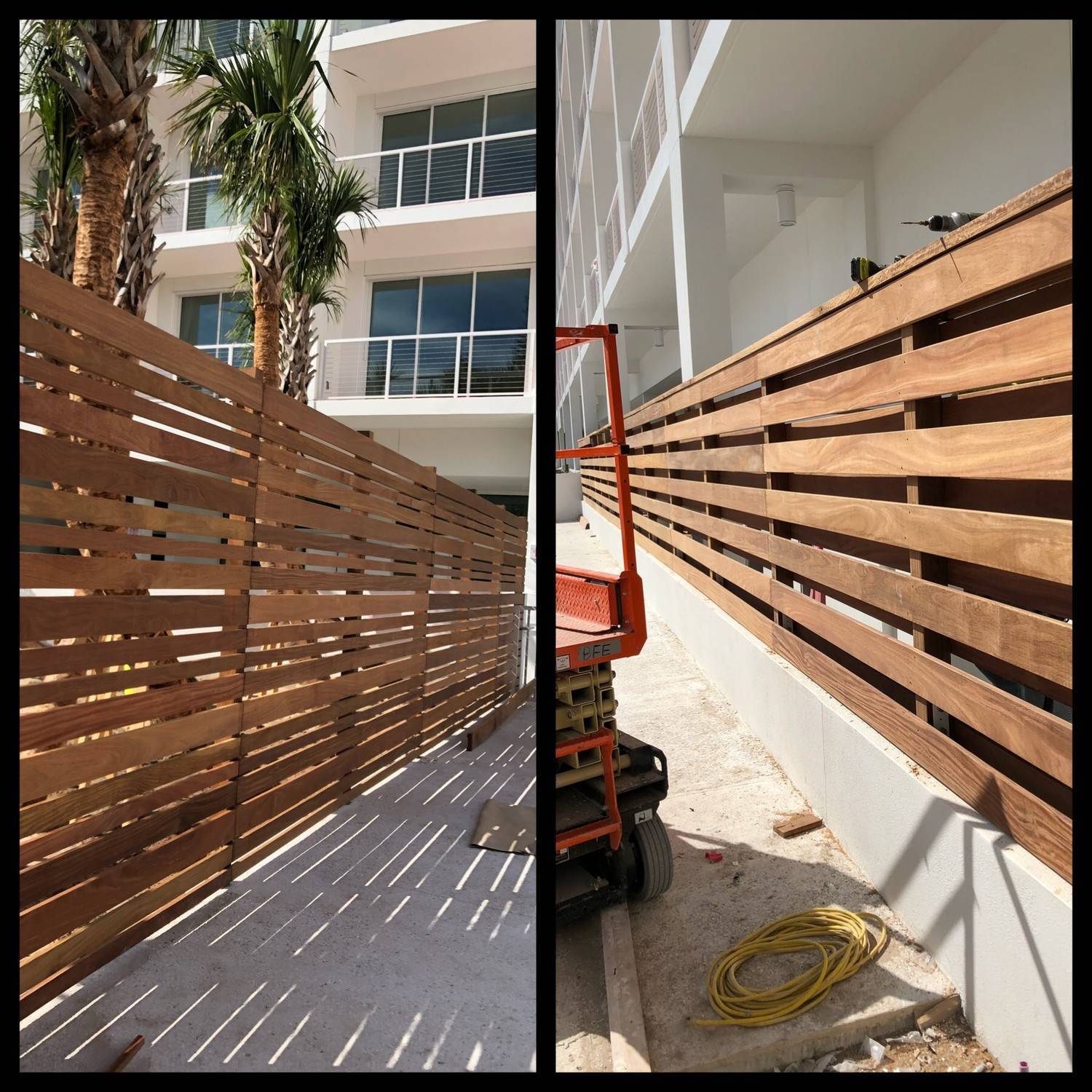 Fence and Privacy Screen Built Using Advantage Cumaru
Not all wood is created equal. The exotic "super woods" produced under the Advantage Decking® brand rise to the top when it comes to weatherability, flame spread testing, and strength. Through proper forest management and adherence to the strictest environmental laws, Advantage Decking® boards are also a truly renewable resource. In an area the size of a soccer field, only 1–3 trees are harvested, ensuring the forest remains healthy and flourishing.
The most popular Advantage Decking® species are Ipe (Brazilian Walnut), Tigerwood (Brazilian Koa), Cumaru (Brazilian Teak), Garapa, Jatoba (Brazilian Cherry), and Massaranduba (Brazilian Redwood). Choosing between species often comes down to desired colors and project budget; costs between species can vary as much as 50%.
Whether the project is commercial or residential, modern designs favor the use of narrow boards to achieve a sleek look. This is a win-win for the modern design client, since narrow boards are a plentiful byproduct of sawmill operations, and thus are less expensive. The other benefit to narrow boards is greater stability. All fine craftsman know the basic woodworking concept that the wider the board, the more it moves. Since decks are often subjected to the harshest elements, narrow boards go a long way toward maintaining a flat surface that resists the cupping and twisting seen with wider boards.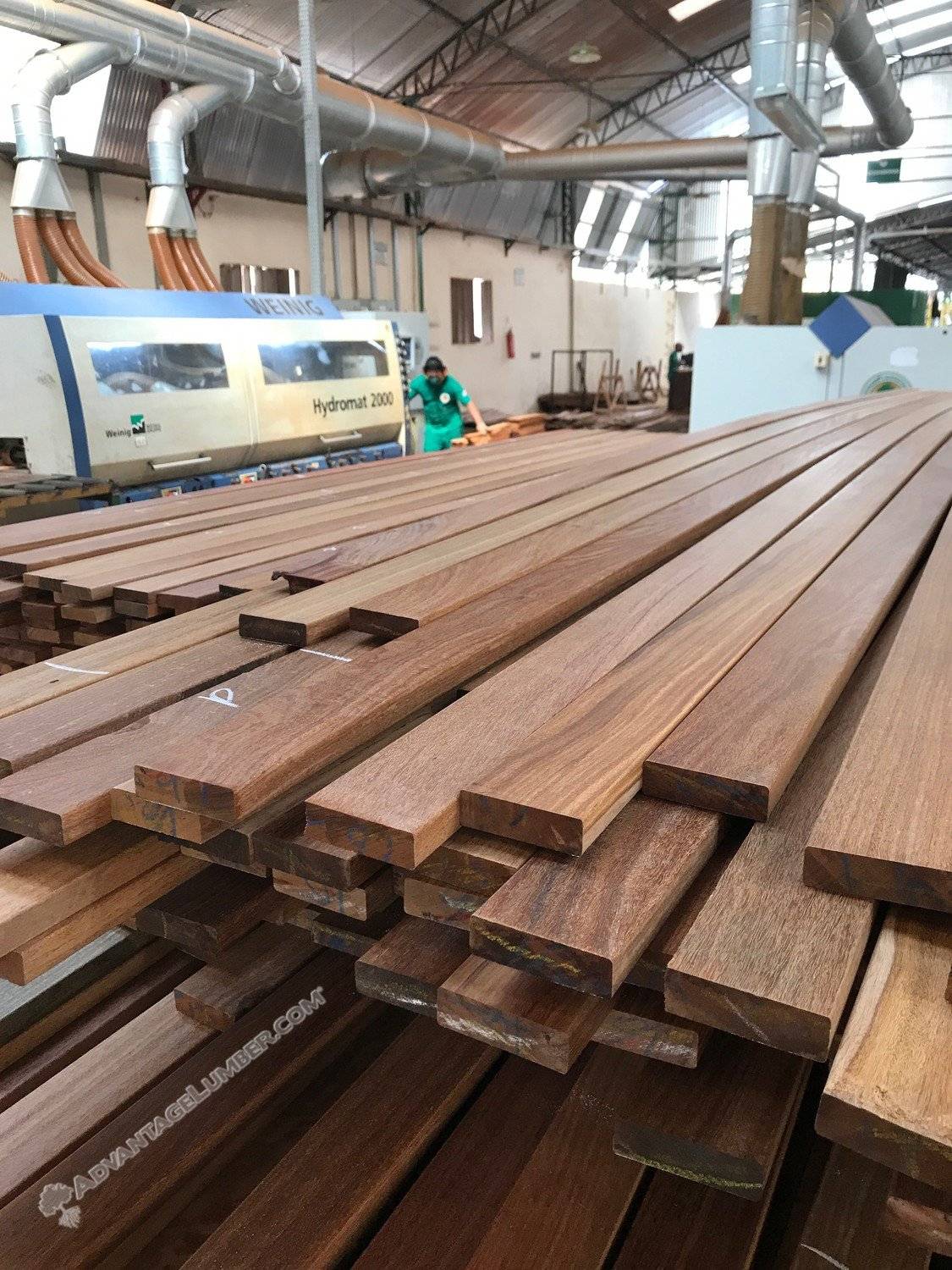 Production of Narrow Cumaru Decking Boards at AdvantageLumber.com Factory in Brazil
Just because narrow boards are the rising trend doesn't mean wide boards have no place in modern design. Take this resort in South Beach: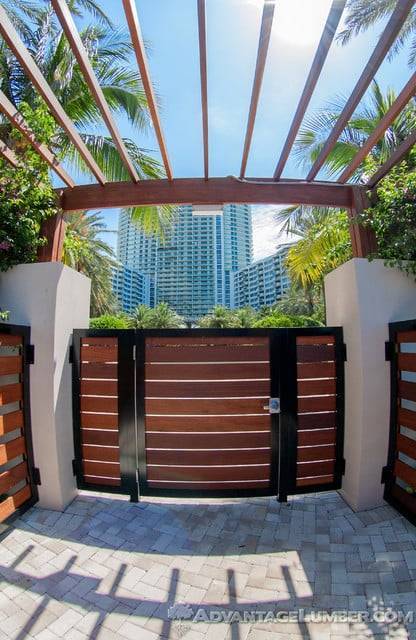 Advantage Ipe Gate and Pergola
This residential fence combines block and hardwood. This simple combination always delivers a crisp and effective look: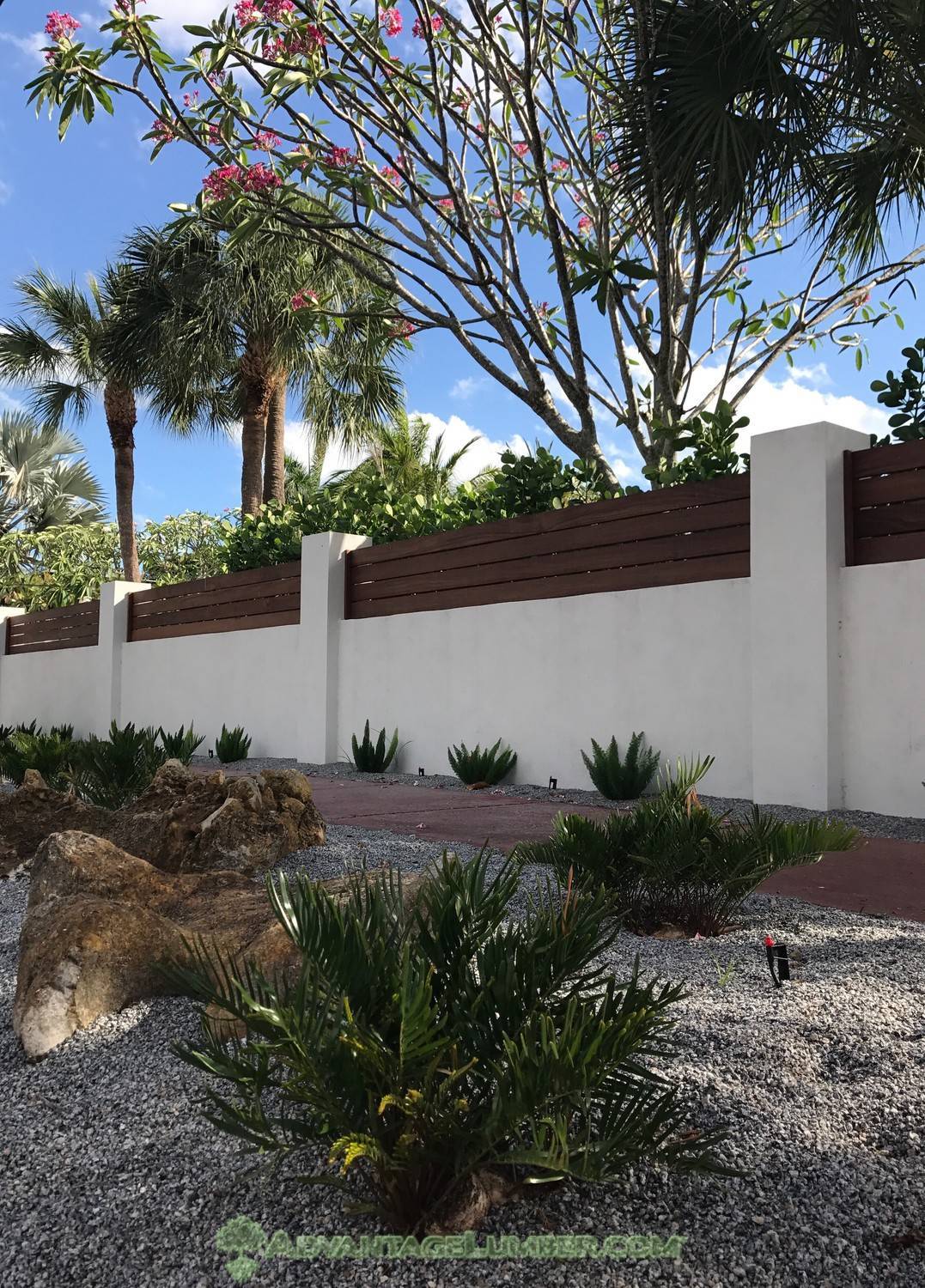 This modern marina uses wide Ipe deck boards. The borders and angles break up the space in a manner consistent with modern design, while simultaneously allowing the dock to fit perfectly in the space allotted. The Ipe was allowed to weather without any oil treatment, resulting in the "silver teak patina" you see below. Applying a coat of Ipe Oil® will restore and preserve the color if desired.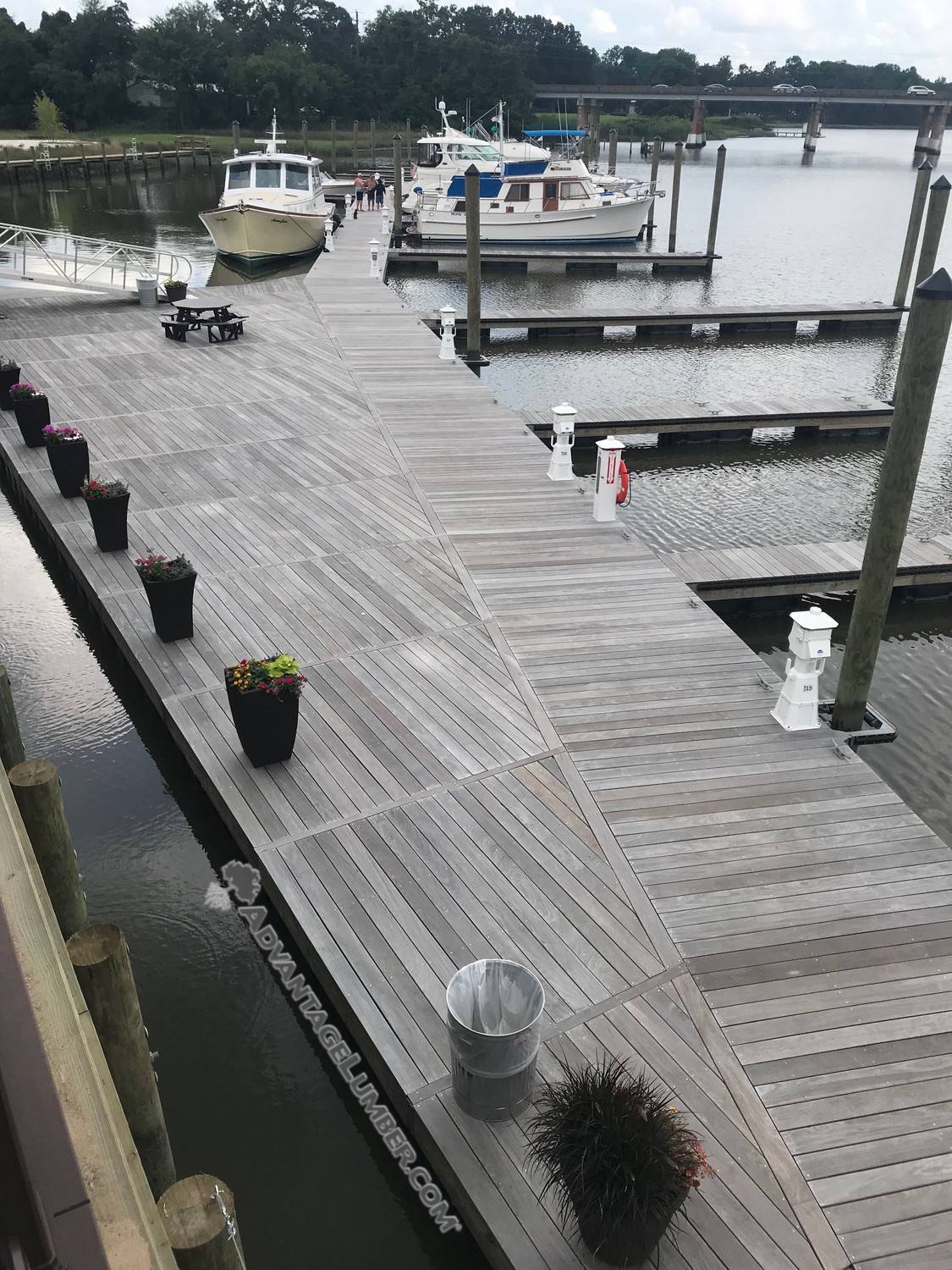 Keeping it short! These are 6-foot Cumaru deck boards. The short lengths allow for this modern, perpendicular pattern, but they also save money. Short boards, like narrow boards, are abundant in sawmills and therefore cheaper.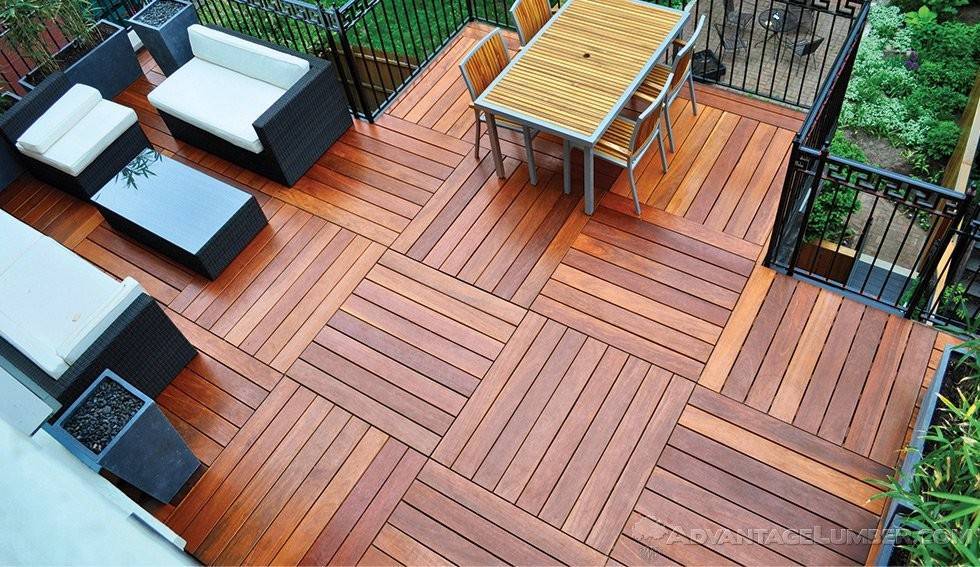 So far we've seen modern designers go the narrow route, and we've seen them go short. What if you combine them? Advantage deck tiles do just that, and it's proved to be a very popular option. Deck tiles are budget-friendly and they're the perfect embodiment of the modern style. They come in a variety of sizes (such as 12"x12", 20"x20", and 24"x24") and they come together in a snap. They can cover up an ugly concrete slab or rubber rooftop membrane while allowing water to drain underneath. They can even pop loose for easy under-tile access if necessary. Advantage deck tiles have been used in both commercial and residential projects for decks, rooftops, showers, balconies, porches, walkways, and countless other applications.
A cohesive design means choosing your furnishings to match your architecture. These poolside cabanas were constructed using modern Ipe decking components, such as 4x4s and 2x6s.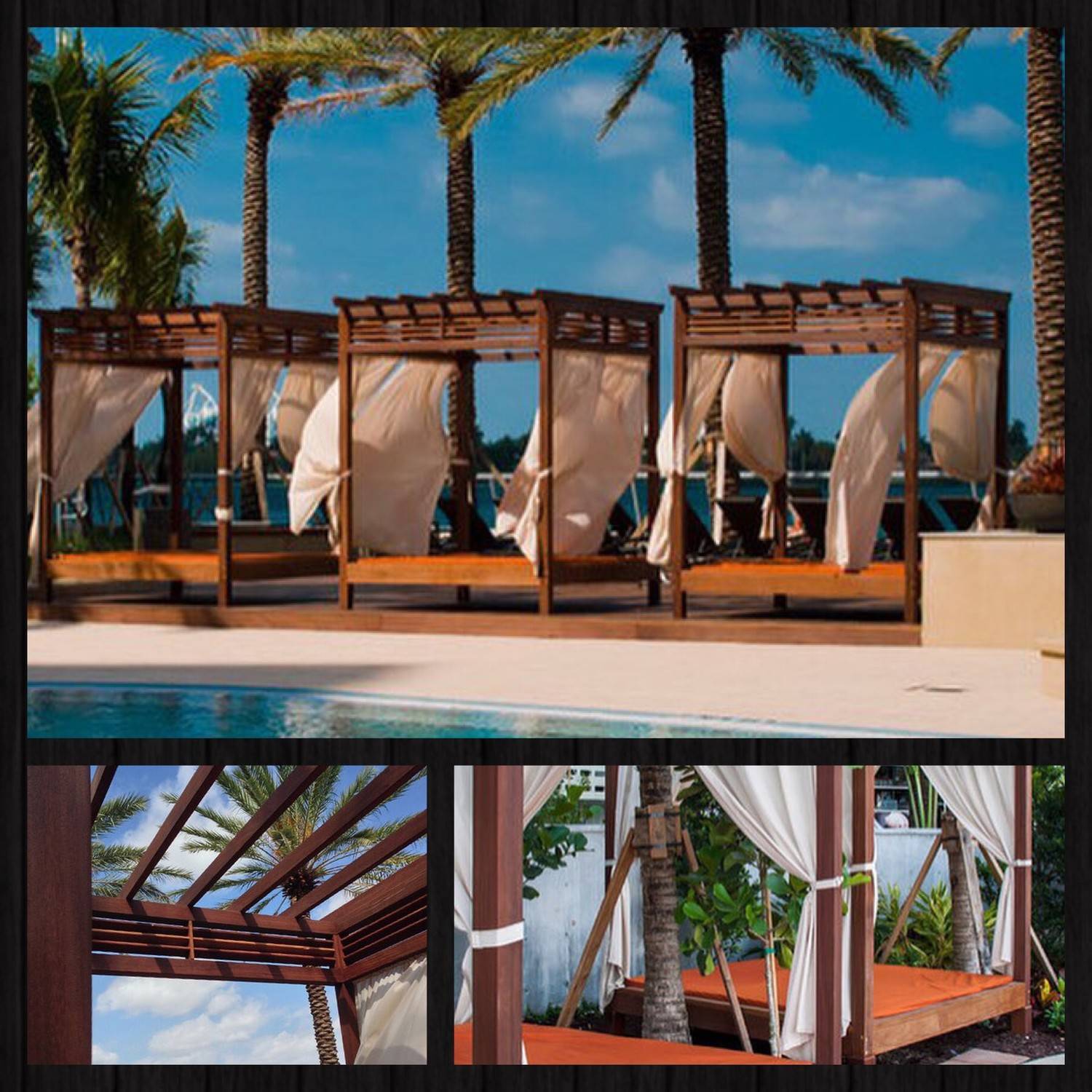 If ever there was a wood created just for the modern aesthetic, it was Tigerwood. Also known as Brazilian Koa, this brown wood is run through with streaks of black. The project below was modernized by combining Tigerwood with metal rail spindles and a chevron pattern. More good news for the wallet: Tigerwood is one of the cheaper hardwoods in the Advantage DeckingⓇ lineup!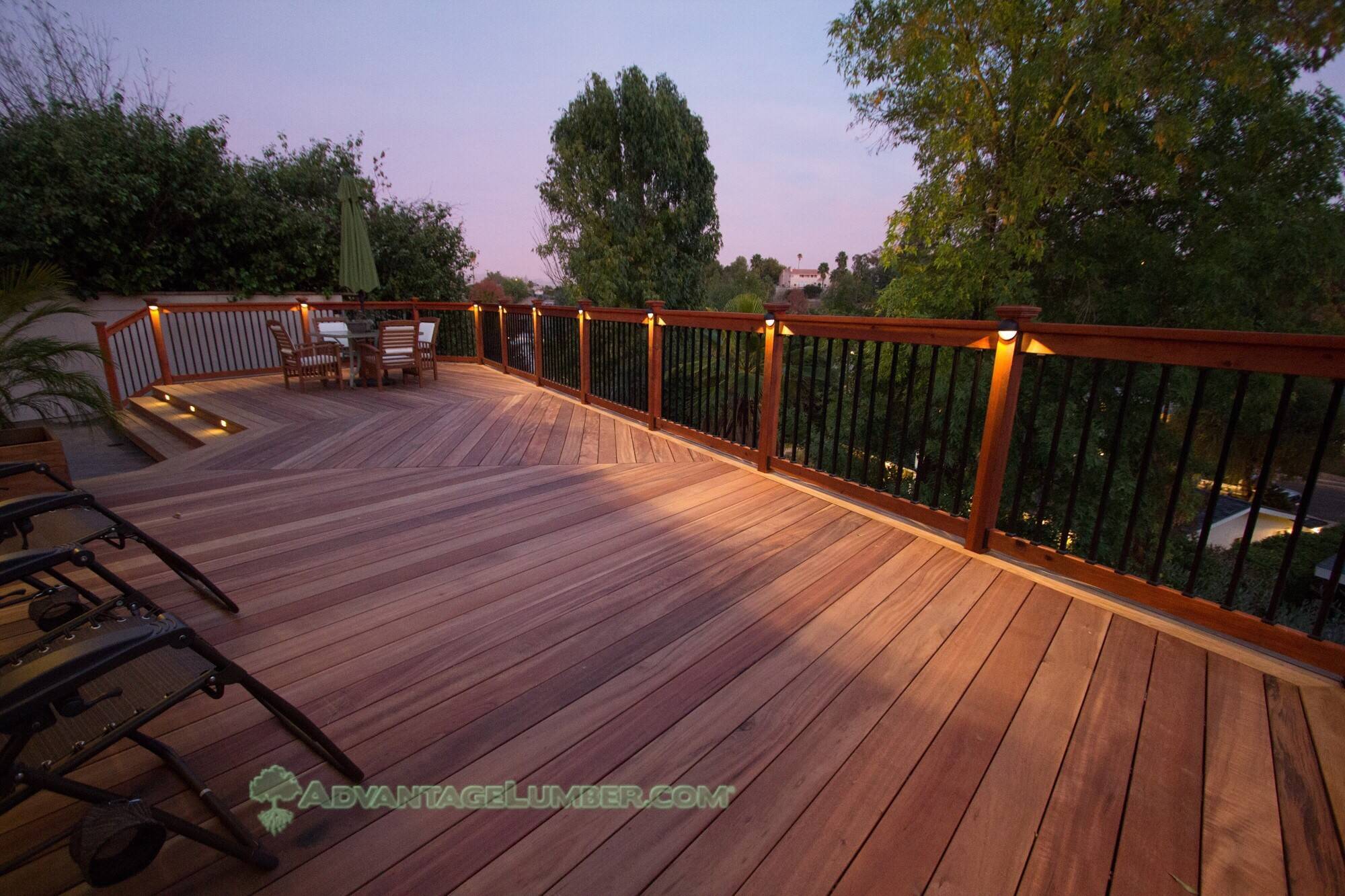 Rainscreen hardwood siding has seen a lot of growth in the market. The advent of specialized hidden fasteners designed specifically for Rainscreen profiles has made the installation process much simpler and have helped to popularize the use in both residential and commercial projects.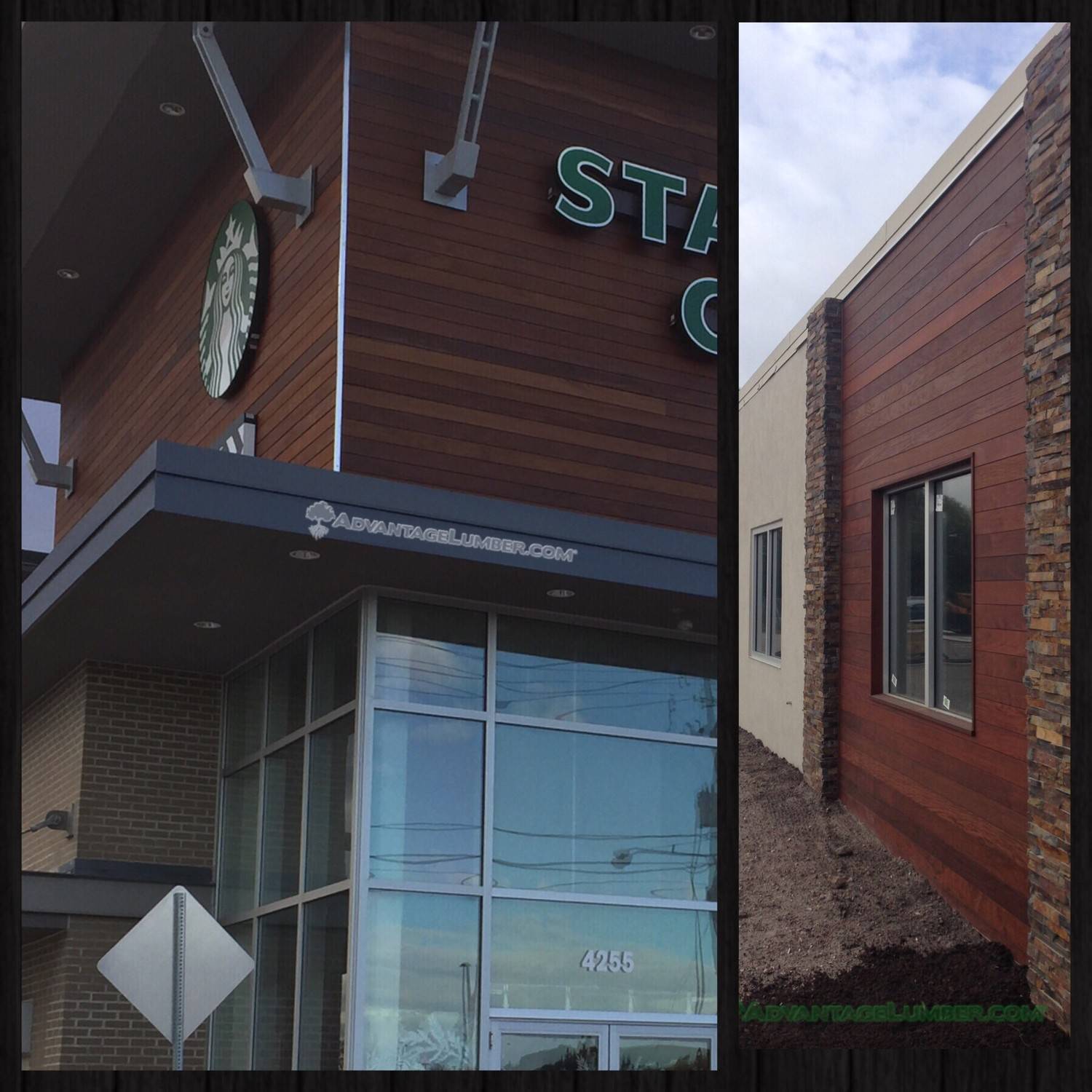 When the exterior is complete, Advantage has many materials to help you carry the modern look to your interior. This live-edge desk with "waterfall" ends shows off the wood grain in its simplest, natural form. This slab is made from Advantage FSCⓇ Tigerwood, which is also available in decking, siding, soffit, v-groove, or solid T&G flooring components to match.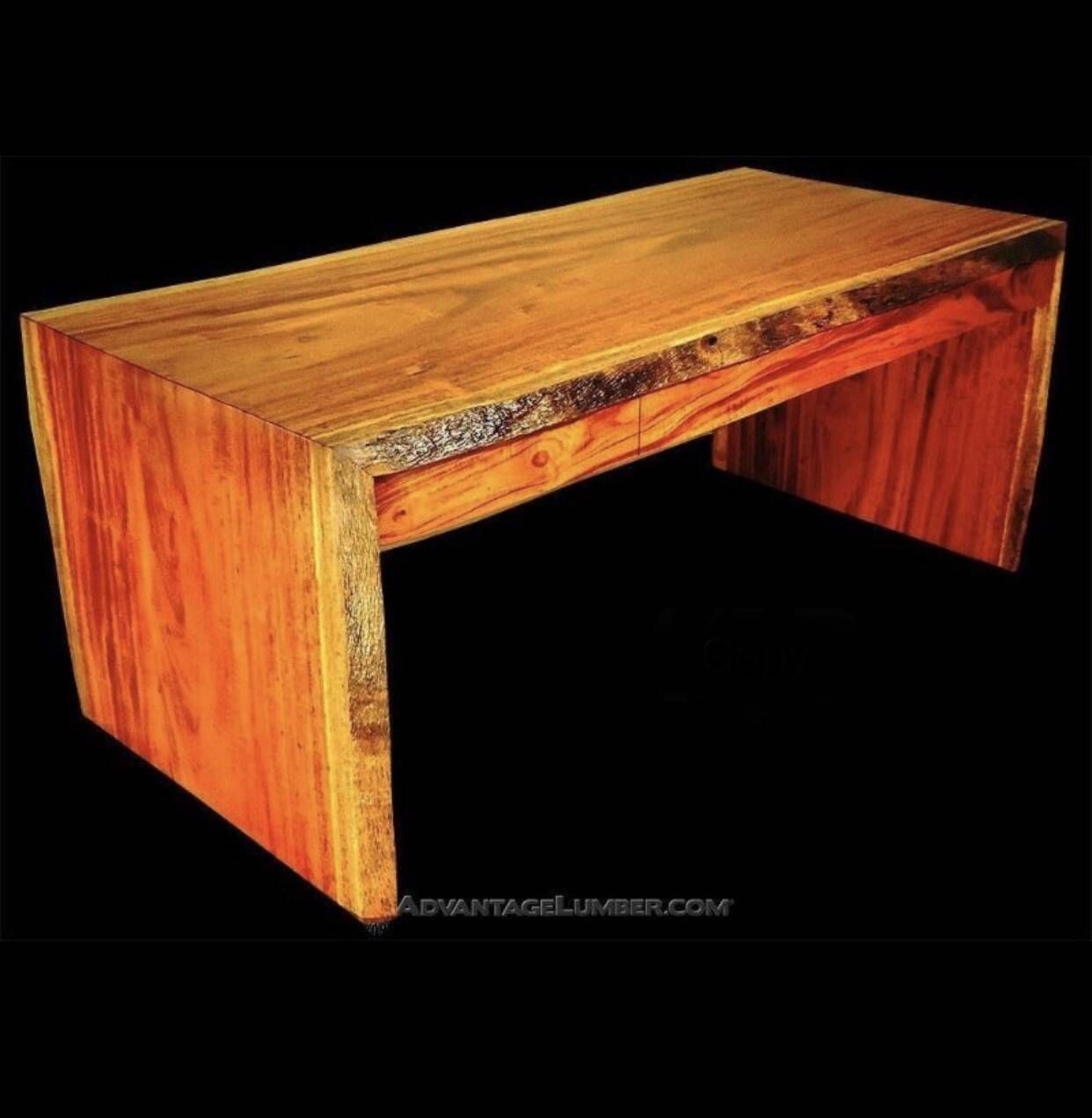 Slabs as art! The Advantage Urban Log Recycling Program produces a wide variety of live-edge wood slabs out of its Florida sawmill. These slabs are used for tables, desks, bar tops, and wall art.
Most of the slabs are cut from trees that are storm-damaged, dead, diseased, or invasive. The live-edge wall art below was harvested from an invasive Banyan tree. Invasive species crowd out and kill native species, which has become a serious problem in many communities. Thankfully, this piece will live out a more peaceful existence, admired for its beauty as natural art. Many of these pieces can be found at www.WoodSlabs.com or can be cut to order by calling the Florida sawmill at 941-388-9299.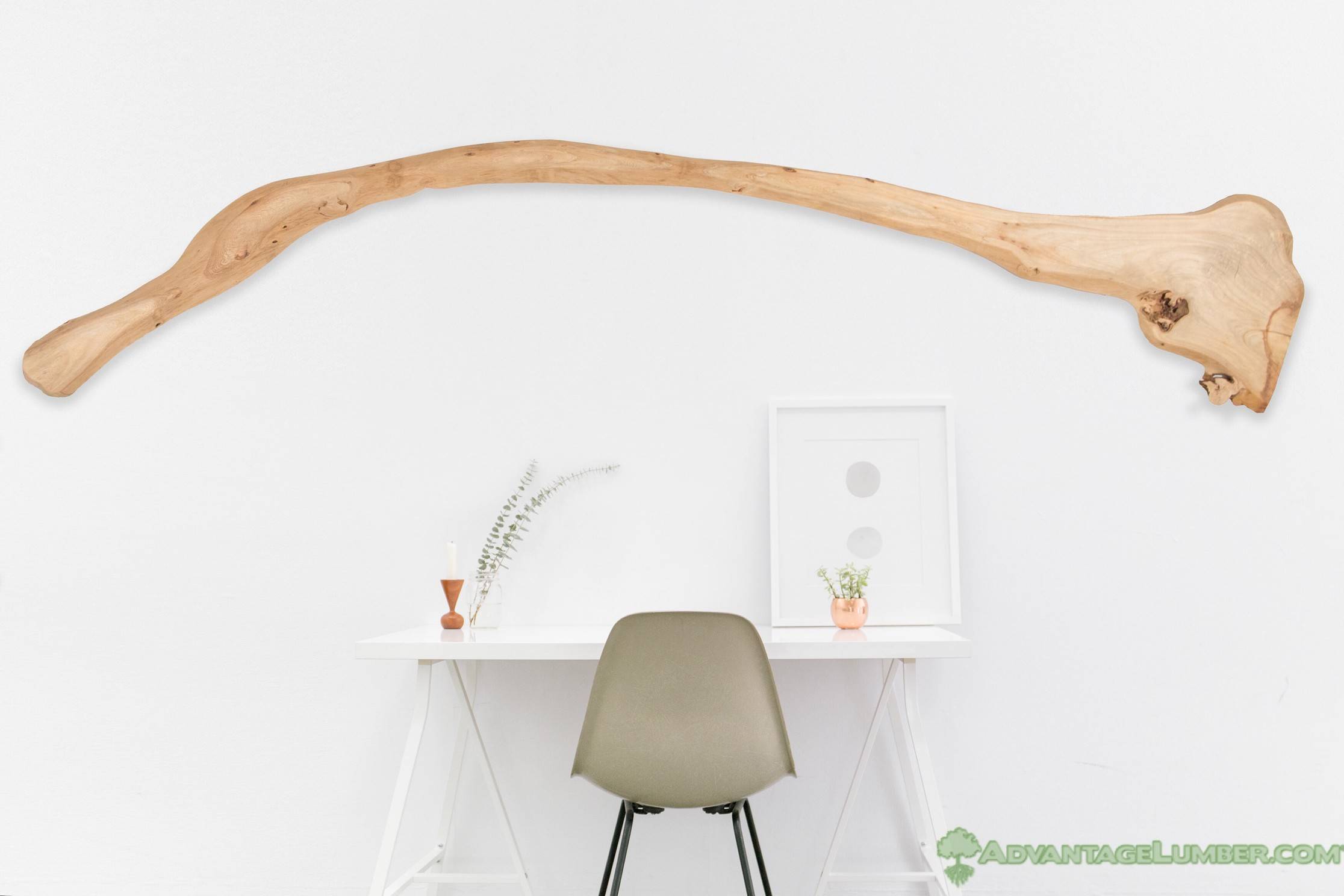 Keeping with the modern theme, AdvantageLumber.com has retooled and modernized it's factories in both the US and Brazil in order to continue delivering responsibly harvested hardwoods of outstanding quality. As the only US company to own a decking mill in Brazil, Advantage is the direct source for sustainably produced exotic hardwoods. With proper forest management, facilities at the source, four US mills, and nearly 300 awesome employees, AdvantageLumber.com is an internet leader for hardwoods and ahead of the curve when it comes to responsible harvesting. The Advantage team—and their families—appreciate your purchases and hope to be part of your next awesome project!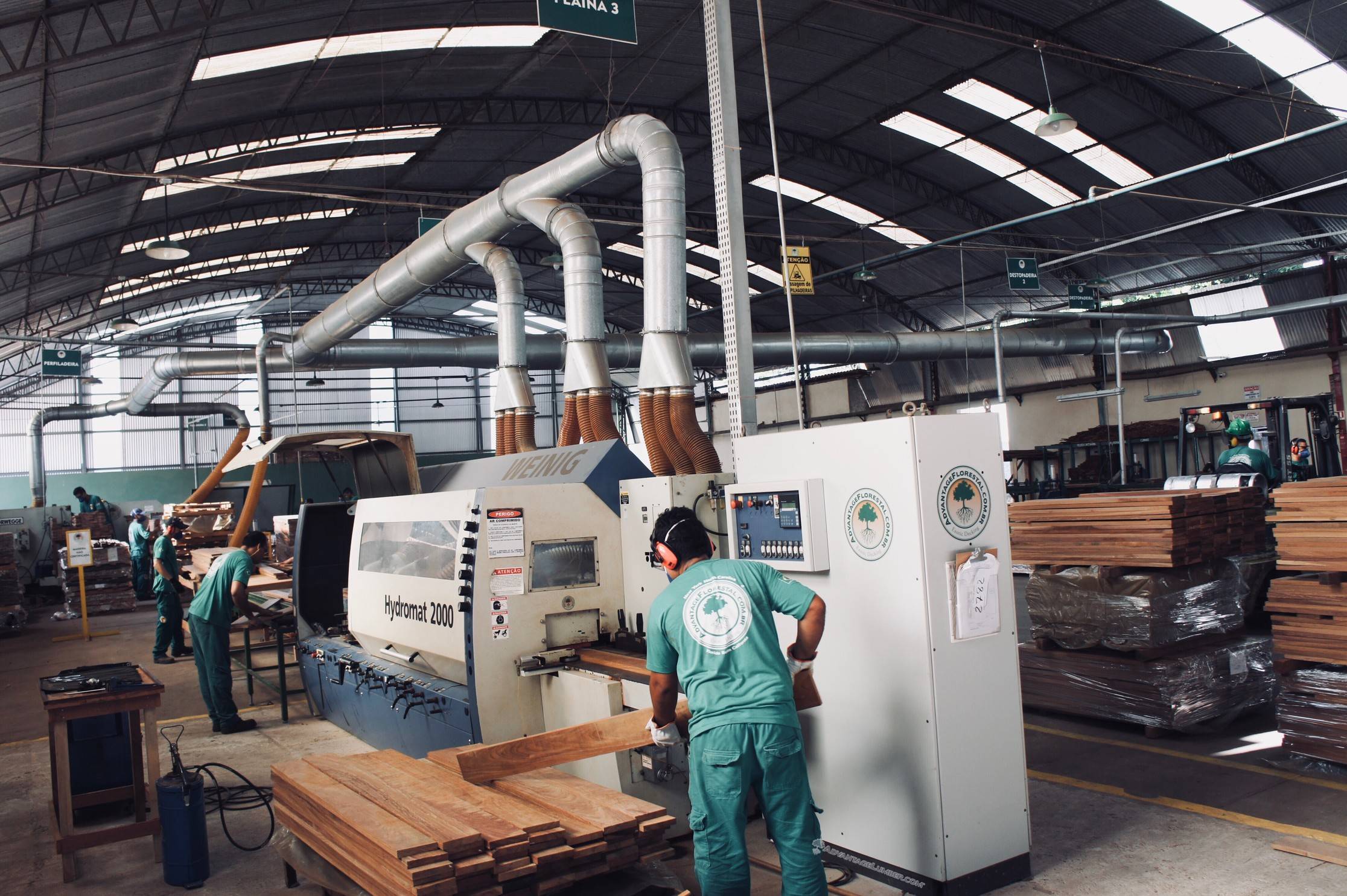 A board, a bundle, or a truckload shipped direct to your home or jobsite worldwide!