Before you start panicking, take a breath. Once you've settled down and thrown aside your notions of panic and despair, remember that freight damage isn't the end of the world. Freight damage occurs with any package being transported no matter what method or company is transporting it.
The good news is that your material will be replaced. You simply have to follow some important steps beforehand to make sure everything on both your and our end runs as smoothly as possible.
The first thing you need to do, right after the LTL truck arrives, is make sure your bundle of decking is still in one piece. We package our bundles carefully with steel banding and cardboard that covers the entire bundle.
Our pallets are also reinforced to prevent any breaking during transit. If your deck bundle(s) arrives open, or in poor shape, this is an indication that you will need to inspect your boards very carefully as you unload them. It is VERY important that you DO NOT DENY the shipment no matter how it arrived.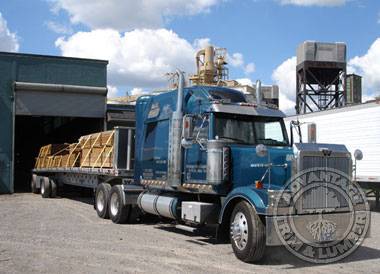 Next, unload the material and set-aside the boards that appear damaged. Make sure to mark on the bill of lading that your shipment arrived damaged. This step is EXTREMELY important and without it, there will be little we can do to replace damaged product.
After you've finished unloading the decking, reexamine the material for any gouges, deep scratches, or broken boards that may be present. After that, make sure to take pictures of anything you notice and be sure to do so from multiple different angles.
Once you've properly stacked the non-damaged boards to acclimate, contact your sales representative and send him or her your pictures of the damaged material. Your sales person will then contact the freight carrier to file a damage claim and to schedule a pick-up of the damaged material. Then, we'll make arrangements to send you new material as soon as possible.
Depending on your location, the time it will take for you to receive new material can vary. This is why it's always important to take waste into account when placing your order. Giving a conservative figure between 10% – 15% would mitigate delays as it would allow you to continue to build your deck as your replacement boards get to you.