Railings are an important part of your deck's design. They provide a safety barrier against people falling and injuring themselves. The word "railings" is used to describe an entire system that's comprised of rail caps (most commonly a hand rail), posts, balusters/panels/cables, and sometimes a bottom rail.
In this article, we will be discussing the advantages and disadvantages of 3 different kinds of materials that fill in the gap between posts: Balusters, Cables, and Panels
Baluster
Balusters are a popular design in many homes' railing system. The majority of balusters are made of wood to give warm and classic look to the deck and the exterior or houses.  Recent trends are offering balusters made from metals like iron. These new balusters add contrast to a deck and home that needs a break from the monotonous.
Wood is the classic material used in most deck railings and the right wood species can last for decades. Classic railings are enhanced by lathing balusters into different shapes and milling handrails into profiles that offer a modern look. If you use exotic species like Ipe, your deck railing will perform its best with little maintenance.
Metal is a long lasting material that adds character to any space. Recent trends are using metal rods to build shelving for homes and it has expanded to the outdoor living spaces. Metal will bring a new aesthetic look that works as a great visual break from the deck and the railing.
Cable Railing
Cable is another great product. Its benefits include longevity, flexibility, and inconspicuousness.  Its thin form factor and horizontal installation allows for an unobstructed view of your backyard. The high-grade metals used in many cable railing systems compliments wood decks perfectly and will last decades without losing tension. With cable, you'll have a long lasting railing system with minimal maintenance to enjoy the view of your outdoors.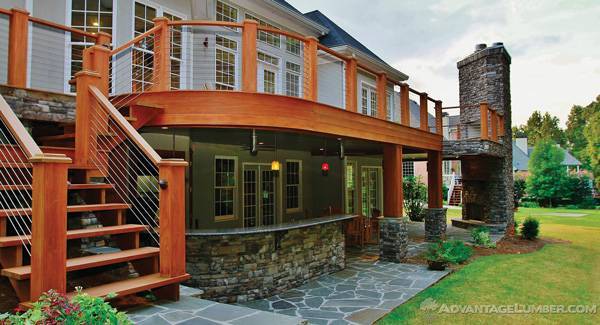 Panels
Panels are a solution that isn't commonly used but are still options for your railing system and deck. As the word suggests, panels are large pieces of material that will cover the entirety of the space where balusters traditionally go but without all the gaps in between. There are two popular materials used for panels: glass and metal.
Metal panels are great to use especially if you want privacy. The solid panels – depending on where you buy them – can have laser cut designs for aesthetic looks. Most metal panels available are highly resistant to a variety of weather conditions and require minimal maintenance.
Glass panels are ideal for the person who wants no compromises in their view. Glass panels are clear and last just as long as metal railings or exotic decking. These panels are made from tempered glass so it's difficult to break. You can install glass panels in between posts and railing, or they can be mounted directly on beams. The latter installation requires no posts to be used, but building codes may need stronger beams or special hardware be used.
Make your choice based on what your deck and outdoors needs. If you have a beautiful view, cable or glass material might be your best choice. Looking for privacy? Choose a solid metal panel. If you want versatility and a natural product to complement the look of your house, wood balusters are the way to go!