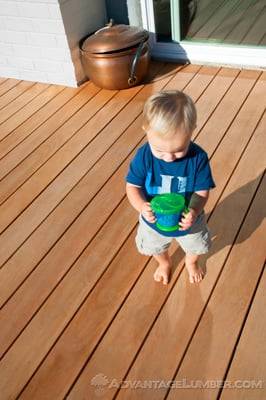 So, you want a beautiful, safe and durable deck for your family but don't want to spend an arm and a leg? That is completely understandable. This is why you should consider building a deck with Advantage Garapa™.
This golden hardwood is one of the most durable woods you could pick. It is naturally resistant to rot, decay, splinters, and fire without chemical treatments! Since you won't have to worry about splinters, you can let your kids roam free without the chance of any unpleasant surprises. And with a 25+ year lifespan, your new deck can grow older with your children.
This completely gorgeous hardwood is also available at a fantastic price. Because you won't have to be replacing anything every few years like you would if you chose plastic or pressure treated lumber, you will be making a wise investment.
Have valuable family time and enjoy your deck for years to come with Advantage Garapa™.  Get your free quote by calling 1-877-232-3915.