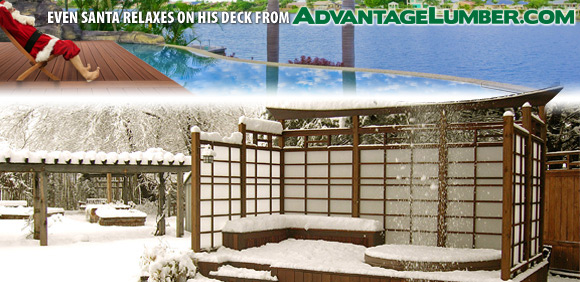 A deck is a quick and simple way to get more use from you property. Unlike a covered patio or porch, a deck floating six inches or twelve feet above the ground level offers a completely different feeling.
As people choose to stay in their homes longer, decks are being built and renovated now more than ever. In fact, according to recent statistics, approximately 30 million American homes have decks and demand is growing and this is why:
Decks are Great Investment: When you add a hardwood deck to your home, you're increasing your quality of life and your homes value. According to Remodeling Magazine, you can expect an average 60 – 70% percent return on your investment when you install a wood deck. People shopping for homes prefer houses with decks, because decks expand their living space and provide infinite ways to relax and have fun.
Connect With Mother Nature: Today's people are much less connected to the natural world than any other time in history. This natural connection has been replaced for the plugged-world and less  unstructured outdoor play. Whether your home is a Maine farmhouse or a Chicago brownstone, a California ranch or a Florida bungalow, decks offer you a quick and easy way to connect with nature. The amazing lake views, the smell of your homegrown vegetables and fresh basil, listening the wind chimes on your deck, a family dinner or simply relax and meditate. Life is not simple but decks give you an easy escape to some much needed peace and quiet.
Year around Fun with Friends and Family: On Thanksgiving Day, you and your family can gather and have fun together, on Independence Day you can grill hot dogs and steaks. A built-in hot tub adds opportunities for fun and relaxation.
Whether you are renovating or building a deck, AdvantageLumber.com is here to help you be part of this trend with the best selection in exotic hardwood decking like Ipe, Cumaru, Tigerwood, Garapa and all the tools and deck accessories necessary to complete your deck.