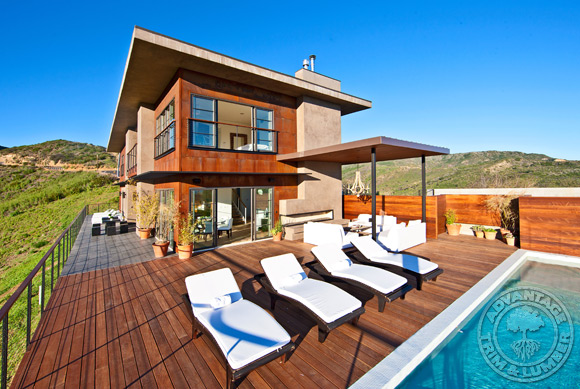 Check out what our customers have to say about our decking materials and our customer service here: Advantage Lumber Reviews & Testimonials.
Here's one review from the owner of the breathtaking Malibu, CA home you see above:
Craig R. ~ Being located in a canyon just up from the ocean, we experience a variety of weather throughout the day. From early morning fog to heat from the mid-day sun to quick drops in temp from the coastal breezes. We choose IPE for it's strength, durability and beauty. The deck turned out amazing. We love it.
Want to tell us what you think of Advantage? Do you have pictures of your deck, or lumber project you want to share with us? We might feature your story and pictures on our website! Submit your testimonial and photos to Advantage here.

Regular readers of this blog know one of the hallmarks of our customer service is to supply premium grade material at great prices. Another, even more important part of what we do everyday is helping our customers. Every day, we have great conversations with contractors and people just like you. We work very hard to ensure every single person who orders hardwood decking, lumber, and flooring has a great experience from start to finish.
If you'd like to work with a transparent, affordable, and helpful decking supplier, give us a try. We'd love to hear from you, address your concerns, and supply you with the world's finest hardwood decking.