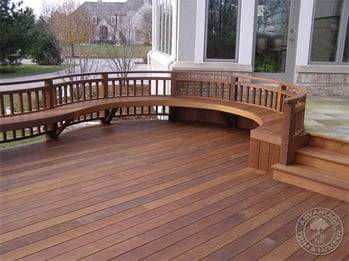 Recently, the Southern Illinois University Edwardsville recently unveiled the highly anticipated new addition to their botanical garden area called the Gardens. Inspired by Asian pagodas, "The Lantern" is a truly beautiful structure. It was designed to offer a tranquil place to view the water as well as a peaceful place to get away from the hustle of university life (even for a few minutes).
Why is this worth mentioning? The architect and planners specifically chose ipe decking due to the fact that it is environmentally responsible. I am sure they also realized that, in order for this structure to maintain its look for decades to come, they needed to choose ipe hardwood because it can withstand the elements unlike any other hardwood decking material.
Once again, this proves why ipe decking is the best decking material today.
The reasons why they would choose ipe Brazilian hardwood is simple.
Ipe decking has the following features that pine decking, composite decking, and other decking materials just don't have:
A beautiful color that can be left untreated or treated to create rich colors
Extreme density that keeps ipe looking beautiful for years
Natural resilience to mold, mildew, insects, rot and decay
Ipe wood is eco-friendly
Ipe decking has been featured in many wonderful commercial structures. From the Brooklyn Bridge, to the Boardwalk in Miami, to Treasure Island in Las Vegas and beyond, ipe wood continues to be the hardwood of choice for architects and exterior designers. As always, Advantage Lumber is your number one source for all things ipe.