A Look at Common Sizes and TimberTech's Wide Plank Option
Decking is an essential aspect of outdoor living spaces, providing both functionality and aesthetic appeal. When it comes to choosing deck boards, one of the primary considerations is their width.
The width of the deck boards can influence the overall look of the deck, the amount of maintenance required, and even the feel underfoot. In this post, we'll explore the common sizes of deck boards and delve into TimberTech's unique wide plank offering.
Common Deck Board Widths
The most prevalent widths for deck boards are:
4 inches (approximately 3.5 inches actual width): This size is often referred to as "narrow" in the decking world. A deck made with 4-inch boards will have more seams or gaps, which can create a more traditional or segmented look. These boards can be easier to handle due to their lighter weight and might be a good choice for intricate deck designs.
6 inches (approximately 5.5 inches actual width): Often termed as "standard" or "wide", 6-inch deck boards are the go-to choice for many homeowners and contractors. They provide a balanced look, fewer seams, and a solid feel underfoot.
TimberTech's Wide Plank Deck Board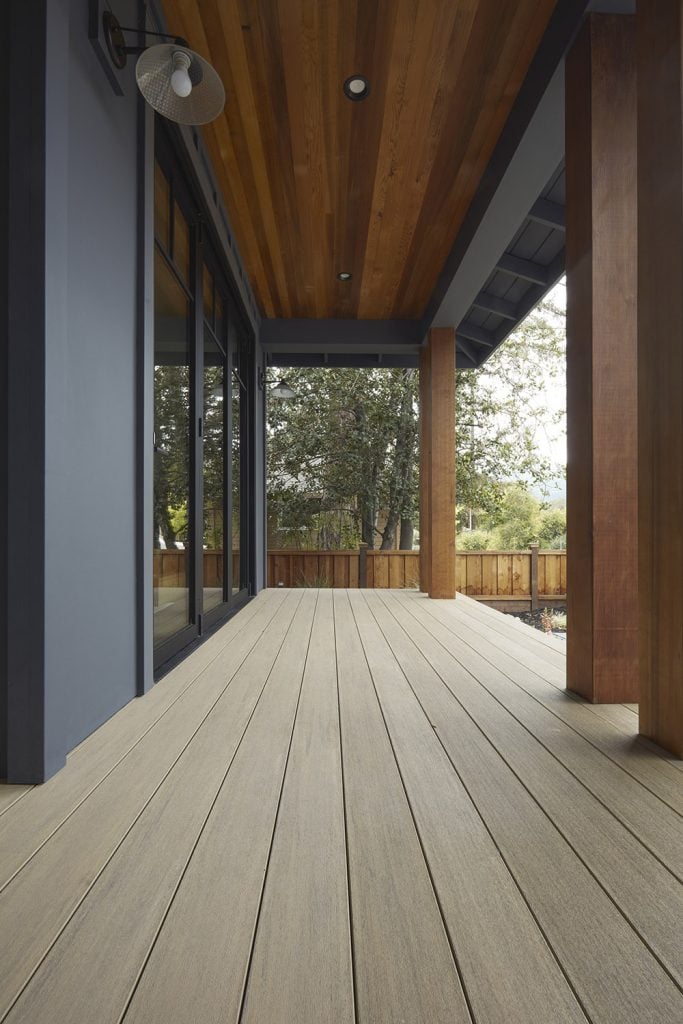 While the 4-inch and 6-inch boards dominate the market, there's a growing interest in even wider deck boards. TimberTech, a renowned name in the decking industry, has recognized this trend and offers a wide plank deck board option.
Advantages of TimberTech's Wide Plank Deck Boards:
Aesthetic Appeal: Wide planks can give your deck a distinct, contemporary look. The fewer seams create a more expansive and cohesive appearance, which can be especially appealing in larger outdoor spaces.
Fewer Fasteners: With wider boards, you'll need fewer fasteners, which can speed up the installation process and result in a cleaner look.
Durability and Performance: TimberTech is known for its high-quality products. Their wide plank deck boards are no exception, offering the same durability, resistance to the elements, and long lifespan as their standard offerings.
Versatility: These boards can be used in various settings, from spacious patios to pool decks, and can complement a range of architectural styles.
Things to Consider with Wide Plank Deck Boards
While there are many advantages to using wide plank deck boards, there are a few considerations to keep in mind:
Cost: Wider boards can sometimes be more expensive per square foot than their narrower counterparts.
Weight: They can be heavier and might require more people or equipment to install.
Thermal Expansion: Wider boards can experience more noticeable thermal expansion and contraction. It's essential to follow installation guidelines closely to account for this.
Conclusion
The width of your deck boards is a crucial decision in the deck-building process. Whether you prefer the traditional look of 4-inch boards, the balanced appearance of 6-inch boards, or the expansive feel of TimberTech's wide plank option, there's a solution to fit every taste and style. As always, consider your specific needs, budget, and aesthetic preferences when making your choice.