Trex is a brand that's synonymous with durability, aesthetics, and sustainability in the decking industry. Over the years, they've provided various lines of composite decking that offer homeowners and commercial users alike the chance to enjoy low-maintenance, high-performance outdoor spaces.
Among their wide range of offerings, the 2×6 Trex decking material stands out for its adaptability and structural integrity. Let's delve into what Trex decking 2×6 has to offer.
2×6 Trex Decking Overview
Trex 2×6 is a versatile and hard-wearing board that is typically utilized for commercial and heavy-duty uses due to its durability and higher load-bearing capacity.
These boards are manufactured from a blend of reclaimed wood and recycled plastic film, making them a great lower maintenance alternative to traditional softwood lumber.
Furthermore, Trex decking offers excellent resistance to warping, rotting, cracking, and insects, ensuring that your structures remain sturdy and visually appealing for years to come.
Trex 2×6 Product Lines
The 2×6 boards are only available in the following product lines:
Trex Transcend Tropicals® Decking
2" Square Edge Board
The Trex Transcend Tropicals is also available in 2×4 deck boards.
Actual Dimensions:
2 x 4 x 16: 1.3 in x 3.4 in x 16 ft (33 mm x 86mm x 487 cm)
2 x 6: 1.3 in x 5.5 in (33 mm x 140mm)
Trex Select Earth Tones® Decking
2" Square Edge Board
Actual Dimensions:
1.3 in x 5.5 in x 12 ft (33 mm x 140 mm x 365 cm)
1.3 in x 5.5 in x 16 ft (33 mm x 140 mm x 487 cm)
1.3 in x 5.5 in x 20 ft (33 mm x 140 mm x 609 cm)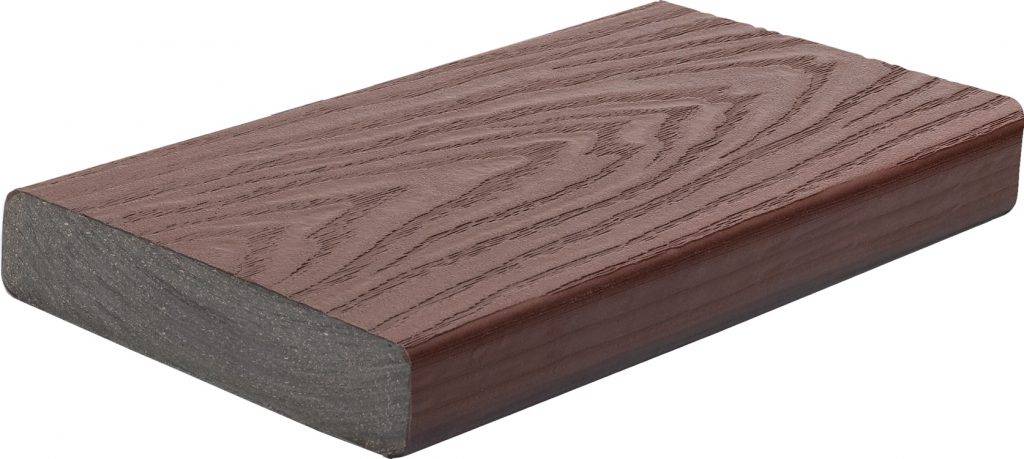 Trex square edge 2×6 boards install traditionally like wood – with deck screws. 2 x 6 boards available in 12′, 16′, and 20′ lengths.
Common Uses of 2×6 Trex
Given its robust build and size, Trex 2×6 boards are commonly used in applications that require superior structural performance and durability. Here are some common applications:
Marinas and Docks: Waterfront applications like marinas and docks require materials that can withstand constant moisture exposure, resist decay, and bear significant loads. Trex 2×6 boards excel in these applications because of their high durability and resistance to water damage and rot.
Boardwalks and Public Walkways: High-traffic areas like boardwalks and public walkways can wear down traditional wood quickly. However, Trex 2×6 boards, with their high load-bearing capacity and durability, offer a long-lasting, aesthetically pleasing solution for such spaces.
Benches and Outdoor Furniture: Due to its sturdy nature, Trex 2×6 can also be used for outdoor furniture like benches, where it provides a strong, safe, and visually appealing structure.
Important Note on 2×6 Trex Size:
The thickness of a 2×6 Trex deck board is 1.3 inches thick opposed to a standard 2×6 deck board would have a finished thickness of 1.5 inches.
In summary, Trex decking 2×6 is a versatile and high-performance solution for heavy-duty applications, especially in the commercial sector. It embodies the brand's commitment to sustainability, durability, and aesthetics, offering users a long-lasting, low-maintenance alternative to traditional lumber.