If you're in the market for a new deck, then you've likely come across TimberTech. Known for its high-quality composite and PVC decking, TimberTech offers products that are durable, easy to maintain, and incredibly beautiful.
But where is the best place to buy TimberTech decking? The answer might surprise you: online. More specifically, at AdvantageLumber.com. Let's explore the benefits of buying your TimberTech decking from this reliable online dealer.
Enjoy the Convenience of Home Delivery with AdvantageLumber.com
One of the most significant advantages of purchasing from AdvantageLumber.com is the convenience. With a click of a button, you can select your preferred TimberTech decking, and it will be shipped directly to your home.
Transporting decking materials, especially long length boards up to 20 feet, can be a challenging task. Save yourself the hassle of arranging transport and potential damage moving the deck boards multiple times. At AdvantageLumber.com, we take care of all these logistics for you.
Benefit from Expert Knowledge and Guidance
When buying TimberTech decking from AdvantageLumber.com, you're not only purchasing high-quality materials; you're also tapping into a wealth of knowledge from our expert sales representatives.
They are professionally trained by TimberTech, ensuring they have in-depth knowledge about each product's specifications and benefits.
Our trained sales reps are ready to guide you through every step of the decision-making process. They can answer all your questions, offer advice on the best product for your project, and even provide tips for installation.
Competitive Pricing and Authentic TimberTech Products
Rest assured, when you shop with AdvantageLumber.com, you're getting genuine TimberTech products at competitive prices. By dealing directly with the manufacturer, we can offer excellent prices that you might not find in physical stores.
Additionally we offer bulk discounts and package deals when buying TimberTech Fasteners and TimberTech railing with your decking.
This, coupled with the convenience of direct home shipping, makes buying your TimberTech decking from AdvantageLumber.com an advantageous decision indeed.
Easy and Secure Online Shopping Experience
AdvantageLumber.com is committed to providing a seamless online shopping experience. With a well-organized website and secure payment options, you can order your TimberTech decking with confidence. Plus, our responsive customer service team is always available to assist you with any inquiries or concerns.
Customer Service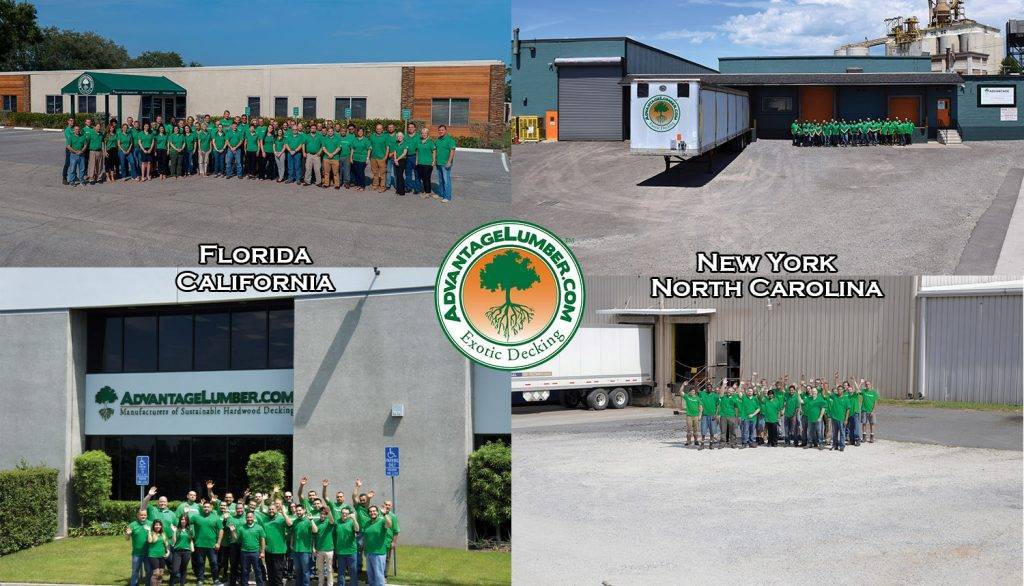 Our sales staff that's been trained by TimberTech and are standing by waiting to take your phone call to answer any questions you might have. You can also request free samples shipped direct to your home.
When you are ready to place your TimberTech deck order you can call and speak with one of our sales staff or place your order online. We have all TimberTech decking products online ready to purchase.
If there's any questions, concerns or problems with your order our staff are available Monday – Friday 8:30 am – 8:00 pm EST and Saturday 8:00 am–3:00 pm EST to answer your call and help you with your TimberTech deck order.
Even though we have 4 large warehouses throughout the USA with a large staff ready to assist with your order. We pride ourselves on small company values and appreciate every order and the opportunity to win your business.
The Bottom Line
Buying your TimberTech decking from an online dealer like AdvantageLumber.com saves you time, provides access to expert knowledge, and offers the convenience of having your order shipped directly to your home.
Forget about the cumbersome process of transporting heavy, long-length deck boards. Take advantage of our direct-to-home delivery, competitive prices, and top-notch customer service.
Invest in the beauty and durability of TimberTech decking and enjoy a shopping experience that's as smooth as your new deck will be. Make your deck dreams come true with AdvantageLumber.com.