Most people are familiar with Teak wood, it's been well known to last outdoors without many of the common issues of softwoods.
Since Teak is so well known for it's exterior durability it has been widely used for outdoor furniture and boat building.
This has driven up the demand for Teak which then increases the price as well. Genuine Teak (Burmese Teak) is very expensive. Old growth "Burmese Teak" is also becoming near impossible and in some areas its illegal to harvest.
It's becoming known as "Conflict Teak" due to old growth teak lumber being over harvested, corruption, human rights violations and many other issues.
Teak harvesting from Myanmar "Burma" is now banned completely due to all these issues.
Fortunately there is Plantation Teak that is sustainably grown in managed forests that is completely ethical and legal.
Advantage Plantation Teak is grown in sustainable managed plantations. We've hand selected the best plantations that grow teak in its optimal growing conditions.
Our plantations strive to recreate optimal growing conditions that mimic Southeast Asia. This allows forestry experts to produce plantation teak that does not use fertilizers or irrigation to try and make the trees grow faster.
In addition we only harvest from older growth 25 – 50 year trees so we produce lumber with tighter grain and less sapwood.
There's a lot of misinformation spread throughout the lumber industry that plantation teak is not as dense as old growth Burmese Teak.
However the United States Forest Service USDA did a study on 10 tropical hardwood species.
One of those species was Teak and they found no significant relationship between the growth rate of plantation teak and its density or durability to withstand extreme weather conditions.
You can read the full report here for yourself: https://www.fpl.fs.fed.us/documnts/pdf2001/willi01d.pdf
In fact, in some tests the plantation Teak actually performed better than the old growth Burmese Teak.
Teak contains a high natural oil content as well as silica and even rubber. All of these natural occurring compounds give Teak wood it's incredible durability to withstand years of weathering.
Additionally teak is also highly resistant to rot, fungi and mildew thanks to it's high natural oil and silica content.
Teak also has a very low shrinkage ratio, Teak's volumetric shrinkage is 7.2% whereas Ipe is 12.4%.
This means overall Teak will expand and contract less than Ipe would with seasonal changes and in extreme weather conditions.
Teak weighs 41 lbs/ft3 opposed to Ipe that weighs 69 lbs/ft3. This makes Teak a great choice for rooftop decks, boats and other projects where weight is a concern.
Like Ipe overtime Teak will weather to a beautiful silver grey and can last many years outdoors with no treatment if you don't mind the grey look.
Teak Wood Lifespan
The lifespan of teak is known to be up to 50 years if properly maintained. If teak is left to turn a natural grey and not oiled each year you can expect teak in this condition to last 30 years or more depending on how harsh the climate is.
Teak Price Vs. Ipe Price
Our plantation grown Teak is some of the most affordable Teak you will find! You can buy teak wood online and have it shipped directly to your home.
Ipe wood and Teak have been used for many years for both exterior and interior projects.
Ipe is primarily sold for exterior decking, fencing, siding and many other exterior projects. Our Teak and Ipe currently have the same price point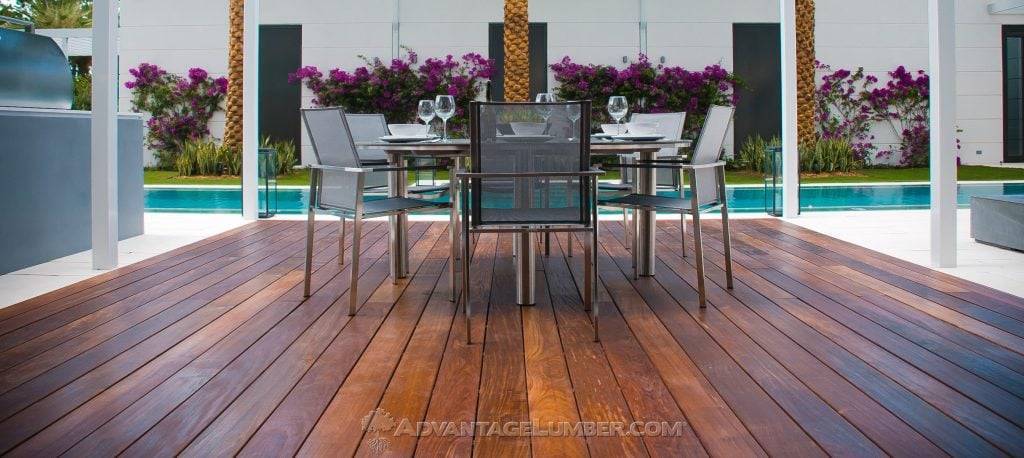 Is Ipe Better Than Teak?
Ipe wood is a South American hardwood that is over three times harder on the Janka scale compared to genuine teak.
The Janka test is a measure of the hardness of wood. The Janka test was developed as a variation of the Brinell hardness test. The test measures the force required to push a steel ball with a diameter of 11.28 millimeters (0.444 inches) into the wood to a depth of half the ball's diameter. The diameter was chosen to produce a circle with an area of 100 square millimeters.
The Janka hardness of Teak is: 1,050
The Janka hardness of Ipe is: 3,680
Teak is still an exceptionally hard wood and has some advantages over Ipe which might be important for your project.
Choose Teak if you want a lighter colored golden brown wood, if material weight is an issue teak weighs less than Ipe. Teak moves less so if you project is going to see extreme weather than Teak is a good choice.
You can view current Ipe prices as well our Teak prices and get more information and free samples from AdvantageLumber.com