Most people are familiar with Teak wood, it's been well known to last outdoors without many of the common issues of softwoods.
Teak has exceptional resistance to rot and termites but it only offers moderate resistance to marine borers and the powder post beetle.
Since Teak is so well known for it's exterior durability it has been widely used for outdoor furniture and boat building.
This has driven up the demand for Teak which then increases the price as well. Genuine Teak (Burmese Teak) is very expensive. Plantation Teak that is fast grown is significantly cheaper.
The high price point of Teak makes it out of the price range for many people especially for larger projects.
Teak Wood Lifespan
The lifespan of teak is known to be up to 50 years if properly maintained. If teak is left to turn a natural grey and not oiled each year you can expect teak in this condition to last 30 years or more depending on how harsh the climate is.
Teak Price Vs. Ipe Price
Due to the popular demand of teak over many years the price has increased substantially to the point that most people would find it not cost effective. Our teak price is around $40 per board foot.
Due to the high price of teak many people have used Ipe wood as a cost effective alternative to teak. Ipe is our top recommended alternative to teak it can outlast teak and Ipe is significantly cheaper.
Ipe is primarily sold for exterior decking, fencing, siding and many other exterior projects. It is priced and sold by the lineal foot. As of 2020 our starting price for 1×4 Ipe Wood is $2.13 per lineal foot.
A 1x4x8 Ipe Wood board would cost $17.04 that same board in teak would cost $110.00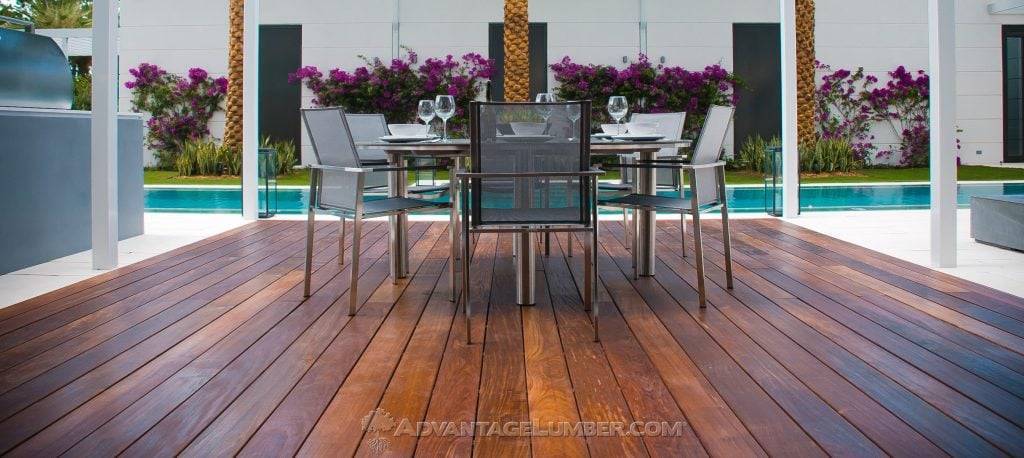 Is Ipe Better Than Teak?
Ipe wood is a South American hardwood that is over three times harder on the Janka scale compared to genuine teak.
The Janka test is a measure of the hardness of wood. The Janka test was developed as a variation of the Brinell hardness test. The test measures the force required to push a steel ball with a diameter of 11.28 millimeters (0.444 inches) into the wood to a depth of half the ball's diameter. The diameter was chosen to produce a circle with an area of 100 square millimeters.
The Janka hardness of Teak is: 1,050
The Janka hardness of Ipe is: 3,680
Other than Ipe wood being over three times harder, Ipe also has some other exceptional properties that make it one of the best exterior hardwoods available.
One of the strongest woods in the world
Environmentally friendly
Low maintenance
Up to a Class A fire rating for flame spread
Termite, Mold & Fungi resistant
No knots
High scratch & slip resistance
Can outlast composite material
Over three times harder than teak
Proven to last 75+ years on commercial applications such as the Coney Island boardwalk
You can view current ipe prices as well as get more information and free samples from AdvantageLumber.com
Please follow and like us: