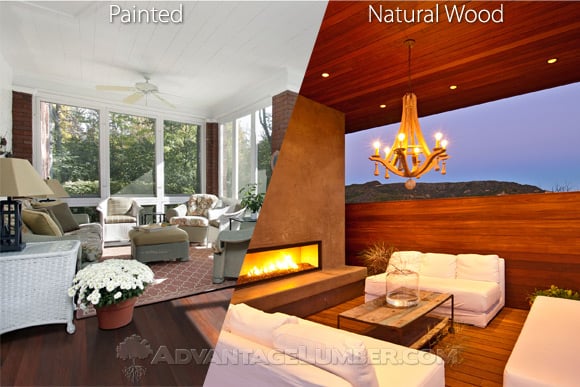 Have you ever looked up at your ceiling and felt…anything at all? Odds are, probably not. However, if you are one of the lucky ones who have a home with wood ceilings, you know. You know that sense of warmth and comfort that you get any time you step into that room. There's just something different about rooms that have a more dynamic aesthetic look to them. It's not easy to put into words. But, when you have it, you know.
At AdvantageLumber.com, we custom mill tongue and groove wood ceiling planks. From our mills here in the United States, we take special care to ensure that every plank is milled carefully as if it were being installed in our own home.
These planks don't just have to be installed on a ceiling. They make excellent wall paneling, too.
If you're looking to enhance the look of a covered porch or sunroom, let us help you. Get your free wood ceiling plank quote today.
*Painted ceilings should be constructed with a wood that actually accepts painting such as Poplar. Super dense hardwoods such as Ipe are NOT able to be painted due to the the oily natural properties of the wood rejecting top-coat finishes.