Building a rooftop deck can offer a variety of benefits, adding value not just to your property but also to your lifestyle:
Increased Living Space: A rooftop deck can effectively increase your usable living space, especially in urban environments where yard space is often limited. It provides a perfect area for activities like outdoor dining, entertaining, or simply relaxing.
Enhanced View: Depending on the location of your property, a rooftop deck can provide a fantastic view. This can be particularly true in city environments or near bodies of water. It adds a unique aspect to your property that ground-level decks or patios can't provide.
Increased Property Value: Rooftop decks often add value to a home. They're seen as a luxury feature that can make your property more appealing to potential buyers. This can result in a higher selling price when you decide to move.
Additional Privacy: A rooftop deck can offer more privacy than a yard or a ground-level deck, particularly in densely populated areas. It can provide a retreat from street noise and prying eyes.
Potential for Green Space: Rooftop decks can also be used to add green space to your property. This can include potted plants, container gardens, or even green roof systems, which can help insulate your home and contribute to local biodiversity.
Versatility: Rooftop decks can be customized to suit a variety of needs and preferences, whether that's creating an outdoor kitchen, a lounge area with a fire pit, or a play area for children.
Sun Exposure: If your rooftop gets ample sunlight, it can be an excellent place for sunbathing or growing sun-loving plants.
Energy Efficiency: Depending on how you use it, a rooftop deck can also improve the energy efficiency of your home. For instance, a rooftop deck can provide extra insulation and reduce UV rays from baking your roof and radiating into your indoor living space which can reduce heating and cooling costs.
Remember, while rooftop decks have many benefits, they also require proper planning and construction to ensure safety and durability. It's also important to check local building codes and restrictions before starting such a project.
Rooftop Deck Design Ideas
Here's some rooftop deck design ideas you can look at for inspiration.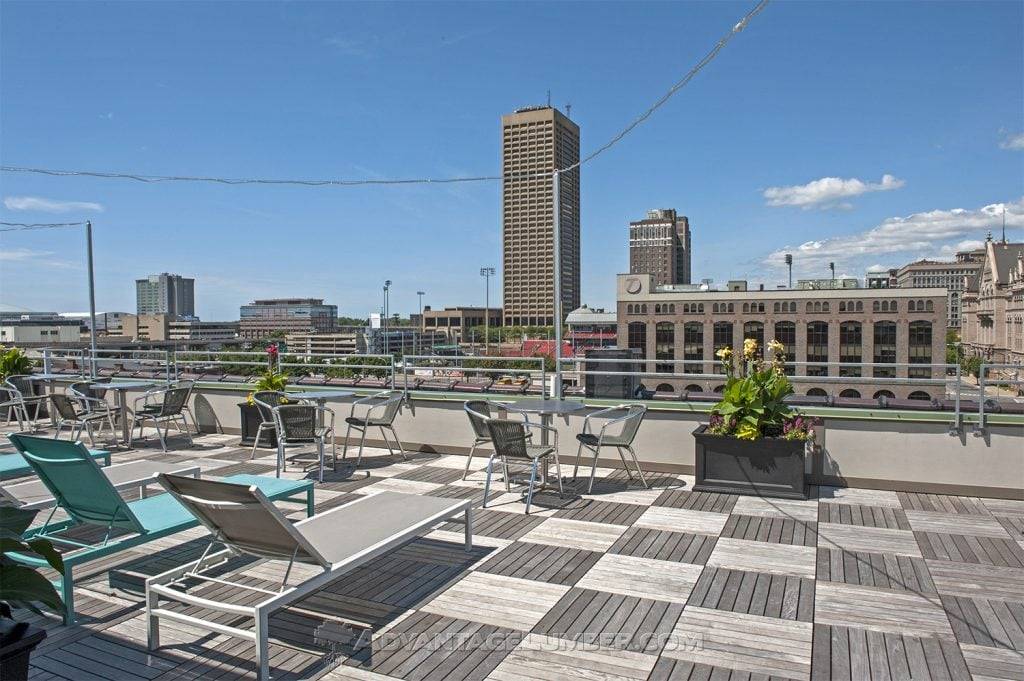 This apartment building in Buffalo, NY used our Ipe deck tiles on their flat roof. This gives their tenants a rooftop deck they can enjoy. The building has a flat roof with a pitch for water drainage so a pedestal system was needed to create a level support system for the deck tiles.
They chose to let the deck tile turn grey which will not affect the proven lifespan of Ipe wood that is known to last up to 70+ years.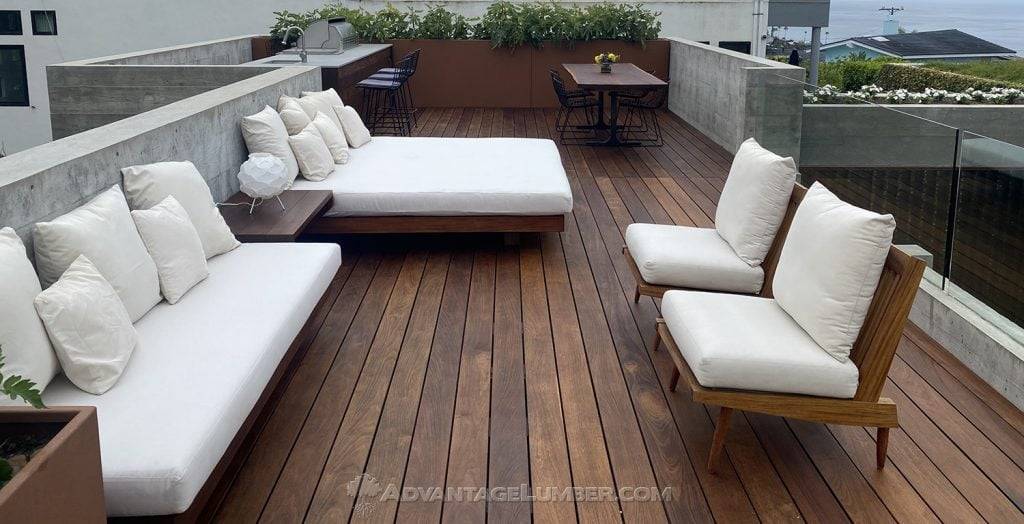 This residential home wanted a better view of the ocean. Their flat roof was the perfect spot to add a rooftop deck which added more usable outdoor living space and provided a better view of the ocean. They used our pregrooved Ipe wood decking so there are no screws in the face of the deck boards. This makes a nice smooth blemish free rooftop deck.
Additionally they also added a nice outdoor kitchen area and a good assortment of furniture for sunbathing and entertaining.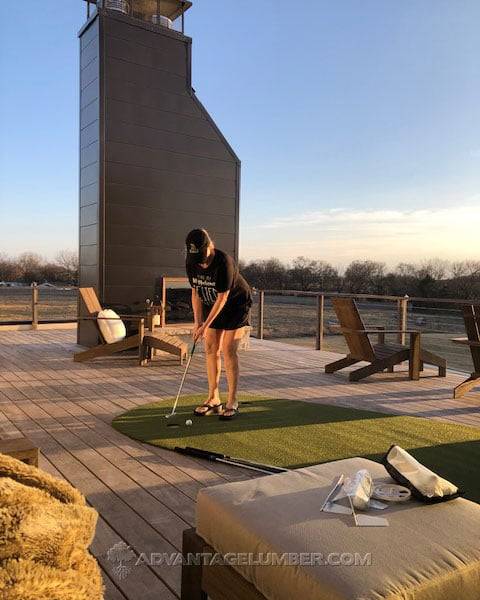 This single story modern residential home added a Garapa wood rooftop deck for the view and additional outdoor living space. They added a putting green on the rooftop for fun and an outdoor fireplace for nighttime enjoyment on the rooftop deck.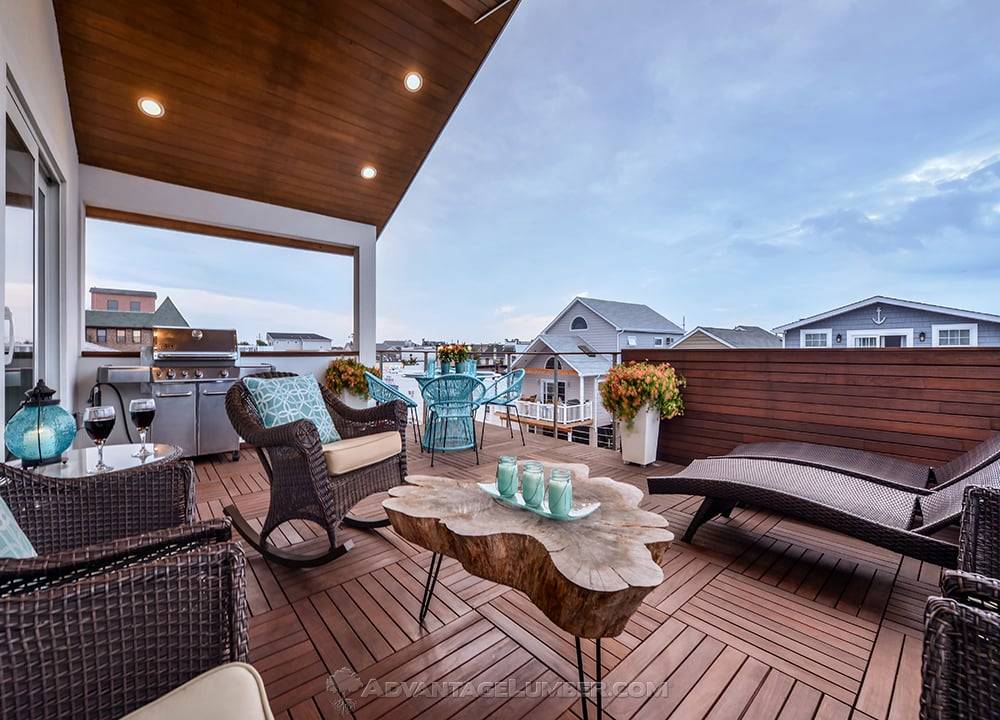 This coastal home added an upper porch deck for added outdoor living space. While this is technically not a rooftop deck it comes pretty close. This deck is up on the 2nd story it gives you the elevated view and added outdoor living space.
They used our Cumaru deck tiles for an easy snap together deck that will add years of beautiful outdoor living space.