If you are looking to build an outdoor table you want to use the best wood possible.
When building an outdoor table you want something that can last for generations without too much maintenance and issues like splinters.
Most people are familiar with the common softwood choices like Pressure Treated Pine, Cedar and Redwood.
Softwoods require a water sealer to keep water from penetrating the grain which can lead to faster rot and decay.
The water sealer typically needs to be applied every year and you'll need to sand off any that is peeling first.
These woods will also splinter, check and crack over time leaving the table prone to giving you splinters.
There are 5 wood species that we recommend as the best wood species for outdoor tables.
Ipe
This incredible hardwood comes from South America.
It has proven to last up to 75+ years on commercial applications such as the Coney Island boardwalk.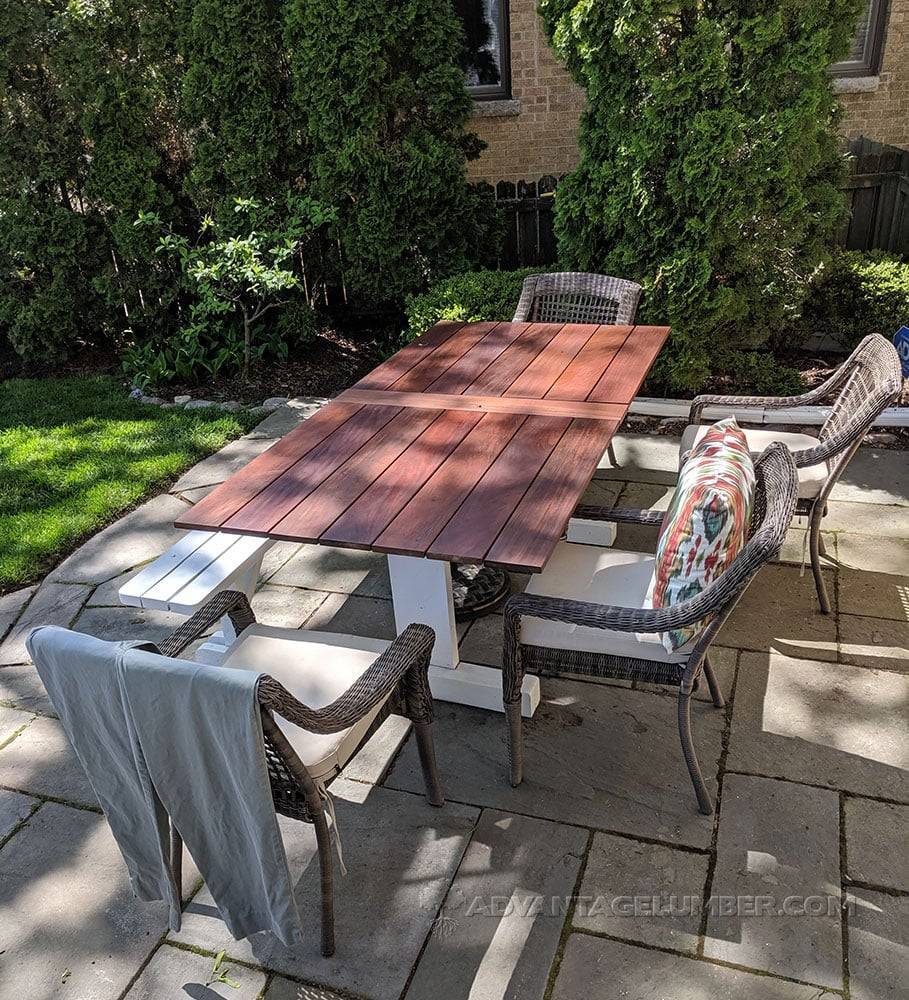 We typically sell Ipe wood for decking, fences, siding and more outdoor projects but it also works excellent for outdoor tables.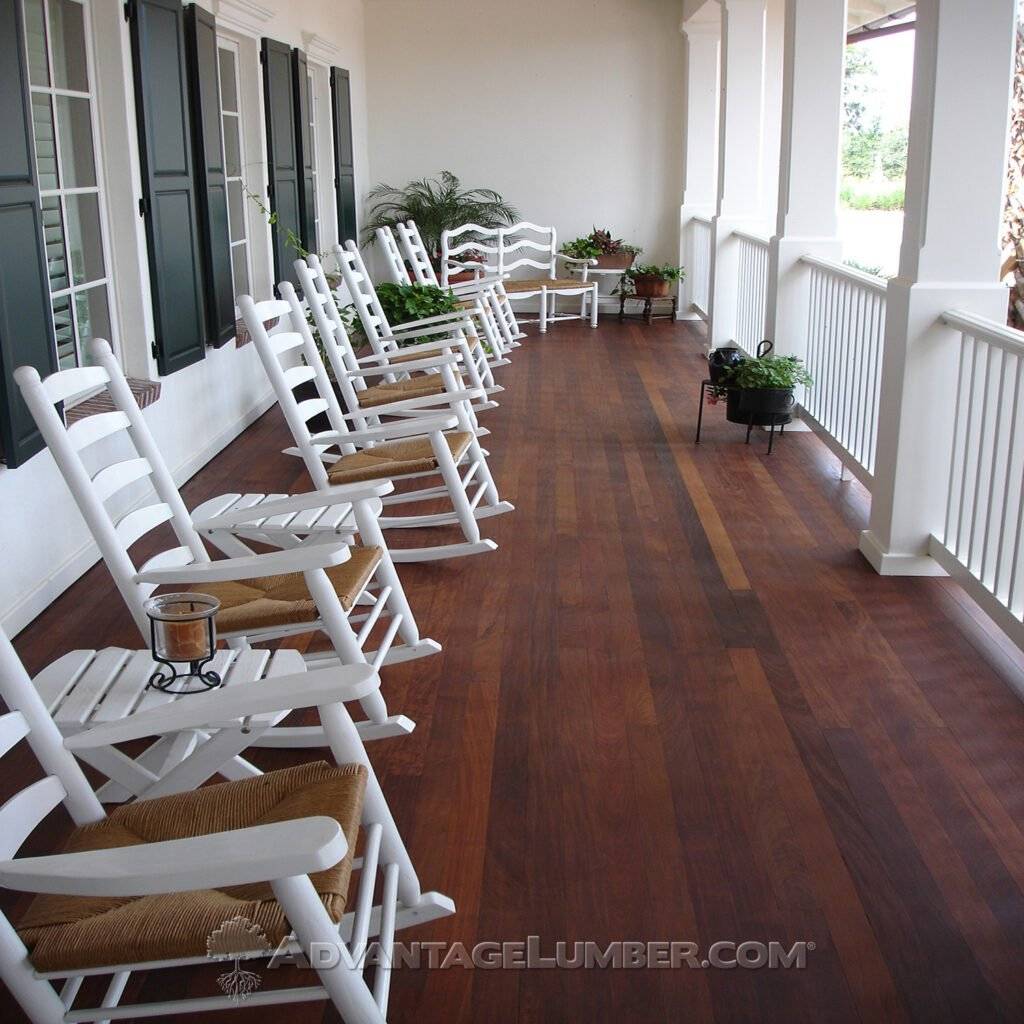 This porch deck is built with Ipe wood tongue & groove decking and shows the natural beauty of the wood.
Here's a list of benefits that make Ipe one of the best wood choices for an outdoor table:
One of the strongest woods in the world
Environmentally friendly
Low maintenance
Up to a Class A fire rating for flame spread
Termite, Mold & Fungi resistant
No knots
High scratch & slip resistance
Can outlast composite material
Twice as strong as Oak
Time proven on many commercial projects
Due to the popularity and proven performance of Ipe wood outdoors it has become somewhat expensive.
Not to worry we have at least 5 other species that are significantly cheaper and offer very similar durability as Ipe.
Teak
Teak is our next top pick of wood options.
Most people are well aware of Teak's reputation, it's one of the most sought after woods for exterior use.
Boat builders have used this wood for centuries since there's few things that see harsher elements than a boat.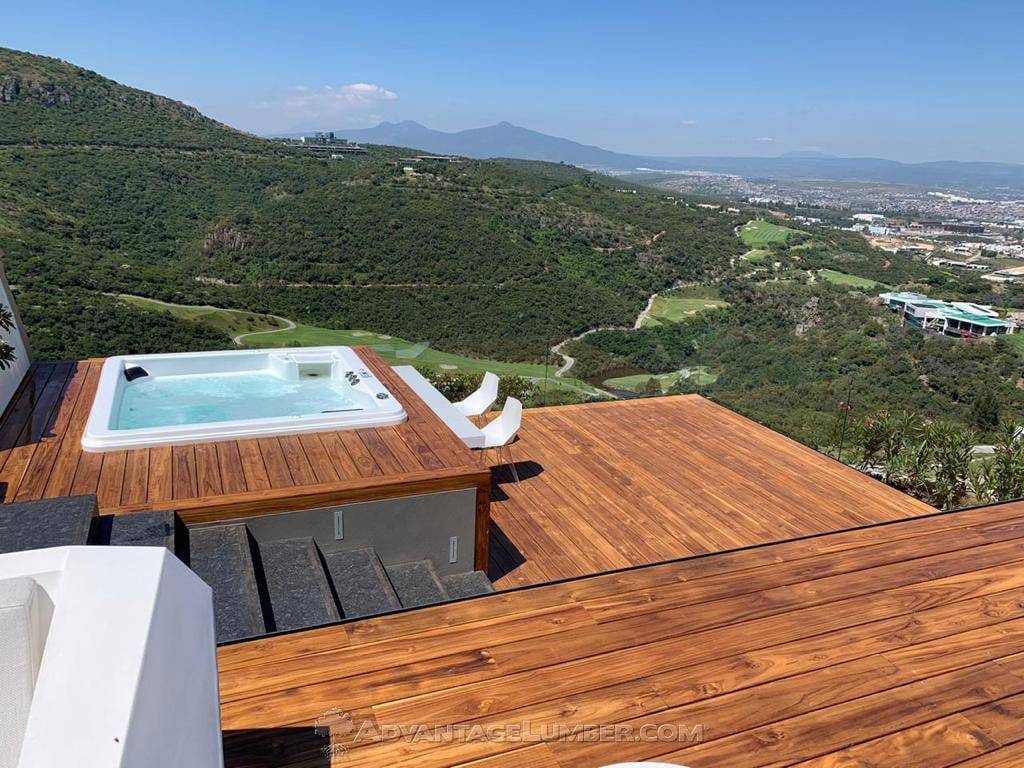 Teak (Tectona grandis) grows all over the world, in southeast Asia, the East Indies, Africa, and America.
Our Teak grows in 20–50 year plantations, which means you get the hardest, most durable wood without harming the environment.
Teak is lighter than Ipe in both color and weight. Its color ranges from yellow brown to dark golden brown, darkening with age.
Because it is less dense than Ipe, Teak is also generally easier to work with.
Cumaru
Cumaru wood (aka Brazilian Teak) is the second hardest exterior hardwood we sell. In Brazil, Cumaru is used in mansions, five-star hotels and major commercial projects.
The color of Cumaru varies from a golden tan to a reddish brown with some dark grain accents through out the wood.
It has a 50+ year lifespan without preservatives! Our Cumaru wood is responsibly harvested from managed forests to provide a truly renewable resource.
Cumaru is a great wood choice for building and outdoor table. Take a look at these beautiful outdoor tables made using Cumaru wood.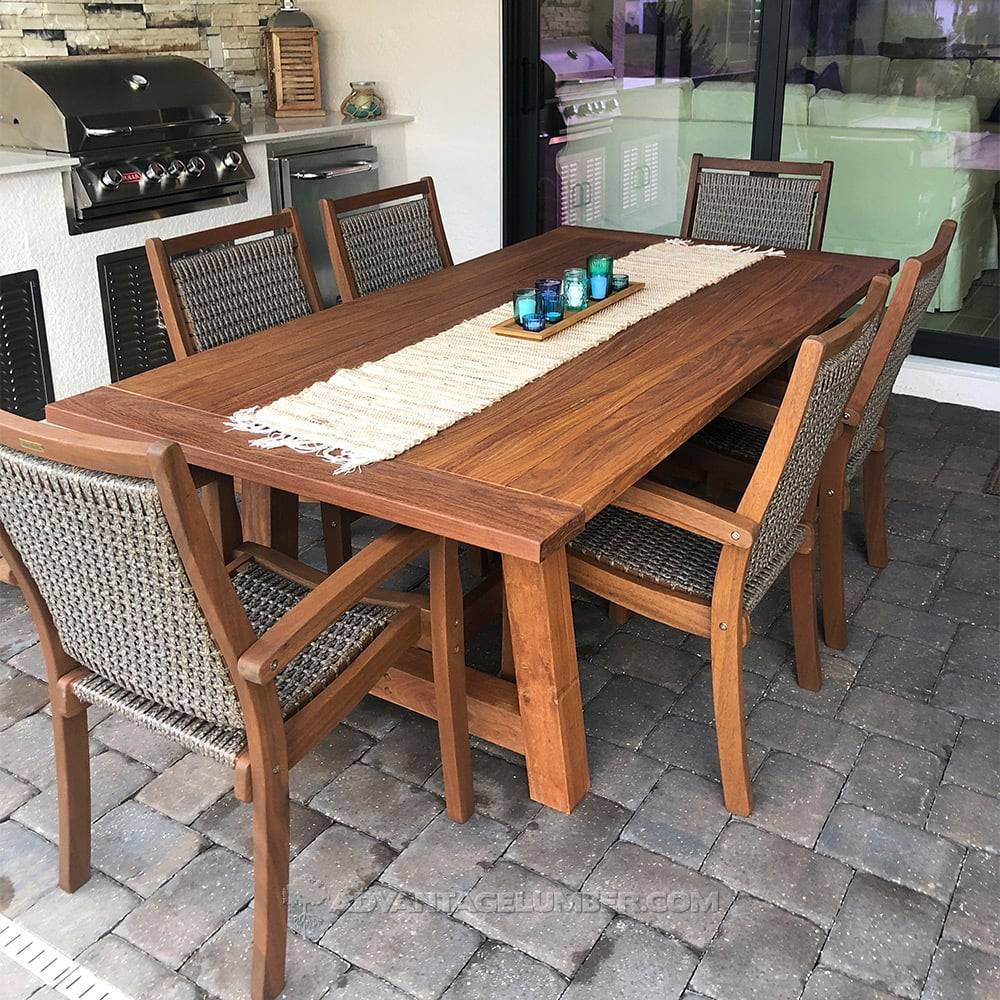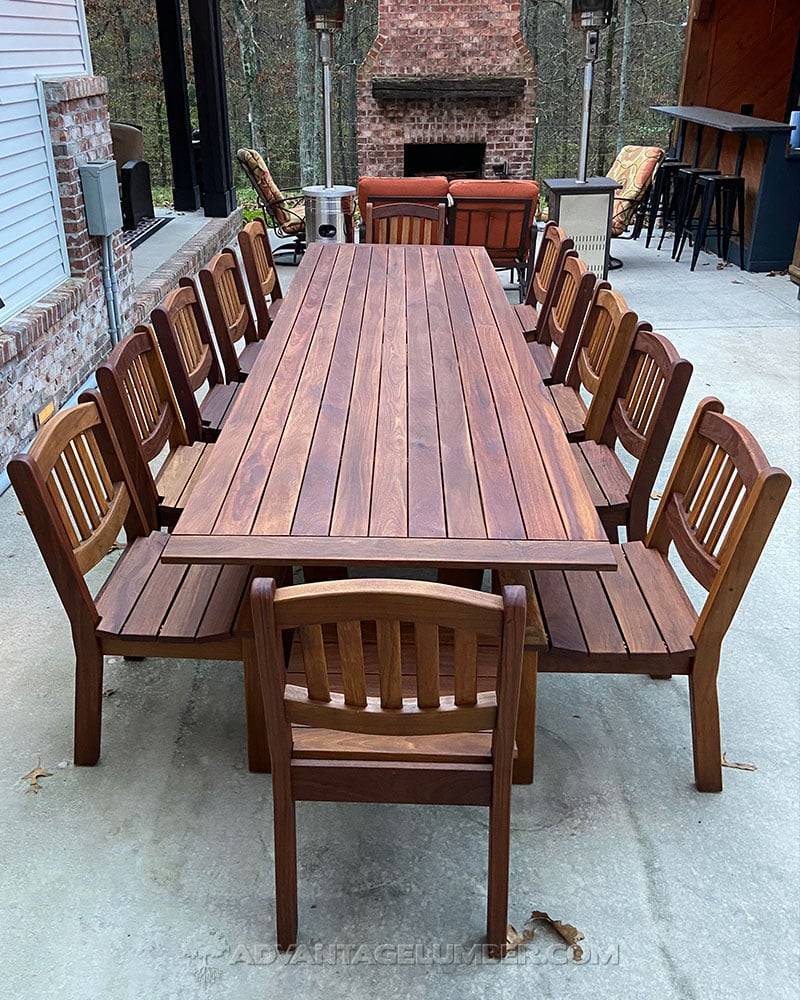 Tigerwood
This beautiful hardwood also comes from South America and is one our employees often choose for their own homes.
Tigerwood (also known as Goncalo Alves) is one of the finest quality hardwoods available that features a unique light golden-brown to reddish-brown coloring with exotic black and brown streaks.

It is naturally resistant to rot and decay, is the third hardest decking we sell, and offers a 30+ year lifespan without preservatives!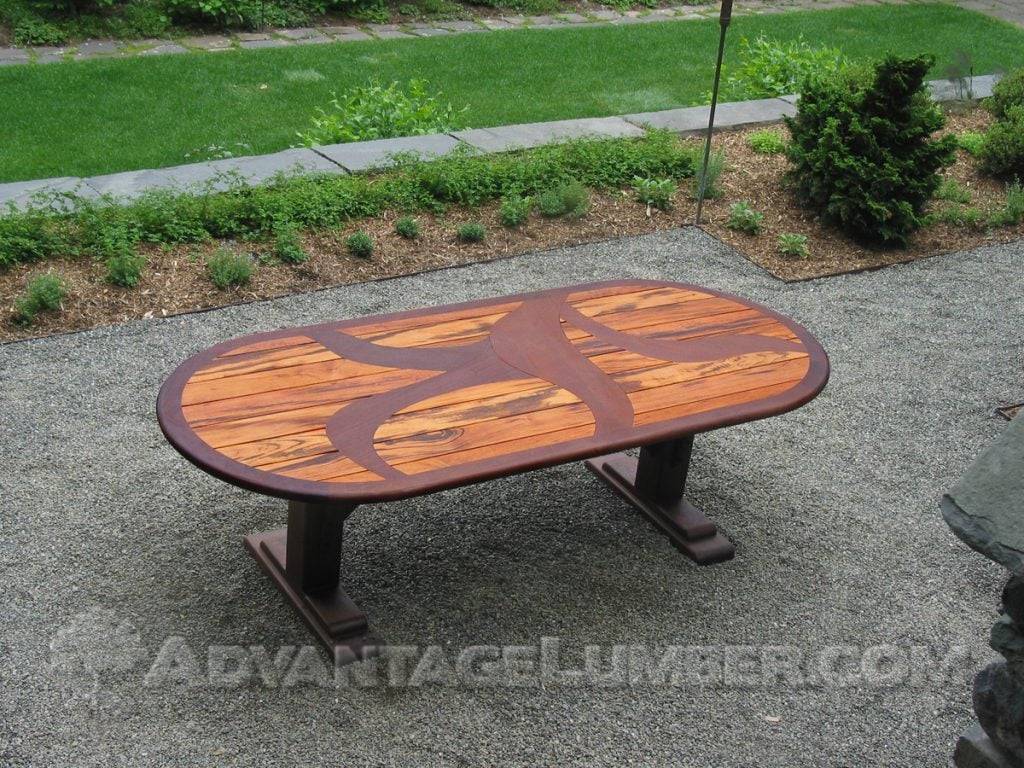 The table above features a custom Ipe wood border and inlay with an Ipe wood table base.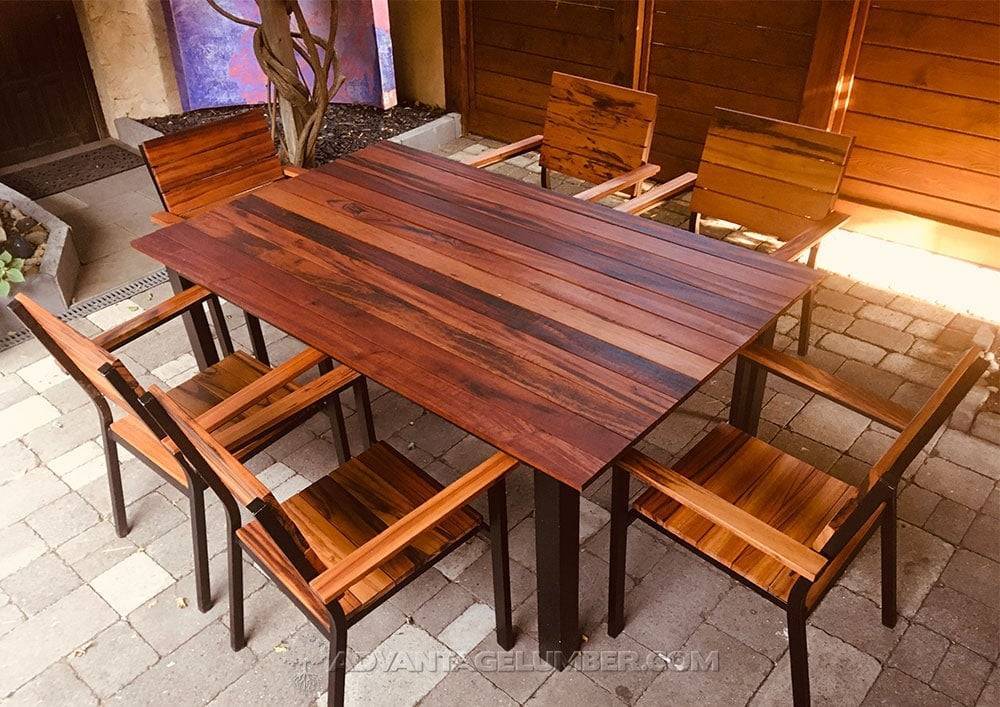 This table has an aluminum base, it once had another surface that was old and worn out.
Our customer sprayed the base black and added Tigerwood to resurface the table and chairs. The outdoor table and chairs look great and should last 30 years or more.
Garapa
This beautiful South American hardwood starts of a golden yellow color but in a short time when oiled and exposed to UV light it will turn a beautiful golden brown.
Garapa is an exotic hardwood that is naturally resistant to rot, decay and insect attack.
It is naturally scratch resistant which allows the surface to remain smooth for many years, making Garapa a perfect wood for outdoor tables and many other exterior projects.
You can expect a 30+ year lifespan without preservatives!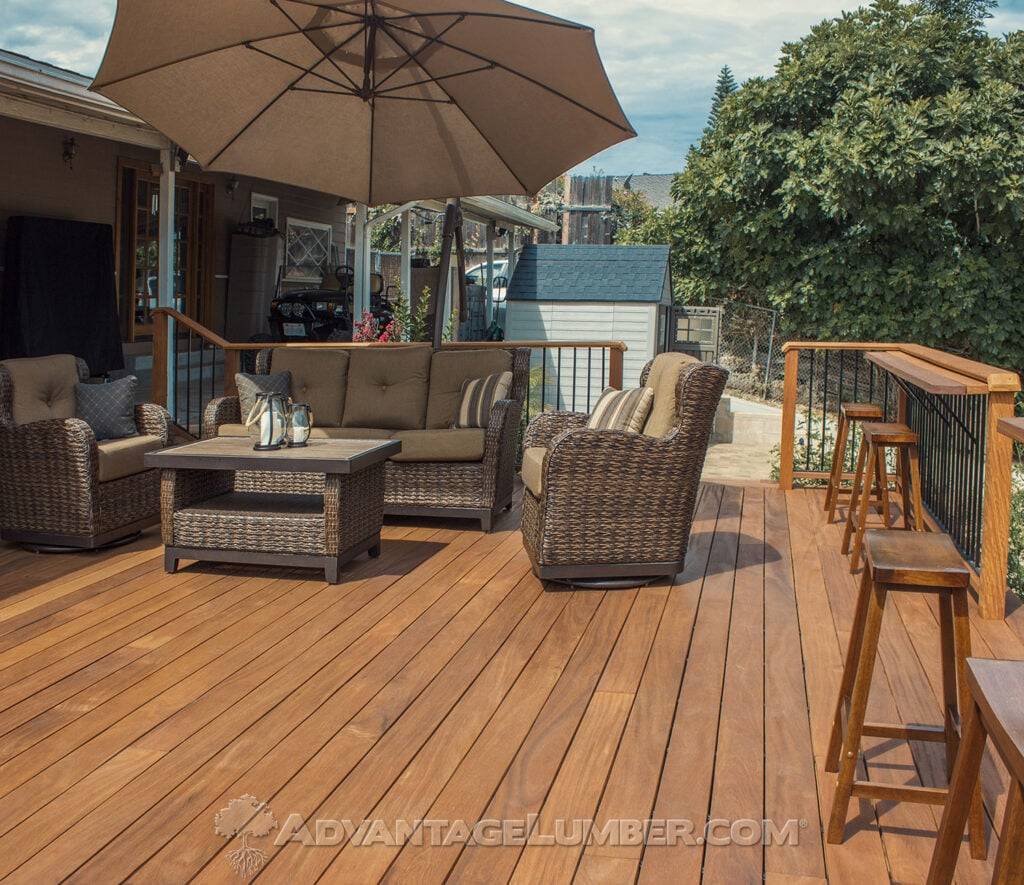 We don't have a picture of an outdoor table built using Garapa but above is a beautiful deck built with this beautiful and durable hardwood.
Massaranduba
Massaranduba (pronounced Ma-Sa-Ran-Doo-bah) is a hardwood native to South America. It's one of the hardest woods in the world, once it's oiled and exposed to UV rays it looks very similar to Ipe wood.
One surprising fact about this natural hardwood is how well it performs under heavy load (bending strength) tests. These tests revealed that, as a decking material, Massaranduba is even stronger than Ipe decking.
This makes Massaranduba an excellent choice for outdoor tables.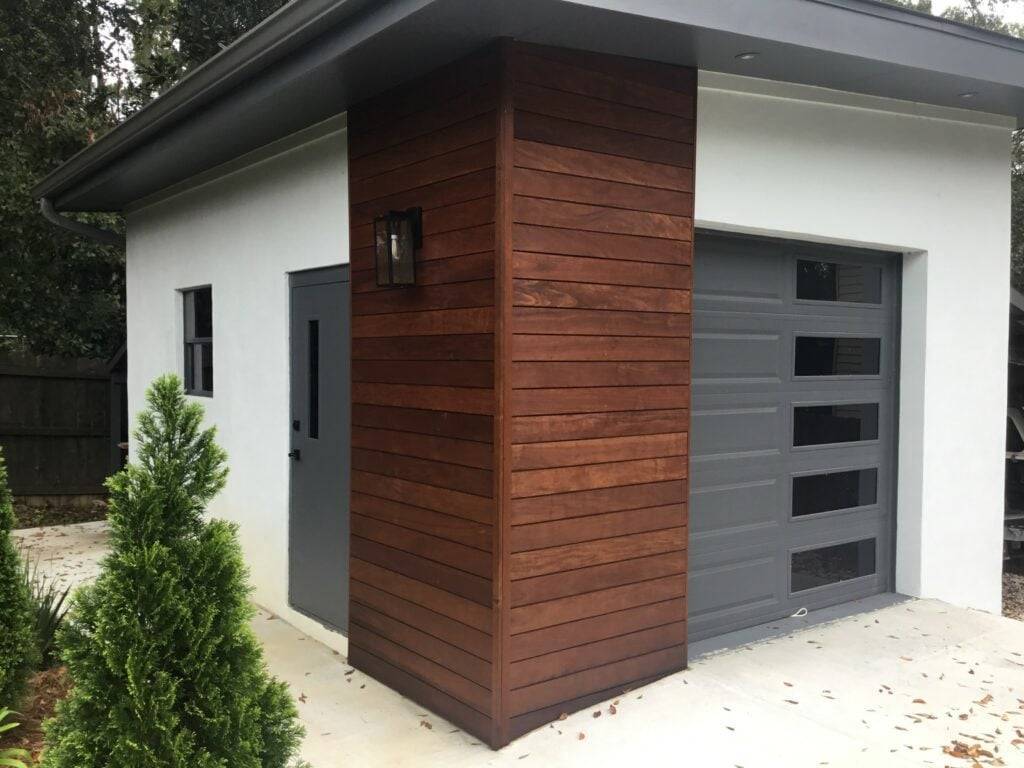 We don't have a picture of a table built using Massaranduba but this picture of our siding we milled gives you a good idea of how the wood will look.